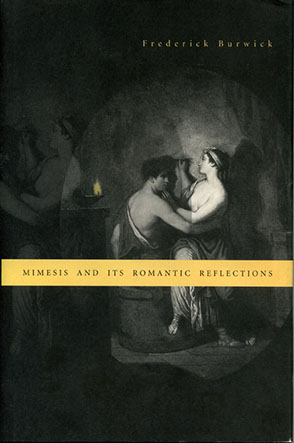 Mimesis and Its Romantic Reflections
Frederick Burwick
Buy
Mimesis and Its Romantic Reflections
Frederick Burwick
"A rich and meticulous study. With range and rigor, Burwick probes the origins—philosophical, aesthetic, and literary—of developing subjectivist mimeses in the literature and theory of the Romantic period."
Description

Reviews

Bio

Subjects
In Romantic theories of art and literature, the notion of mimesis—defined as art's reflection of the external world—became introspective and self-reflexive as poets and artists sought to represent the act of creativity itself. Frederick Burwick seeks to elucidate this Romantic aesthetic, first by offering an understanding of key Romantic mimetic concepts and then by analyzing manifestations of the mimetic process in literary works of the period.
Burwick explores the mimetic concepts of "art for art's sake," "Idem et Alter," and "palingenesis of mind as art" by drawing on the theories of Philo of Alexandria, Aristotle, Immanuel Kant, Friedrich Schiller, Friederich Wilhelm Joseph von Schelling, Thomas De Quincey, and Germaine de Staël. Having established the philosophical bases of these key mimetic concepts, Burwick analyzes manifestations of mimesis in the literature of the period, including ekphrasis in the work of Thomas De Quincey, mirrored images in the poems of Samuel Taylor Coleridge and William Wordsworth, and the twice-told tale in the novels of Charles Brockden Brown, E. T. A. Hoffmann, and James Hogg. Although artists of this period have traditionally been dismissed in discussions of mimesis, Burwick demonstrates that mimetic concepts comprised a major component of the Romantic aesthetic.
"A rich and meticulous study. With range and rigor, Burwick probes the origins—philosophical, aesthetic, and literary—of developing subjectivist mimeses in the literature and theory of the Romantic period."
"Competing or mirrored narratives are shown to call into question the nature of storytelling itself, but Burwick's discussion of this relatively familiar narratological point in these works is original and concise. His book mirrors and renews a strain of analysis in Romantic literature, giving—one might as well say—much food for reflection."
"One walks away from this book with a strong sense of gratitude for a scholar and critic whose command of traditional texts and current literary theory is strong enough to persuade us that the highest literary scholarship and theoretical dexterity can work the same street."
"Frederick Burwick's erudite book should be commended first and foremost for its lucidity of argument and elegance of style.
Reading this book feels like being taken on a comprehensive, comparative tour of European and British cross-cultural aesthetic thinking during the Romantic period. . . . A warmly recommended study."
"The study would be benefited from the addition of a short concluding chapter, but Burwick's well-researched and engaging text deserves serious attention as a significant challenge to traditional conceptions of mimesis in romanticism."
Frederick Burwick is Professor of English at the University of California-Los Angeles. His previous books include Illusion and the Drama: Critical Theory of the Enlightenment and Romantic Era (1991) and Poetic Madness and the Romantic Imagination (1996), both published by Penn State Press.