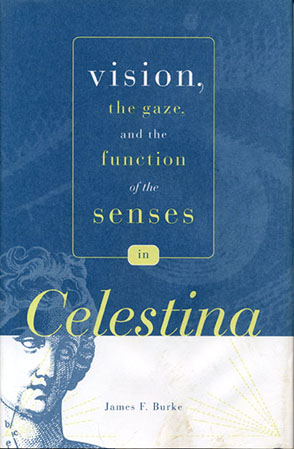 Vision, the Gaze, and the Function of the Senses in "Celestina"
James F. Burke
Buy
Vision, the Gaze, and the Function of the Senses in "Celestina"
James F. Burke
"A daring new reading of Celestina. This book marks a significant watershed in both Celestina and early modern studies and will prove to be a fundamental touchstone for scholars and lay readers alike."
Description

Reviews

Bio

Subjects
The plot of the late-medieval Spanish work
Celestina
(1499) centers on the ill-fated love of Calisto and Melibea and the fascinating character of their intermediary, Celestina. In this ground-breaking rereading of the play, James F. Burke offers a new interpretation of the characters' actions by analyzing medieval theories of perception that would have influenced the composition of
Celestina
.
Drawing upon a variety of texts and thinkers—including the medieval theories of Thomas Aquinas, the Renaissance treatises of Marsilio Ficino, the classical philosophy of Aristotle, and the modern psychology of Jacques Lacan—Burke relates ancient and medieval theories of sensory functions to modern understandings. He demonstrates that modern concepts of "the gaze" have their premodern analogy in the idea of an all-encompassing sensory field, both visual and auditory, that surrounded and enveloped each individual. Touching on medieval theories of the "evil eye," the sonic sphere, and "the banquet of the senses," Burke offers a new perspective on the use and manipulation of sensory input by the characters of Celestina.
This book will be welcomed not only by students of Spanish literature but also by those interested in new ways of approaching medieval and Renaissance texts.
"A daring new reading of Celestina. This book marks a significant watershed in both Celestina and early modern studies and will prove to be a fundamental touchstone for scholars and lay readers alike."
"Making a significantly innovative contribution to Celestina studies is by no means an easy task, yet in this monograph James F. Burke does just that, offering a far-reaching reinterpretation of the text in relation to the medieval philosophy of the senses. . . . [This is] an extremely useful guide for readers of Celestina."
"Pre-modern people quite literally saw the world differently from the way we do. James Burke does not just tell us about it, he shows it, and our eyes are different when they look again at Celestina."
James F. Burke is Professor of Spanish and Portuguese at the University of Toronto. His previously published books are Structures from the Trivium in the Cantar de Mio Cid (1991) and Desire Against the Law: The Juxtaposition of Contraries in Early Medieval Spanish Literature (1998).