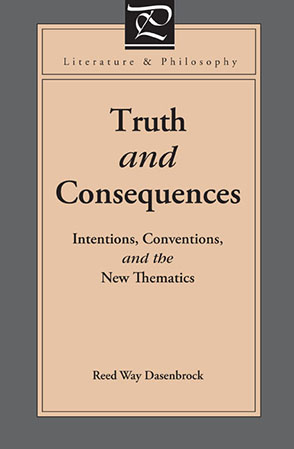 Truth and Consequences
Intentions, Conventions, and the New Thematics
Reed Way Dasenbrock
Buy
Truth and Consequences
Intentions, Conventions, and the New Thematics
Reed Way Dasenbrock
"I think Dasenbrock is exactly right in claiming that poststructuralist conventionalism has become the reigning metaphysics of contemporary criticism. [His diagnoses of the consequences of conventionalism are astute, and his suggestions for alternative intentionalist directions in criticism should provoke a lot of discussion.] Dasenbrock manages to treat difficult material in a clear, concise, and jargon-free manner. Although there are other books critical of the poststructuralist paradigm, I know of no other which grounds its criticism on such a firm philosophical foundation or is so thoroughgoing in its assessment of poststructuralist assumptions. [Because it is concerned with the guiding assumptions of the discipline of literary criticism,] I think that it should appeal to a fairly wide audience, one that includes scholars with diverse disciplinary specialties and that perhaps extends to other humanities disciplines where literary criticism has been influential."
Description

Reviews

Bio

Subjects
Contemporary literary theory takes truth and meaning to be dependent on shared conventions in a community of discourse and views authors' intentions as irrelevant to interpretation. This view, argues Reed Way Dasenbrock, owes much to Anglo-American analytic philosophy as developed in the 1950s and 1960s by such thinkers as Austin and Kuhn, but it ignores more recent work by philosophers like Davidson and Putnam, who have mounted a counterattack on this earlier conventionalism.
This book draws on current analytic philosophy to resuscitate the notion of objective truth and intentionalist models of meaning and interpretation, thereby moving beyond the antifoundationalism of postmodern theory. It addresses the work of Rorty and Fish as representative of literary conventionalism, discusses the futility of Derrida's anti-intentionalism, and shows how poststructuralist thinkers like Althusser and Foucault have contributed to the "new thematics" of race, class, gender, and sexual orientation that dominates literary theory today. Examining the counter-arguments of conventionalists to have their theory judged by its consequences, Dasenbrock shows how damaging this antiobjectivism and anti-intentionalism have been for literary studies.
"I think Dasenbrock is exactly right in claiming that poststructuralist conventionalism has become the reigning metaphysics of contemporary criticism. [His diagnoses of the consequences of conventionalism are astute, and his suggestions for alternative intentionalist directions in criticism should provoke a lot of discussion.] Dasenbrock manages to treat difficult material in a clear, concise, and jargon-free manner. Although there are other books critical of the poststructuralist paradigm, I know of no other which grounds its criticism on such a firm philosophical foundation or is so thoroughgoing in its assessment of poststructuralist assumptions. [Because it is concerned with the guiding assumptions of the discipline of literary criticism,] I think that it should appeal to a fairly wide audience, one that includes scholars with diverse disciplinary specialties and that perhaps extends to other humanities disciplines where literary criticism has been influential."
"The argument of Truth and Consequences is that 'the conventionalist paradigm' is not only false, it is completely out of touch with the philosophical sources on which it is based. I think this argument is exactly right, and that the time is long overdue for it to be advanced in a clear and philosophically rigorous way. Dasenbrock is one of the few people now working in literary study who has a detailed understanding of the work of the major figures in Anglo-American analytic philosophy."
"It would be hard to think of a better book to recommend to a beginning or advanced student of recent theory than this one by Reed Way Dasenbrock. . . . Dasenbrock not only covers all the most important figures and issues, and he not only discusses them in extremely lucid prose, but most important he brings to these matters a very heavy and healthy dose of skepticism. . . . This is one of the best books ever produced in a highly important field. . . . Dasenbrock's book is, in short, one of the most important contributions to literary theory of the last thirty years. His arguments are reasoned, patient, thorough, and copiously annotated: unlike some critics of postmodern or poststructuralist thought, he has actually taken the time to study the thinkers he criticizes, and he makes one of the most comprehensive, clear, and careful cases ever presented against their ideas and influence. This is a book that both supporters and skeptics of recent trends will need to know. It is a book that can be highly recommended both to serious undergraduates and graduate students and to veterans alike. Most important, it is a book that not only finds flaws in the thinking of others but also suggests ways out of our current impasse. It suggests a reasoned, sensible approach not only to the study of literature but to any kind of interpretation whatsoever."
"The most timely book on literary theory this reviewer has read in years, Dasenbrock's cogent critique of the dominant dogmas in literary studies challenges readers to move beyond the incoherencies of relativism and antifoundationalism that reduce literary theory today to a trivial exercise in decrying truth as an illusion and literature as a conspiracy in the exercise of power. . . . In short, an excellent book that needs to be read widely by the literary establishment."
"Reed Dasenbrock's Truth and Consequences has something for everyone interested in literary studies and its fortunes.
Truth and Consequences practices what it prescribes by demonstrating the virtues of extensive and sympathetic reading, a healthy respect for evidence, and clear, good-faith argumentation. Committed to effective teaching, it also suggests a certain familiarity with life outside literary studies, where many intelligent people still think that truth, intentions, and literary value are helpful concepts."
"If you are interested in truth and consequences of criticism, buy this book. . . .This is a serious and important book."
"The richness of this book cannot be encompassed in a short review. In place of a detailed examination a highlight reel will have to suffice, with regrets for the imperfection of such an approach. . . . From conventionalism and its putative refutation of truth Dasenbrock moves to rehabilitate intentionalism, which, along with the related notions of the self and the subject, has suffered withering attacks in both post-structuralist and deconstructionalist discourses. . . . This is an exceptional book, the best of its kind I have read in a long time. It should be required reading in literature departments across the country. For the teachers at least."
Reed Way Dasenbrock is Professor of English and Associate Dean of the College of Arts and Sciences at New Mexico State University. He is the editor of Literary Theory After Davidson (Penn State, 1993).