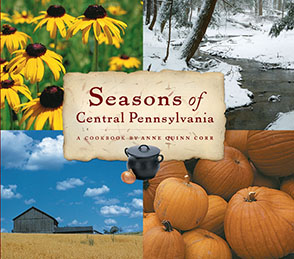 Seasons of Central Pennsylvania
A Cookbook by Anne Quinn Corr
Anne Quinn Corr
Buy
Seasons of Central Pennsylvania
A Cookbook by Anne Quinn Corr
Anne Quinn Corr
"Anne Quinn Corr's book celebrates not only the seasons of Central Pennsylvania but the bounty of the land and the rich variety of its cultures and cuisines. With a keen sense of place and a warm appreciation for its people and traditions, from the Grange Fair to the festivals of the university's international communities, this book captures the many flavors of our region."
Description

Reviews

Bio

Subjects
Centre County offers a marvelous vantage point from which to view Pennsylvania's indigenous cuisine. Centrally located, it has become an island of regional specialties that make use of natural abundance in time-honored ways.
The draw of Penn State University brings the sons and daughters of a vast number of the Commonwealth's citizenry into the area, along with their food preferences. International students create a microcosm of diversity that is unmatched by any other similar-size geographic region in the state. A sophistication spurred by foreign travel, along with the entertaining demands of the University and local corporations, makes the cuisine of Central Pennsylvania well worth serious study and appreciation.
In Seasons of Central Pennsylvania, Anne Quinn Corr demonstrates how the people of the Keystone State take a singular and active delight in their environment and its natural gifts. Each section focuses on a season, beginning with fall, as leaves turn color and tailgating begins. More than thirty original and adapted recipes are featured in each section, as well as photos and vignettes on area cooks, and stories about local events and activities that celebrate each season. The recipes include a wide variety of Central Pennsylvania ingredients, but also demonstrate the region's cultural diversity with appetizing international recipes.
Many of the recipes and photographs included in Seasons of Central Pennsylvania were first published in food features by the author in the Centre Daily Times, the newspaper of Central Pennsylvania.
"Anne Quinn Corr's book celebrates not only the seasons of Central Pennsylvania but the bounty of the land and the rich variety of its cultures and cuisines. With a keen sense of place and a warm appreciation for its people and traditions, from the Grange Fair to the festivals of the university's international communities, this book captures the many flavors of our region."
"Seasons of Central Pennsylvania is a celebration of the region's rich heritage. Food has woven together the fabric of life in these mountains for centuries. Our cooks have relied on the seasonal bounty to create sustenance, comfort, nourishment, and pleasure. In generations past a cook was 'rated' on the size and quality of their root cellar and the offerings of their kitchen. Anne Quinn Corr's work is more than a significant compendium of wonderful dishes—it is a sociological treatise on the common bond that unites the hardworking people of this microculture."
"No one knows better than Anne Quinn Corr that Central Pennsylvania has five seasons, namely, winter, spring, summer, fall and tailgating."
"Once the land of venison and shoo-fly pie, Central Pennsylvania now enjoys foods from around the world along with those traditional favorites. Culinary columnist Anne Quinn Corr—a fine cook herself —serves up savory examples of our developing Central Pennsylvania cuisine in this outstanding cookbook. The photos of our friends and neighbors preparing these dishes add spice to the dish. Recommended pre-mealtime reading."
Anne Quinn Corr lives in State College, PA, where she writes a food column for the Centre Daily Times and teaches in Penn State's Nutrition Department. She also runs a catering service.