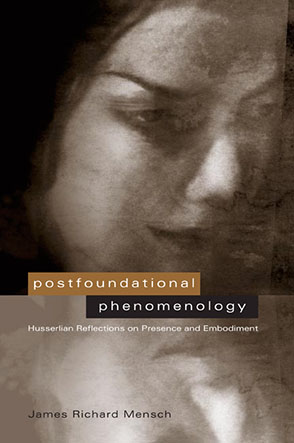 Postfoundational Phenomenology
Husserlian Reflections on Presence and Embodiment
James R. Mensch
Buy
Postfoundational Phenomenology
Husserlian Reflections on Presence and Embodiment
James R. Mensch
"This is a significant and original book. It offers insightful phenomenological investigations of important issues. It makes available in an English-language context a large amount of Husserl's own work that is available only in unpublished manuscripts at the Husserl Archive. It challenges reigning orthodoxy concerning the validity of Heideggerian, Levinasian, and Derridean critiques of the 'metaphysics of presence.' And it points toward fruitful avenues for further exploration."
Description

Reviews

Bio

Subjects
This book offers a fresh look at Edmund Husserl's philosophy as a nonfoundational approach to understanding the self as an embodied presence.
Contrary to the conventional view of Husserl as carrying on the Cartesian tradition of seeking a trustworthy foundation for knowledge in the "pure" observations of a disembodied ego, James Mensch introduces us to the Husserl who, anticipating the later investigations of Merleau-Ponty, explored how the body functions to determine our self-presence, our freedom, and our sense of time. The result is a concept of selfhood that allows us to see how consciousness's arising from sensuous experiences follows from the temporal features of embodiment.
From this understanding of what is crucial to Husserl's phenomenology, the book draws the implications for language and ethics, comparing Husserl's ideas with those of Derrida on language and with those of Heidegger and Levinas on responsibility. Paradoxically, it is these postmodernists who are shown to be extending the logic of foundationalism to its ultimate extreme, whereas Husserl can be seen as leading the way beyond modernity to a nonfoundational account of the self and its world.
"This is a significant and original book. It offers insightful phenomenological investigations of important issues. It makes available in an English-language context a large amount of Husserl's own work that is available only in unpublished manuscripts at the Husserl Archive. It challenges reigning orthodoxy concerning the validity of Heideggerian, Levinasian, and Derridean critiques of the 'metaphysics of presence.' And it points toward fruitful avenues for further exploration."
"In this insightful book, James R. Mensch sets out to move beyond modern as well as postmodern endeavors, attempts that, he claims are both variations of a foundationalist enterprise. Leaving behind these unproductive oppositions. Mensch turns to the 'things themselves' and explores the rich accounts Husserl has given in his mature genetic phenomenology, drawing extensively from unpublished material. Displaying a sovereign mastery over these intricate analyses, Mensch connects these with a wide variety of issues discussed by philosophers from the Continental as well as the Analytic tradition, ranging from embodiment and instincts to ethics and artificial intelligence. He is thus able to bring phenomenology into the arena of current philosophical debate. A highly creative and original approach."
James Richard Mensch is Professor of Philosophy at St. Francis Xavier University in Nova Scotia, Canada, and the author of Knowing and Being: A Postmodern Reversal (Penn State, 1996).