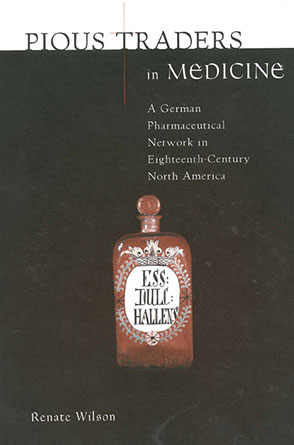 Pious Traders in Medicine
A German Pharmaceutical Network in Eighteenth-Century North America
Renate Wilson
Buy
Pious Traders in Medicine
A German Pharmaceutical Network in Eighteenth-Century North America
Renate Wilson
"A fundamental contribution to the discussion of the 'medical marketplace.' Wilson demonstrates the intimate associations between religious and medical Pietism and their commercial underpinnings in ways previously hardly imagined. Her careful and painstaking archival investigations are presented clearly and vigorously. This is a path-breaking work of impeccable scholarship, innovative and well written."
Media

Description

Reviews

Bio

Subjects
Winner of the 2003 St. Paul Prize of the Lutheran Historical Society of the Mid-Atlantic Region Winner of the Kremers Award from the Institute for the History of Pharmacy at Wisconsin, Madison
This book tells the story of two generations of Pietist ministers sent from Halle, in Brandenburg Prussia during the eighteenth century, to the German communities of North America. In conjunction with their clerical office, these ministers provided medical services using pharmaceuticals and medical texts brought with them from Europe. Their practice is an example of how different medical markets and medical cultures evolved in North America.
At the heart of the story is the Francke Orphanage, a famous religious and philanthropic foundation started in Halle in 1696. Pharmaceuticals from Halle were manufactured and sold throughout Europe as part of a commercial enterprise designed to support Francke's charitable goals. Halle's reputation for consistent product quality and safety soon spread to North America, where men and women became actively engaged in providing medical care to Lutheran and Reformed congregations along the east coast, mainly the backcountry of Pennsylvania, New Jersey, Maryland, and Virginia. The story continues to about 1810, when Halle's North American clergy had become independent from the motherhouse and American medical practice and education began to follow its own course.
Wilson draws upon a large array of correspondence, trading ledgers, and daybooks in European and American archives. Through these records she enables us to see firsthand the experience of men and women as both patients and practitioners. The result is a rare glimpse into the world of German medicine and the pharmaceutical trade in eighteenth-century North America.
"A fundamental contribution to the discussion of the 'medical marketplace.' Wilson demonstrates the intimate associations between religious and medical Pietism and their commercial underpinnings in ways previously hardly imagined. Her careful and painstaking archival investigations are presented clearly and vigorously. This is a path-breaking work of impeccable scholarship, innovative and well written."
"Pious Traders in Medicine, by the author's skillful use of fresh primary sources added to a keen understanding of existing scholarship, has made a valuable and most welcome contribution to American history of the eighteenth century."
"Wilson's work offers a great deal to ponder about eighteenth-century pharmaceutical methods and medical philosophies."
"Pious Traders . . . refines our perspectives on the rise of American medicine (as it slowly branched off from its European roots), and clarifies an often-blurry picture of transatlantic economics. Wilson's sensitive and thorough exploitation of the Halle business records allows her to reconstruct the mental, physical, and medical worlds of eighteenth-century German communities, revealing how German-settled areas. . . . Pious Traders provides a fascinating and convincing analysis of how the secular and the religious spheres, business and philanthropy, and American and European traditions combined to produce a distinctive form of American medical culture. The book is truly comparative and transnational in its perspectives and, under a modest title, represents an impressive achievement in medical and social history."
"While this work is a valuable contribution to the history of medical care in eighteenth-century North America, scholars of the social and religious history of the early South will find it useful for what it reveals about the surprising (to modern observers) but vital role of ministers as healers and the strength of transatlantic ties between immigrant communities and their European homelands."
"In short, Renate Wilson's study is a pioneering work about the North American medical and pharmaceutical market during the eighteenth century."
Renate Wilson is Adjunct Associate Professor in the Department of Health Policy and Management, the School of Hygiene and Public Health, and the Institute for the History of Medicine at Johns Hopkins University. She is co-editor, with Hartmut Lehmann and Hermann Wellenreuther, of In Search of Peace and Prosperity: German Migrations of the 18th Century (Penn State, 1999). She also edited a special issue of Caduceus, A Humanities Journal for Medicine and the Health Sciences entitled, "Eighteenth Century Traffic in Medicine and Medical Ideas."