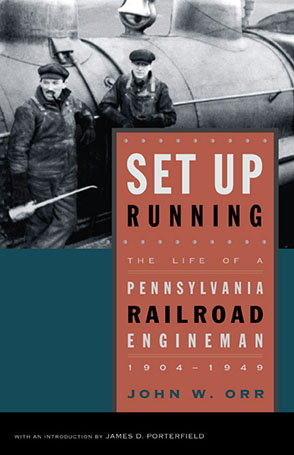 Set Up Running
The Life of a Pennsylvania Railroad Engineman, 1904–1949
John W. Orr, and Introduction by James D. Porterfield
BUY
Set Up Running
The Life of a Pennsylvania Railroad Engineman, 1904–1949
John W. Orr, and Introduction by James D. Porterfield
"An engaging book, one likely to become a railroad classic. The major strength of Set Up Running is detail, particularly when it involves locomotives, train movements, and patterns of operation. Especially enjoyable are the depictions of Orr as a loyal Pennsylvania Railroad employee and of his overall pride of workmanship."
Description

Reviews

Bio

Sample Chapters

Subjects
Set Up Running
tells the story of a Pennsylvania Railroad locomotive engineer, Oscar P. Orr, who operated steam-powered freight and passenger trains throughout central Pennsylvania and south-central New York. From 1904 to 1949, Orr sat at the controls of many famous steam locomotives; moved trains loaded with coal, perishables, and other freight; and encountered virtually every situation a locomotive engineer of that era could expect to see.
John W. (Jack) Orr, Oscar's son, tells his father's story, which begins at the Central Steam Heating Plant in Bellefonte, Pennsylvania. Oscar operated nearly every kind of steam locomotive the Pennsylvania Railroad owned, working from the bottom of the roster to the top position (number one in seniority). Orr has an ear for detail and a vivid memory. He tells about his father's first encounter with an automobile along the right-of-way, about what it was like to operate a train in a blizzard, and about the difficulties railroadmen encountered in stopping a trainload of tank cars loaded with oil in order to take on water and coal—and many other stories.
This compelling railroad history will enthrall not only everyone in the railroad community but also the general reader interested in railroads and trains, past and present.
"An engaging book, one likely to become a railroad classic. The major strength of Set Up Running is detail, particularly when it involves locomotives, train movements, and patterns of operation. Especially enjoyable are the depictions of Orr as a loyal Pennsylvania Railroad employee and of his overall pride of workmanship."
"One of my earliest recollections involves the railroad, a plaintive whistle, and my mother stating that my father would soon be home. And it wasn't long before that large man, clad in blue overalls, came through the door with his travel bag, which he promptly set on the kitchen floor so he could pick me up. There was a strange smell on his overclothes, but it was not offensive, and it was one that I later learned belonged to a steam engine. So from very early in my life I developed an avid interest in the steam engine."
"Set Up Running is a book well worth reading even if you are not a railroad enthusiast. It helps to illuminate a part of the vanishing past when Williamsport was a major rail hub. The book is a major contribution to an important aspect of the social history of the area. There are plenty of references to local towns and spots to make it interesting to area readers. But, perhaps more importantly, it's just a good story written with love and respect for a man and a time by his son."
"Rather than a glamorized, rosy look at the days of steam, the accounts of O.P. and John reveal railroading as seen through the eyes of those who handled and lived with the railroad day after day. . . . Set Up Running is a must-read for the Pennsy fan, and a truly rare treasure for those wanting to know the lives of the men who truly kept American steam locomotives running."
"Through true-life experiences, the reader gets an idea what it was like to work on a railroad in general and a steam engine specifically."
"[Q]uite simply one of the liveliest and most informative works of railroad history to come along in many years."
"Set Up Running describes life in engine service as seldom told before. You will like it. The good and the bad, the long, long nights, broken knuckles, pulled couplers, firemen that don't know how to fire and don't want to learn, derailments, engines that won't steam, washouts —it's all here. Not only is this an unvarnished story of what engine service was really like but it is also a valuable sociological portrait of railroading seldom explored in this detail. This was a difficult book for me to lay aside. . . . You will enjoy riding with engineer O.P. Orr in this true story of running an engine in the days of steam."
"For students of the Pennsylvania Railroad, Orr provides an interesting perspective with his view from the cab. . . . the level of detail is incredible as Orr successfully tempers the romance with the reality of an engineman's life."
"Still the book is an amazing document of a fufilling life in industrial America. It is a good read, even though there are no plot twists or shattering climaxes. One comes away with a deepened sense that the bargain between capitalist and worker was arms-length but genuine, that hard work paid and a working life was rewarding."
"The cumulative effect is an extended meditation on a lost world of rugged, single-minded men—almost monkish in their devotion to their job and 'the company,'—who once thread[ed] their engines along river banks and down grades to deliver carloads of coal and lumber and merchandise to larger towns, where the freight was reshuffled into other trains and delivered to virtually every point on the continent."
"My first impression is that this is a first rate account of 'railroading in the raw' during the first half of the twentieth century."
John W. Orr graduated from Penn State in 1949. Recently deceased, he resided in Ralston, Pennsylvania.
Mailing List
Subscribe to our mailing list and be notified about new titles, journals and catalogs.