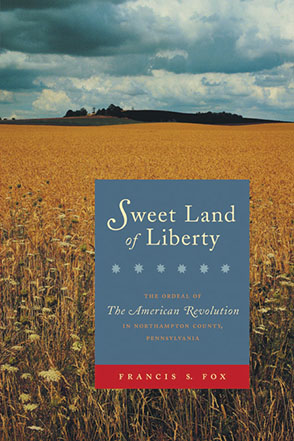 Sweet Land of Liberty
The Ordeal of the American Revolution in Northampton County, Pennsylvania
Francis S. Fox
BUY
Sweet Land of Liberty
The Ordeal of the American Revolution in Northampton County, Pennsylvania
Francis S. Fox
"A one-of-a-kind book, a miracle to be grateful for and to treasure. Fox gives us a new and altogether more disturbing Revolution than we have been accustomed to reckon with. Sweet Land of Liberty may forever change the way we think of our national origins."
Description

Reviews

Bio

Sample Chapters

Subjects
It is often said that the American Revolution was a conservative revolution, but in many parts of the British colonies the Revolution was anything but conservative. This book follows the Revolution in Pennsylvania's backcountry through the experiences of eighteen men and women who lived in Northampton County during these years of turmoil. Fox's account will startle many readers for whom the Revolution symbolizes the high-minded pursuit of liberty. In 1774, Northampton County was the second largest of Pennsylvania's eleven counties, comprising more than 2,500 square miles, three towns (Allentown, Bethlehem, and Easton), and some 15,000 people. When the Revolution broke out, militias took control. Frontier justice replaced the rule of law as zealous patriots preoccupied themselves not with fighting the British but with seizing local political power and persecuting their pacifist neighbors.
Sweet Land of Liberty reawakens the Revolution in Northampton County with sketches of men and women caught up in it. Seldom is this story told from the vantage point of common folks, let alone those in the backcountry. In Fox's hands, we see in these individuals an altogether more disturbing Revolution than we have ever reckoned with before.
"A one-of-a-kind book, a miracle to be grateful for and to treasure. Fox gives us a new and altogether more disturbing Revolution than we have been accustomed to reckon with. Sweet Land of Liberty may forever change the way we think of our national origins."
"To come once again at the question of the morality of the American Revolution but from [the] unfamiliar perspective . . . of the Northampton residents, whose story Francis Fox opens up for the first time in his path-breaking book—is to be reminded of the moral complexities that extraordinary times brought to the lives of ordinary people."
"For their beliefs, Moravians and Mennonites forfeited the right to vote, suffered harassment and beatings from neighbors and militiamen, faced draconian fines for their religious objections, and finally, watched as the judicial system confiscated their property and sold it at auction. In relating these moments, Fox artfully captures the pain and hypocrisy that existed on the darker side of liberty's war."
"The American Revolution in back country Pennsylvania comes alive and is personified in this history of the American Revolution as real men and women lived it. Using biographies of 18 'obscure' men and women, Fox has given voice to the previously unheard. . . . It is good history and a good read with vivid word pictures drawn by Fox's use of language."
"Sweet Land of Liberty brings together biographical sketches of thirteen men and five women whose diverse experiences have been reconstructed on the basis of impressive archival research."
"The book helps us, nevertheless, to understand the extraordinarily factionalized nature of Pennsylvania's Revolution outside of Philadelphia and allows us to see that those conflicts were as often about petty grudges and self-interest as about the Revolution's formally stated aims; Sweet Land of Liberty recalls that all too human dimension with compassion."
"Francis Fox writes an engaging and highly personalized account of the American Revolution in the Pennsylvania interior. And as his work makes clear, the Revolution was first and foremost a war—not about ideas—but about people, their personalities and ambitions, as well as their fears, resentments, and even hatreds."
Francis S. Fox is an independent researcher and writer who for many years worked in textbook publishing. He lives in Newtown, Pennsylvania.