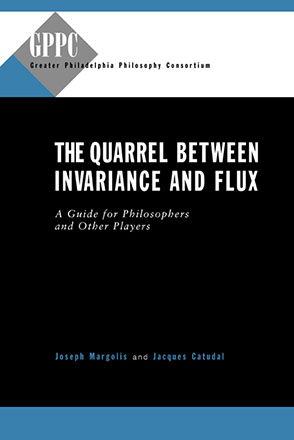 The Quarrel Between Invariance and Flux
A Guide for Philosophers and Other Players
Joseph Margolis, and Jacques N. Catudal
Buy
The Quarrel Between Invariance and Flux
A Guide for Philosophers and Other Players
Joseph Margolis, and Jacques N. Catudal
"The Quarrel Between Invariance and Flux offers a fine collection of primary texts centering on a single main issue together with first-rate commentary by Joseph Margolis, one of the most interesting and best-informed contemporary philosophers. The happy result is an unusually well thought out and useful anthology, combining Continental and Analytic sources, which will be of interest to beginning and advanced students everywhere."
Description

Reviews

Bio

Subjects
Rather than just offer background readings or a survey of views on a subject, as traditional anthologies do, this volume tries to engage the reader's active participation in understanding how philosophy came to be split between analytic and continental approaches and in finding ways to reconcile the two. It does so by tracing the history of philosophy as a perennial contest between two opposing world views: one that relates change to an underlying structure of invariance, and another that sees change itself ("flux") as the basic condition of existence.
The seven chapters cover the full range of major topics of philosophy, from metaphysics to epistemology to ethics, and present carefully selected readings from key thinkers—Plato, Aristotle, Locke, Hegel, and Peirce up to Heidegger, Husserl, Kuhn, Kripke, and Putnam, among others—juxtaposed and introduced by the editors so as to stimulate active thinking about how the debate between these competing visions plays out in each arena. A bibliography of additional sources ends each chapter.
The result is a new and inspiring tool for teaching philosophy to both beginning and advanced students. Even seasoned professionals will have much to learn about the development of philosophy and its current predicament from accepting the challenge to rethink the tradition from the perspective presented here.
"The Quarrel Between Invariance and Flux offers a fine collection of primary texts centering on a single main issue together with first-rate commentary by Joseph Margolis, one of the most interesting and best-informed contemporary philosophers. The happy result is an unusually well thought out and useful anthology, combining Continental and Analytic sources, which will be of interest to beginning and advanced students everywhere."
"This unusual compendium makes accessible the major themes that Margolis has elaborated in recent decades. It is philosophically clear and didactically effective. The book provides synoptic and distinctive treatments of highly contested philosophical quarrels, complete with primary texts that are sometimes unorthodox. The result is a unique and important resource."
Jacques Catudal is Associate Professor of Philosophy at Drexel University.
Joseph Margolis is Laura H. Carnell Professor of Philosophy at Temple University and author of What, After All, Is a Work of Art? (Penn State, 1999).