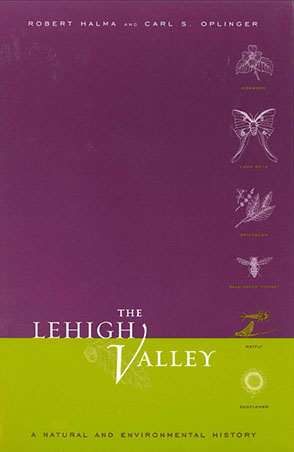 The Lehigh Valley
A Natural and Environmental History
Robert Halma and Carl S. Oplinger
Buy
The Lehigh Valley
A Natural and Environmental History
Robert Halma and Carl S. Oplinger
"The book is easily the most complete and most up-to-date book on the environmental history of the Lehigh Valley."
Description

Reviews

Bio

Subjects
Comprising approximately 730 square miles and over half a million residents, the Lehigh Valley is the third largest metropolitan area in Pennsylvania, encompassing the cities of Allentown, Bethlehem, and Easton. Much is known about the industrial history of the valley (home to Bethlehem Steel, Mack Trucks, and Crayola crayons). But few have discovered the valley's natural history: the "endless" Blue Mountain, the spectacular raptor migrations, the wetlands and watercourses.
The Lehigh Valley
explores the land and the natural forces and human history that have altered it.
From boulder fields to water gaps, from sinkholes to limestone caves, the valley has long had a powerful influence on the lives of its residents—and the people have had a similarly powerful effect on the valley; the text features brief profiles of some of the people who have shaped the environmental history of the area. The authors also include directions to historical and natural sites, and the book's illustrations aid visitors and naturalists in identifying the region's abundance of flora and fauna. The Lehigh Valley is a unique combination of narrative natural history, identification handbook, and travel and hiking guide. Mountain laurel, red-tailed hawks, dusky salamanders: The Lehigh Valley not only shows us what resides in this beautiful and bountiful valley, but also explains why.
This illustrated guide surveys the valley's ecology, geology, history, and agriculture—and is complemented by maps and drawings of the area's plant and animal life. The Lehigh Valley will appeal to area residents, amateur naturalists, and Pennsylvania visitors with an interest in natural history.
"The book is easily the most complete and most up-to-date book on the environmental history of the Lehigh Valley."
"When scholars from the natural and social sciences search for a model for writing a comprehensive natural and environmental history of a locale, region, or biome, they need look no further than Halma's and Oplinger's Lehigh Valley. The book is an ecological treasure trove of important concepts and conclusions, significant natural and environmental historical details and findings, and thoroughly innovative textual features that capture the reader's attention."
Robert Halma is Professor of Biology at Cedar Crest College in Allentown, PA.
Carl S. Oplinger is Professor of Biology at Muhlenberg College in Allentown, PA.