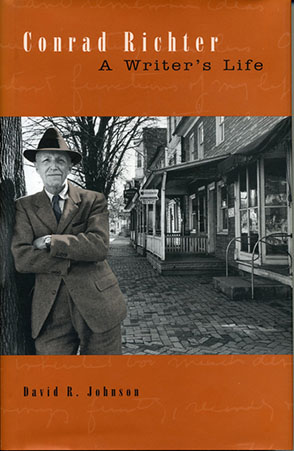 Conrad Richter
A Writer's Life
David R. Johnson
BUY
Conrad Richter
A Writer's Life
David R. Johnson
"This is a well-researched and well-written psychological profile of an insecure, superstitious, but nonetheless rather appealing man. Johnson knows how to tell a story, describing in detail Richter's unlikely path toward becoming an important writer."
Description

Reviews

Bio

Sample Chapters

Subjects
Conrad Richter: A Writer's Life
is the story of an aspiring writer who failed and then, desperate for money, tried again and wrote himself out of penny-a-word pulp magazines and into a Pulitzer Prize and a National Book Award. Based upon unrestricted access to all of Richter's letters, journals, notebooks, and private papers, this biography offers an intimate account of Richter's personal struggle to achieve success in his own and in other people's terms.
Johnson's biography will engage anyone interested in the art of biography and in a novelist's act of writing. Admirers of Richter's novels will also find much of interest in his life. So, too, will those who find value in the story of a man who, despite his sense of himself as an imperfect vessel for God's plan for human evolution, lived his life with as much grace, determination, and courage as he could.
"This is a well-researched and well-written psychological profile of an insecure, superstitious, but nonetheless rather appealing man. Johnson knows how to tell a story, describing in detail Richter's unlikely path toward becoming an important writer."
"Johnson has produced a thorough, well-informed, and readable account of Richter, who clearly ranks among the important American novelists of his time. Johnson knows Richter's territory, and writes about it with real authority."
"Biographer Johnson portrays Richter through letters and diaries as a serious, self-castigating artist, one as worried about his income as his storytelling. . . . Richter's self-doubt and his prickly relationship with his publisher, Alfred Knopf, continued throughout his career, even when his autobiographical novel, The Waters of Kronos, won the National Book Award in 1961. In the brief acceptance speech that the pathologically shy author had Knopf read for him, Richter described 'hardship into gain' as the theme of his pioneer novels, but it could apply equally to his life, well and thoroughly depicted here by Johnson."
David R. Johnson is Professor of English at Lafayette College.