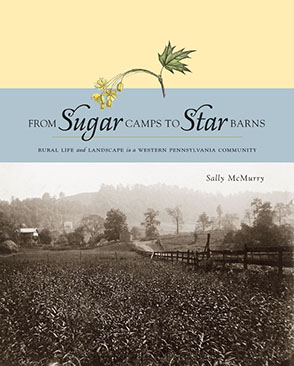 From Sugar Camps to Star Barns
Rural Life and Landscape in a Western Pennsylvania Community
Sally A. McMurry
Buy
From Sugar Camps to Star Barns
Rural Life and Landscape in a Western Pennsylvania Community
Sally A. McMurry
"Even if you aren't interested in early architecture, you will enjoy From Sugar Camps to Star Barns. The stories about early life in Somerset County are fascinating. There are even some early photographs."
Description

Reviews

Bio

Subjects
Rural Pennsylvania's landscapes are evocative, richly textured testimonies to the lives and skills of generations of builders—architects as well as local builders and craft workers. Farmhouses and barns, silos and fences, even field patterns attest to how residents over the years have had a sense of place that was not only functional but also comfortable and aesthetically appropriate for the time.
From Sugar Camps to Star Barns
tells the story of one such place, a landscape that evolved in southwestern Pennsylvania's Somerset County.
Sally McMurry traces the rural life and landscape of Somerset County as it evolved from the earliest settlement days. Eighteenth-century residents were a forest people, living on sparsely built farmsteads and making free use of the heavily forested landscape. The makeshift sugar camp typified their hardscrabble lives. In the nineteenth century, the people of this area turned to farming. Prompted by the ''market revolution'' that had come to Somerset County, they pursued a highly varied agriculture, combining a subsistence base with robust production of commodities shipped to distant cities. Their landscape reflected this combination of the local and the cosmopolitan—a combination that reached its full expression in the distinctive two-story banked farmhouse with double-decker porch, flanked by a substantial Pennsylvania barn.
The twentieth century brought a more industrialized agriculture to Somerset County. But the shift to profit-and-loss farming also meant the accentuation of landscape elements specific to market products. The magnificent ''star barns'' of this era overshadowed the houses, and ancillary structures, such as ''peepy houses'' and silos, spoke to the pressures of efficiency and mass production. The subsequent rise of coal mining helped to stimulate this trend, both by supplying local markets and by creating an incentive for farmers to visually distinguish their landscapes from those of the coal-patch towns.
Illustrated with over 100 photographs, maps, drawings, and diagrams, From Sugar Camps to Star Barns demonstrates how much we can learn about the economy and culture of a particular place simply by being attentive to the built landscape.
"Even if you aren't interested in early architecture, you will enjoy From Sugar Camps to Star Barns. The stories about early life in Somerset County are fascinating. There are even some early photographs."
"What was intended to be a narrative for a local architectural survey by Somerset County Historical Society has blossomed into a book that examines the rural life and landscape of the historic region."
"McMurry uses . . . diary entries of residents and travelers, letters, photographs and her own knowledge of history, to piece together a historical look at Somerset County. She manages to weave together a chronological look at the shaping of this community. The journey reveals the transition from a forest people in the 18th century to a farming community in the 19th."
"This book grew out of a vernacular architecture survey initiated by the Somerset Historical Society in the early 1990s. After a 'windshield' survey of Somerset County, teams homed in on several dozen farmsteads, making measured drawings of buildings and collecting oral histories and documentation.
Buildings were matched against tax, census and deed records, diaries and other documents to draw a broader interpretation of who built them, how they were used, how many people lived in them, what crops they grew and what values they held.
McMurry, who teaches history at Penn State, discovered that at the turn of the 19th century, Somerset County log housing was modest to an extreme. Families who could afford bigger, better dwellings didn't build them for several reasons, including a Pennsylvania German preference for putting their money into land, livestock and tools.
By the mid-1800s, status began to be expressed through houses with ornate, double-decker front porches used both for socializing and domestic work, places where guests were entertained, peas were shelled and laundry was hung.
By 1900, mining operations were scarring the farm fields and introducing a new town type, the coal patch, and a new icon, the monumental tipple. The book doesn't deeply explore the architecture of the coal patch itself, but describes its impact on the rural landscape.
This book, which covers the years 1780 to 1940, is bountifully illustrated with historic photographs, maps and the measured drawings of the survey. It should be in the library of those interested in the history and buildings of Western Pennsylvania."
"Narrated with diligence and grace, From Sugar Camps to Star Barns is an exemplary tale that charts the historic forces and individual actions that shaped one Pennsylvania landscape. Sally McMurry reaches past the written record and into the everyday world of things that people made and used, and in this gesture she unites the intimacy of local lives with the broad economic and social changes that transformed the larger American countryside. All who read McMurry's portrait of rural Somerset County will gain a new appreciation for the beauty and importance of the commonplace and what it can teach us."
"To scholars of American social and rural history, the broad contours of McMurry's narrative of the transformations caused by the rise of a market economy and the florescence of capitalism will seem familiar. For more general readers, though, her study serves as an accessible entree to current scholarship. The signal contribution of this book, however, lies in its integration of that history with a close reading of local architecture, land use patterns, and material culture replete with wonderful illustrations. That potent combination makes From Sugar Camps to Star Barns a feast for the eye as well as the mind."
"For the person who is interested in rural architecture or agricultural history, McMurry's book would be an excellent addition to one's library."
Sally McMurry is Professor of History at Penn State University. She is the author of Transforming Rural Life: Dairying Families and Agricultural Change, 1820-1885 (1995) and Families and Farmhouses in Nineteenth-Century America: Vernacular Design and Social Change (1988).