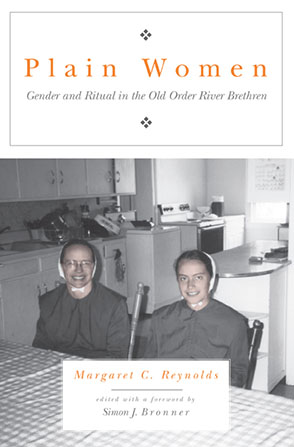 Plain Women
Gender and Ritual in the Old Order River Brethren
Margaret C. Reynolds, Edited with a Foreword by Simon J. Bronner
Buy
Plain Women
Gender and Ritual in the Old Order River Brethren
Margaret C. Reynolds, Edited with a Foreword by Simon J. Bronner
"Written with nuance and insight, Plain Women is a fine and probing analysis of the role of women in the Old Order River Brethren. Reynolds has a firm mastery of the history and doctrines of the background movements of Anabaptism and Pietism, and her findings fill the gaps in published information on this minority faith."
Description

Reviews

Subjects
Despite the great interest in "plain" groups in recent years, comparatively little has been written about women and the particular role they play in preserving traditional religious and cultural values in the modern world. In
Plain Women
, Margaret C. Reynolds portrays the women of the Old Order River Brethren, a significant branch of the Brethren in Christ located mainly in Pennsylvania.
The members of this conservative offshoot of the Brethren are often confused with the Amish because of their plain attire, but, unlike the Amish, they have made some notable concessions to the modern world—including the use of automobiles, computers, and home appliances. Noting these accommodations to modern American life, Reynolds examines the ceremonies and traditions that allow the Old Order River Brethren to remain "separate" from other plain groups and from contemporary mass culture. She describes, for example, the love feast communion, a service that involves footwashing and a breadmaking ritual (one unique to the Old Order River Brethren and solely performed by women). Reynolds focuses in particular on the gendered customs of dress, hair, and domesticity that shape women's lives and, in so doing, preserve the minority faith itself.
Plain Women is the first volume in the new Pennsylvania German History and Culture Series, published in cooperation with the Pennsylvania German Society. This series is a continuation of the Society's annual volumes on Pennsylvania German scholarship in disciplines such as history, religion, folklore, literature, and arts.
"Written with nuance and insight, Plain Women is a fine and probing analysis of the role of women in the Old Order River Brethren. Reynolds has a firm mastery of the history and doctrines of the background movements of Anabaptism and Pietism, and her findings fill the gaps in published information on this minority faith."
"Margaret Reynolds shows us the importance of Old Order River Brethren women in the life of the group. In their domestic role of providing nurture in everyday life, and in the religious symbolism permeating their ceremonial preparation of bread for the communion Love Feast, these women act as primary bearers of meaning for the culture. Reynolds's analysis highlights how women not only maintain the group but also enrich its meaning and fulfillment for its members."
"This fascinating book profiles one of the smallest and least studied of the Anabaptist sects: the Old Order River Brethren, who dress similarly to the Amish but selectively use computers, automobiles and other new technologies. . . . Reynolds argues persuasively that women help preserve the group's identity by leading the Love Feast, a special communion service; maintaining their plain dress; and safeguarding their bread-making customs."
"In this posthumously published work, Reynolds offers us unique insights into both the historical context of Old Order River Brethren as well as the role of women within the River Brethren and, in particular, the significance of their participation in River Brethern rituals.
The reader is left with a very intensely personal and human as well as probing account of the role of women in the Old Order River Brethren in today's world. The interweaving of observation, quotations from interviews and interpretations by Reynolds immerses the reader in the cultural fabric of women's lives in this group. Her examination of women in this often neglected religious group is a solid contribution to ethnographic, religious and gender studies."
"Reynolds's work represents a landmark contribution. The topic, Old Order River Brethren women, is singular in studies of plain groups. In addition, unlike the preponderance of scholars who write about Amish and Mennonites, Reynolds was not an 'insider.' . . . In Plain Women, she details her approach to those traditional communities, and her descriptions should serve as a guide to 'outsiders' who may be intimidated or rebuffed during initial forays. . . . Her voice joins a small but vibrant congregation of women's historians, anthropologists, and others who recognized that women, even when silenced, continue to shape religious culture and community life."
"The interweaving of observation, quotations from interviews and interpretations by Reynolds immerses the reader in the cultural fabric of women's lives in this group.
On a final note, we welcome Reynold's study as the first volume in the new Pennsylvania German History and Culture Series, published in cooperation with the Pennsylvanian German Society."
"However, in all other respects, this book, in its study of a neglected field, makes an excellent contribution to ethnic and women's studies. It contains a unique orchestration of points of view, some provided in Simon J. Bronner's editing and some originating in Margaret C. Reynolds's work itself. Especially notable is not only Reynolds's distinction between River Brethren women's values and her own but also her delineation of her developing appreciation for the women."