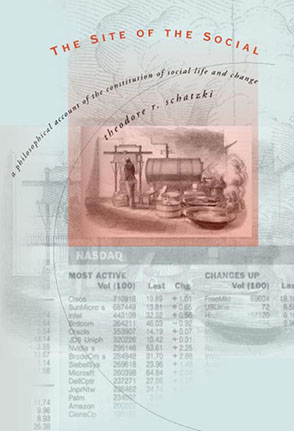 The Site of the Social
A Philosophical Account of the Constitution of Social Life and Change
Theodore R. Schatzki
BUY
The Site of the Social
A Philosophical Account of the Constitution of Social Life and Change
Theodore R. Schatzki
"Professor Schatzki's The Site of the Social picks up where his groundbreaking Social Practices leaves off. Where the latter provided a compelling picture of how we are constituted by our social practices, his new book offers an ontology of the social itself. By including extended discussions of diverse social groupings such as Shaker herb practice and day trading on Nasdaq, Schatzki sketches a clear and compelling picture of what the nature of the social consists in. Essentially, The Site of the Social constructs an ontology that captures many of the features of the work of Foucault and Deleuze in such a way as to put them in dialogue with contemporary sociologists, biologists, and political theorists in the English-speaking world."
Description

Reviews

Bio

Subjects
Inspired by Heidegger's concept of the clearing of being, and by Wittgenstein's ideas on human practice, Theodore Schatzki offers a novel approach to understanding the constitution and transformation of social life. Key to the account he develops here is the context in which social life unfolds—the "site of the social"—as a contingent and constantly metamorphosing mesh of practices and material orders. Schatzki's analysis reveals the advantages of this site ontology over the traditional individualist, holistic, and structuralist accounts that have dominated social theory since the mid-nineteenth century.
A special feature of the book is its development of the theoretical argument by sustained reference to two historical examples: the medicinal herb business of a Shaker village in the 1850s and contemporary day trading on the Nasdaq market. First focusing on the relative simplicity of Shaker life to illuminate basic ontological characteristics of the social site, Schatzki then uses the sharp contrast with the complex and dynamic practice of day trading to reveal what makes this approach useful as a general account of social existence. Along the way he provides new insights into many major issues in social theory, including the nature of social order, the significance of agency, the distinction between society and nature, the forms of social change, and how the social present affects its future.
"Professor Schatzki's The Site of the Social picks up where his groundbreaking Social Practices leaves off. Where the latter provided a compelling picture of how we are constituted by our social practices, his new book offers an ontology of the social itself. By including extended discussions of diverse social groupings such as Shaker herb practice and day trading on Nasdaq, Schatzki sketches a clear and compelling picture of what the nature of the social consists in. Essentially, The Site of the Social constructs an ontology that captures many of the features of the work of Foucault and Deleuze in such a way as to put them in dialogue with contemporary sociologists, biologists, and political theorists in the English-speaking world."
"This book is top-notch philosophical scholarship."
"This is a book that any fan of Foucault, Deleuze, or Bourdieu, or for that matter Giddens, and anyone interested in the problem of the relevance of Heidegger to social theory, will find challenging—and essential. Schatzki makes an impressive case for a social ontology centered on practices, and in the course of it rethinks and convincingly critiques the thought of many of the contributors to 'practice theory' while showing its centrality to twentieth-century thought. But this book is not merely a book about books: Schatzki deals with real human material in a novel way."
Theodore Schatzki is Associate Professor of Philosophy at the University of Kentucky.