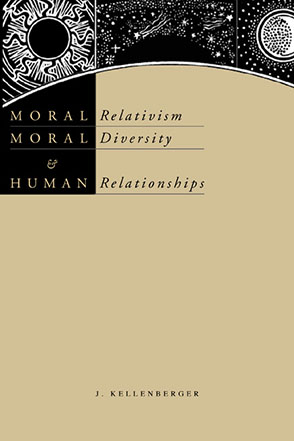 Moral Relativism, Moral Diversity, and Human Relationships
James Kellenberger
Buy
Moral Relativism, Moral Diversity, and Human Relationships
James Kellenberger
"This book is a development of Kellenberger's distinctive approach to morality that he has worked out in Relationship Morality. The two books are independent, but each deepens and complements the other. . . . One of the most interesting features of the book is Kellenberger's attempt to show how standard notions such as rights, obligations, and virtues are recast and defended from the point of view of relationship morality. This is needed because, if he is right, the existing moral absolutist accounts are unsatisfactory and the challenge issued by moral relativism is unmet. . . . Kellenberger goes far afield to consider the practices of religions, cultures, and ethnic groups that differ historically, socially, morally, and politically. This greatly strengthens his argument and makes what he has to say alive with palpable significance for anyone who is willing to think hard about moral matters. . . . The audience for the work extends far beyond moral philosophers. It will interest political theorists, anthropologists, theologians, and sociologists. It ranges across moral thought, religious reflection, feminism, and ethnography. And because it is written plainly and is rich with illustrations, it could be suitable as a text in advanced undergraduate and graduate classes. It is also accessible to a general audience, provided it is literate and is willing to think hard about moral issues."
Description

Reviews

Bio

Subjects
This book aims to clarify the debate between moral relativists and moral absolutists by showing what is right and what is wrong about each of these positions, by revealing how the phenomenon of moral diversity is connected with moral relativism, and by arguing for the importance of relationships between persons as key to reaching a satisfactory understanding of the issues involved in the debate.
"This book is a development of Kellenberger's distinctive approach to morality that he has worked out in Relationship Morality. The two books are independent, but each deepens and complements the other. . . . One of the most interesting features of the book is Kellenberger's attempt to show how standard notions such as rights, obligations, and virtues are recast and defended from the point of view of relationship morality. This is needed because, if he is right, the existing moral absolutist accounts are unsatisfactory and the challenge issued by moral relativism is unmet. . . . Kellenberger goes far afield to consider the practices of religions, cultures, and ethnic groups that differ historically, socially, morally, and politically. This greatly strengthens his argument and makes what he has to say alive with palpable significance for anyone who is willing to think hard about moral matters. . . . The audience for the work extends far beyond moral philosophers. It will interest political theorists, anthropologists, theologians, and sociologists. It ranges across moral thought, religious reflection, feminism, and ethnography. And because it is written plainly and is rich with illustrations, it could be suitable as a text in advanced undergraduate and graduate classes. It is also accessible to a general audience, provided it is literate and is willing to think hard about moral issues."
"Kellenberger's book is thoughtful, evocative, well researched, and informative. He has managed to pull together a notable range of examples to illustrate his thesis that a proper understanding of person-person relationships can untangle differences between relativists and anti-relativists. . . . Examples include abortion, marital fidelity, the distribution of justice, famine relief, genital mutilation—all sensitive to such non-Western cultures as tribal Africa, Buddhism, and Hinduism. . . . This book should find its place in many courses in ethics, philosophy of social science, cultural theory, and other courses concerned with multicultural themes."
James Kellenberger is Professor of Philosophy at California State University. He is the author of several books, including Kierkegaard and Nietzsche: Faith and Eternal Acceptance (1997) and Relationship Morality (Penn State, 1995).