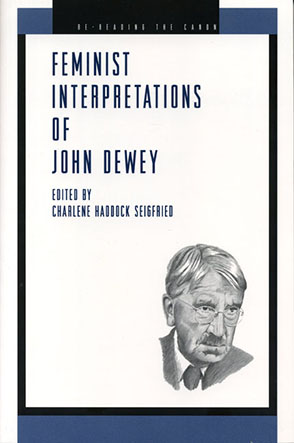 Feminist Interpretations of John Dewey
Edited by Charlene Haddock Seigfried
BUY
Feminist Interpretations of John Dewey
Edited by Charlene Haddock Seigfried
"Feminist Interpretations of John Dewey is an invaluable asset for an understanding of the intellectual underpinnings of feminist thought and for a deeper appreciation of Dewey's life, ideas, and legacy."
Description

Reviews

Bio

Subjects
This is the first collection of essays to evaluate John Dewey's pragmatist philosophy from a feminist perspective. The variety of feminist interpretations offered here ranges from Jane Addams's praise for his collegial efforts to resolve the problems of the inner city to contemporary comparisons of his approach with Addams's own critique of capitalism as patriarchal. In between are essays assessing Dewey's contributions to feminist theory and practice both in his lifetime and in regard to contemporary feminist approaches to education, subjectivity, objectivity and truth, and social and political philosophy.
At a time when feminists are questioning and developing alternatives to the scientistic value-free inquiry advocated by logical positivism, the myth of detached observation informing the epistemological turn, rationalistic ethics, and the model of an unattached, nonrelational subject, this book reminds us of Dewey's early and passionate opposition to the same assumptions and his reconstruction of philosophy as a "method of moral and political diagnoses and prognosis." It has often been remarked that Dewey's pragmatism provides a genuine alternative to the usual masculinist biases of Western philosophy, and the various essays in this book develop this claim more extensively.
Contributors, besides the editor, are Jane Addams, Ana M. Martínez Alemán, Paula Droege, Marilyn Fischer, Eugenie Gatens-Robinson, Judith M. Green, Lisa Heldke, Ellen Condliffe Lagemann, Erin McKenna, Marjorie C. Miller, Elizabeth Kamarck Minnich, and Shannon Sullivan.
"Feminist Interpretations of John Dewey is an invaluable asset for an understanding of the intellectual underpinnings of feminist thought and for a deeper appreciation of Dewey's life, ideas, and legacy."
"Like its predecessors in the Re-Reading the Canon Series, this volume is indispensable for those interested in feminist philosophy and in particular in this relatively new category of feminist pragmatism."
"Overall, these and the other essays in this book present persuasive arguments for the usefulness of Deweyan philosophy for feminist theory and activism."
Charlene Haddock Seigfried is Professor of Philosophy at Purdue University. Her books include Pragmatism and Feminism: Reweaving the Social Fabric (1996).