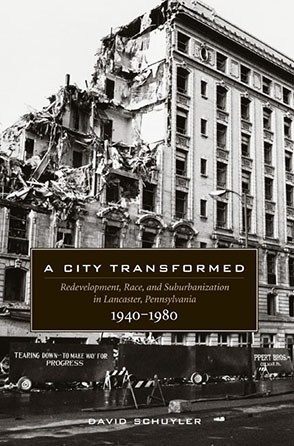 A City Transformed
Redevelopment, Race, and Suburbanization in Lancaster, Pennsylvania, 1940–1980
David Schuyler
BUY
A City Transformed
Redevelopment, Race, and Suburbanization in Lancaster, Pennsylvania, 1940–1980
David Schuyler
"In A City Transformed David Schuyler offers a body of new information on the effects of urban redevelopment on a small city. The Lancaster story is important in that it mirrors the frustrated efforts of so many other cities faced with the debilitating effects of economic decline. In the end we see how such cities fumbled the ball, sacrificing so much and getting so little in return."
Description

Reviews

Bio

Table of Contents

Sample Chapters

Subjects
As was true of many American cities, Lancaster, Pennsylvania, adopted urban renewal programs in the postwar years to revitalize a downtown that was experiencing economic decline. As the commercial and residential infrastructure of the city decayed, people and jobs migrated to the suburbs. Urban renewal was supposed to make the downtown viable again as a site for both businesses and residences. But as David Schuyler shows in
A City Transformed,
redevelopment in Lancaster resulted in more failures than successes.
Beginning in the 1950s, the Lancaster Redevelopment Authority implemented a comprehensive revitalization program that changed the physical shape of the city. In attempting to solidify the retail functions of the traditional central business district, redevelopment dramatically altered key blocks of the downtown, replacing handsome turn-of-the-century Beaux Arts structures with modernist concrete boxes and a sterile public square. The strategy for eliminating density and blighted buildings resulted in the demolition of whole blocks of dwellings and, perhaps more importantly, destabilized Lancaster's African American community.
A City Transformed is a compelling examination of a northern city struggling with its history and the legacy of segregation. But the redevelopment projects undertaken by the city, however ambitious, could not overcome the suburban growth that continues to sprawl over the countryside or the patterns of residential segregation that define city and suburb. When the Redevelopment Authority ceased operating in 1980, its legacy was a city with a declining economy, high levels of poverty and joblessness, and an increasing concentration of racial and ethnic minorities—a city very much at risk. In important ways what happened in Lancaster was the product of federal policies and national trends. As Schuyler observes, Lancaster's experience is the nation's drama played on a local stage.
"In A City Transformed David Schuyler offers a body of new information on the effects of urban redevelopment on a small city. The Lancaster story is important in that it mirrors the frustrated efforts of so many other cities faced with the debilitating effects of economic decline. In the end we see how such cities fumbled the ball, sacrificing so much and getting so little in return."
"Schuyler is intimately acquainted with the community, and the quality of his narrative rests upon his unrelenting scrutiny as to how Lancastrians wrangled over renewal and race. He is an omniscient observer, acutely aware of the nuances of local political culture and fluent in the argot of design, redevelopment, and the whims of architectural clients. . . . Amidst a raft of books on urban redevelopment, few are as shrewd and impassioned as this sad, familiar tale of a townscape lost."
"This well-focused case study surveys how the political leadership of one city went about using, and fighting, various federal programs for replacing substandard housing, from the Depression to the suburban age."
"A City Transformed provides a valuable complement to recent studies of comparable struggles over urban renewal in larger cities such as Minneapolis-St.Paul and Detroit."
"A City Transformed would make an excellent reading in a course on planning history or urban studies. Policy makers would also benefit from reading the book."
"But these comments should not gainsay respect for an admirable account about a city that struggled against colossal metropolitan trends. Amidst a raft of books on urban redevelopment, few are as shrewd and impassioned as this sad, familiar tale of a townscape lost."
"David Schulyler's history of urban renewal in the age of suburbia is a well-researched and well-told story of how American city governments often applied misguided strategies with disastrous results. Anyone who wishes to study the mutually reinforcing dynamics of suburbanization and urban decline should read this excellent study of Lancaster, Pennsylvania."
"A City Transformed is an important, if depressing book. This study, carefully argued and closely researched through newspapers, planning reports, and government documents, tells a convincing story of the results of urban redevelopment in a small Mid-Atlantic city."
David Schuyler is Professor of American Studies at Franklin & Marshall College. He is the author of Apostle of Taste: Andrew Jackson Downing, 1815-1852 (1996) and The New Urban Landscape: The Redefinition of City Form in Nineteenth-Century America (1986). He serves on the editorial board of the Frederick Law Olmsted Papers project and is chair of the Pennsylvania State Historic Preservation Board.
Contents
List of Illustrations
Acknowledgments
Introduction
Part I: The Discovery of Urban Blight
1. The Postwar Housing Crisis
2. The Problem with Downtown
Part II: Planning a New Downtown
3. Best-Laid Plans
4. A New Heart for Lancaster
Part III: Race, Housing, and Renewal
5. Race and Residential Renewal: The Adams-Musser Towns Projects
6. Church-Musser: Race and the Limits of Housing Renewal
Part IV: Consequences
7. Sunnyside: The Persisting Failure of Planning and Renewal
8. Legacy: A Historic City in the Suburban Age
Notes
Index
Mailing List
Subscribe to our mailing list and be notified about new titles, journals and catalogs.