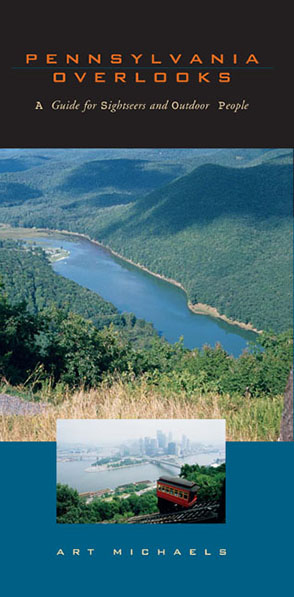 Pennsylvania Overlooks
A Guide for Sightseers and Outdoor People
Art Michaels
Buy
Pennsylvania Overlooks
A Guide for Sightseers and Outdoor People
Art Michaels
"With descriptions of nearly 50 impressive overlooks in the Keystone State, this book is an invaluable guide for planning spring getaways.


Description

Reviews

Bio

Table of Contents

Sample Chapters

Subjects

To those who enjoy outdoor adventure, Pennsylvania offers a number of natural attractions: wild rivers, impressive mountains, the silence of deep forests. But Pennsylvania's sublime overlooks, remarkable natural features in themselves, frequently go unnoticed despite their historical and scenic interest. (Few people realize, for instance, that a Pennsylvania overlook—Mt. Pisgah in York County—almost became our nation's capital.) Visitors to these promontories acquire a fresh appreciation of nature's beauty and a renewed sense of connection to the Pennsylvania landscape.

In Pennsylvania Overlooks, Art Michaels describes some of the most outstanding overlooks in the state. These overlooks afford unforgettable images throughout the year. From High Knob Vista in Wyoming State Forest, Sullivan County, the reds, oranges, and yellows of fall foliage extend to the horizon, appearing even more rich and majestic from a height. In winter, High Rocks Vista in Bucks County displays the panorama of a snowy, leafless forest. Near Breezyview Overlook in Lancaster County, a dazzling formation of migrating tundra swans glides over a snow-covered river valley. The trees of the Allegheny National Forest, spreading out below Jakes Rock Overlook in Warren County, convey the freshness of spring through their delicate array of green.

Pennsylvania Overlooks provides a unique introduction to these sites and other spectacular overlooks. The selected overlooks are easy to reach by automobile or by foot, and they offer much more than a pretty view. Each chapter presents vital information about an overlook, including a general description of the overlook and its area, the site's distinguishing features, its height, the compass direction of the view, and nearby and distant features visible from the overlook. Michaels also notes recreational activities and opportunities near each site. For weekends filled with nature, beauty, and history, this book is an invaluable guide.

"With descriptions of nearly 50 impressive overlooks in the Keystone State, this book is an invaluable guide for planning spring getaways.
For a romantic weekend trip for two, or a quick day trip with the whole family, the locations detailed in Pennsylvania Overlooks yield fantastic opportunities to get out of the house and take in some of the most remarkable sights Pennsylvania has to offer."

"Art Michaels' new book, Pennsylvania Overlooks, can guide you to some of the most spectacular scenery in the state, and it is conveniently sized to fit in a glove compartment.
Get a copy, pick your first destination, then let it lead you around the state. You will appreciate outdoors in Pennsylvania as never before."

"Lately I think I've found a kindred spirit in Art Michaels. His latest book, Pennsylvania Overlooks: A Guide for Sightseers and Outdoor People, is full of great heaven-on-earth scenery. Michaels has driven the breadth and depth of the Keystone State on a search for inspiring landscapes and the views from more than 50 selected overlooks. It's a wise choice."

"Every description is extremely accurate, and I learned something new from every chapter. This paperback book is a must for every car's glove box (it measures 4.5 inches by 9 inches), and it is a great value even though it costs more than the $1.72 per acre that was spent in 1902 to acquire land for the Tuscarora State Forest (see page 130). Enjoy!"

"What did make it are the best overlooks that can be easily reached by car, or walk of no more than 15 minutes from a parking area."

"A fine source book for people looking for a reason to travel across the commonwealth for a new experience."

"This book is especially useful to tourists, and also to hawk watchers seeking easily accessible, unidentified new hawk migration watch-sites to explore and evaluate. It is to these readers the book is recommended."

Art Michaels is an award-winning outdoor writer and photographer and a member of the Pennsylvania Outdoor Writers Association.

Contents

Acknowledgments

Introduction

I. Western Pennsylvania

1. State Game Lands #314/David M. Roderick Wildlife Reserve

2. Allegheny National Forest

3. Bradys Bend Scenic Overlook, Kennerdell Overlook

4. Cook Forest State Park

5. Clear Creek State Forest

6. Kinzua Bridge State Park

7. Pittsburgh

8. Ohiopyle State Park

9. Johnstown Inclined Plane

10. Forbes State Forest

11. Altoona-Area Overlooks

12. Blue Knob State Park

13. Elk State Forest Overlooks, State Game Lands #311 Elk-Watching Site

II. Central Pennsylvania

14. Susquehannock State Forest

15. Sproul State Forest

16. Tiadaghton State Forest

17. Tioga State Forest, Colton Point and Leonard Harrison State Parks

18. Hyner View State Park

19. Moshannon State Forest

20. Rothrock State Forest

21. Bald Eagle State Forest

22. Raystown Lake

23. Shikellamy State Park

24. Buchanan State Forest

25. Tuscarora State Forest

26. Michaux State Forest

27. Kings Gap Environmental Education and Training Center

28. Harrisburg-Area Overlooks

29. Gettysburg National Military Park

III. Eastern Pennsylvania

30. Round Top Park

31. Mt. Pisgah County Park

32. Wyalusing Rocks, Marie Antoinette Overlook

33. Wyoming State Forest, World's End State Park

34. Council Cup Scenic Overlook

35. Lackawanna State Forest

36. Gibbons Park

37. Hawk Mountain Sanctuary

38. Delaware State Forest

39. Big Pocono State Park

40. Delaware Water Gap National Recreation Area

41. Rocky Ridge County Park

42. Samuel S. Lewis State Park

43. Chickies Rock County Park

44. Holtwood Environmental Preserve

45. Susquehannock State Park

46. Ralph Stover State Park

47. Fort Washington State Park

Internet Resources

Index

Preface

At the Hawk Point Overlook in Susquehannock State Park on a clear, sunny Saturday in June, a family was enjoying the view from the 400-foot-high pinnacle. One of the adults, walking hand in hand with a youngster of about seven years old, said to the child, "Well, Enrique, how do you like your first day in America?" I didn't hear the child's response, but I did see him smile.

It's no wonder that on the child's first day in America, the family took the child to a Pennsylvania overlook. These magical places inspire awe in those who view the landscape from their heights. Surely those parents wanted to instill not only a sense of awe and wonder in the child, but they also must have let the overlook instill in the child an optimistic beginning to what appeared to be at least a visit, and perhaps the child's new life in America.

Overlooks are majestic places that provide a wealth of year-round opportunities for sightseers and outdoor people. That's why sightseers and those interested in a variety of outdoor pursuits visit these captivating places year-round, and why government agencies, private conservation groups, tourist promotion agencies and sporting clubs spotlight them in their publications, websites and promotional literature.

If this book had been available when I was growing up, my parents, lifelong sightseers and outdoor people, would surely have bought it. If this book had been available when my wife and I began visiting overlooks, we would also have bought it.

Unfortunately, this book wasn't available, so by trial and error we found overlooks ourselves. Some trips were disappointing; others were tremendously rewarding.

We've been avid anglers, boaters, wildlife-watchers and sightseers for many years, but during the last few years, we've sought out overlooks more than any other outdoor activity. Frequenting overlooks let us understand and appreciate the outdoors differently. We never knew that a Pennsylvania overlook almost became our nation's capital (Mt. Pisgah, Samuel S. Lewis State Park, York County). We didn't realize how much richer fall foliage reds, yellows and oranges could be while viewing them to the horizon from an overlook (High Knob Vista, Wyoming State Forest, Sullivan County). We didn't appreciate a snowy, leafless forest until we saw it from a height (High Rocks Vista, Ralph Stover State Park, Bucks County). Viewed from an overlook, we had never before seen migrating tundra swans flying in formation high over a snow-covered river valley (Breezyview Overlook, Chickies Rock County Park, Lancaster County). We had never before identified so many colors as the sun set behind an overlook's panorama (Hyner View State Park, Clinton County). From high up, the magic of city lights at night sparkle in a special way we hadn't often seen (Duquesne Incline, Pittsburgh). From an overlook, we hadn't before considered the freshness of spring as a forest once again turns green (Jakes Rock Overlook, Allegheny National Forest, Warren County). We had never entirely grasped aspects of Pennsylvania geology until we saw from an overlook the unmistakable division between Pennsylvania's Ridge and Valley physiographic province and the Allegheny Front of the Appalachian Plateaus province (Lower Overlook, Chimney Rocks Park, Hollidaysburg). We never fully understood the meaning of hallowed ground until we viewed from an overlook the site of North America's bloodiest battlefield (Little Round Top, Gettysburg National Military Park, Adams County).

A view from a tall building is overlooklike, but that's not what I mean by "overlook." An overlook for the purpose of this book is a cliff, mountaintop, ridge or other natural high vantage point that provides a vista of the surrounding terrain. The heights of some overlooks in this book aren't all that high up. But all the overlooks in this book have special qualities that make them worthwhile places to visit.

My wife and I are middle-aged, not in top physical condition, and hardly handy with advanced technical outdoor skills. For these reasons, you can drive to the overlooks in this book, or you can park near them and reach them with an easy walk. The longest "hike" to an overlook in this book takes about 15 minutes. The overlooks in this book are also located on public land, or they are open to the public. Most are located on federal government land, and in state parks, state forests, state game lands, county parks and local parks. Access to most of these overlooks is free, and most day-use activities are free, but several overlooks have admission fees and some opportunities at these sites and nearby have fees. In the overlook treatments, when the symbol [$] appears after an opportunity, it means that participating in the opportunity, or part of the opportunity, requires a fee.

This book includes only a taste of the overlooks in Pennsylvania. Some spectacular overlooks are accessible only by long, vigorous hikes or climbs over rough terrain. Still other overlooks aren't included for matters of safety—some roadside vistas provide great views, but parking may be tenuous at best, or it may be downright dangerous too close to traffic. Other overlooks may no longer be maintained as overlooks by their owners. Some overlooks may appear to be public places, but they are actually privately owned, and matters of liability and respecting landowner rights prevent including these places in the book. Many overlooks, especially in state forests, are accessible by car, but they are on unimproved dirt roads, and reaching them requires a treacherous, very bumpy ride. These sites were also omitted. Check the Pennsylvania state forest public use maps for these overlooks.

Did I not include your special overlook place? If I didn't include your beloved vista in this book, please consider making some of these sites part of your cherished places. Please also use this book to add an overlook or two to your list of special places.

Each overlook section includes vital information: The general description of the overlook and its area, the overlook's distinguishing features, height (above sea level, a valley floor or waterway) when known, the compass direction of the view and width in degrees, and features visible from the overlook. At or near these overlooks you can find a wealth of activities. In each entry's "Opportunities" section, at a glance you can find highlights of those activities at and very near each site. Check the "Nearby overlooks" section to locate other area vistas, and the "Nearby opportunities" section offers ideas on other area choices.

The opportunitioeing, star-gazing, swimming and wildlife refuges.

The actual number of opportunities and attractions near these overlooks is overwhelming, so this book includes only a few nearby choices. Consult the "Internet Resource SÉü "b_ SÊ° ;Fì SÉüs, and contacts provided assistance without which my fieldwork would surely have sputtered. In Rio de Janeiro, I enjoyed the considerable library resources of the Fundação Getúlio Vargas and the BNDES. At CODIN, Marco Antônio de Araujo Lima, Jorge de Paulaoeing, star-gazing, swimming and wildlife refuges.

The actual number of opportunities and attractions near these overlooks is overwhelming, so this book includes only a few nearby choices. Consult the "Internet Resources" section for more opportunities near these overlooks.

Each overlook listing also includes an "Admin & amenities" section, which includes information on hours of operation, entry fees, restrooms, availability of water, and other administrative details.

Sections on driving directions and contact information follow. Look in the contact information for the web sites and phone numbers of nearby federal projects, state parks, state forests, PA Game Commission, PA Fish & Boat Commission and other park facilities. Call these offices for current information on programs and activities.

Some of these overlooks are easy to find. Some aren't easy to find. For this reason, in addition to the directions provided for each overlook, get the appropriate park, state forest or game lands map. Check each overlook's contact information for these resources. U.S. Geological Survey quadrant maps are also helpful in pinpointing these places. You can obtain these maps over the counter statewide in a variety of outlets, or you can download them from an Internet web site (see the Internet resources section). I also found the DeLorme Pennsylvania Atlas and Gazetteer and PennDOT's official Transportation Map useful. In addition, bring binoculars or a spotting scope on your overlook trips to see some of the distant landmarks more readily.

Drive slowly on backwoods forest roads, and keep a camera handy. Wildlife abounds in many areas with unanticipated photo opportunities that can occur at any moment.

On your way to an overlook, if you travel on interstate routes or the Turnpike, stop at a PennDOT rest area or welcome center and peruse the pamphlets and maps. In the area of your destination you'll find useful published material on other opportunities, attractions, activities, accommodations and discount coupons.

A few words of caution: To reach many of these overlooks, you have to drive on "improved" dirt roads. They often have only one lane, and they're steep-sided and narrow. Drive carefully on these narrow roads. There is little room for error. Don't attempt to travel these roads with a trailer or other unit in tow. A high-axle four-wheel-drive vehicle is best for many of these roads.

Dust can also cover your vehicle after driving on these roads. While journeying through state forests on clear, dry days, the dust collecting on my vehicle's liftgate window is often so thick, the rear-windshield wiper clears it a few times as if it were a light coating of snow.

In addition, after significant rainfall, these roads can be slippery and muddy. In winter, many of these roads are simply impassible, so access to some of these vistas is closed then. Some of the parks that include these overlooks also just close in winter, and even if state forest main roads and state parks are open in winter, you might discover closed gates on access roads leading to overlooks, so always call ahead to confirm access.

Do not venture beyond designated overlook areas. Don't cross fences, railings and other barriers. Don't climb onto cliff barriers and precipices. Supervise children diligently.

Furthermore, know an area's rules and regulations. Hunting may or may not be permitted in certain park areas in certain seasons. The same applies to fishing, boating, trail use and other activities. When these activities are permitted, state laws for these activities apply. Obtain an area's rules and regulations by contacting the overlook's owner or managing agency, listed in the overlook's contact information or in this book's "Internet Resources" section.

State game lands are managed mainly for wildlife habitat and hunting, even though they are open to other kinds of recreation. If you venture onto game lands during the spring and fall hunting seasons, wear blaze-orange according to regulations. Stay on established trails and roads, and don't mark or forge new routes.

The elevations of some of these spots are the highest in the state, and the weather there can be very different from what you experience in lowlands. For example, in summer, at Jersey Shore and Lock Haven, in the West Branch Susquehanna River Valley, you might find calm conditions with temperatures in the mid-70s. At the same time, the air temperature at Hyner View State Park will be in the low 60s with winds of 20 to 25 miles per hour. It might be summer, but conditions like these will make it feel much cooler.

For this reason, even in summer, take an extra sweatshirt, jacket or sweater to be prepared for cooler, and sometimes downright colder, conditions at overlooks.

Some of these overlooks are historically significant. Others are more culturally important, and at others, the overlook's geological features are the main interest. In addition, the conservation importance of some overlooks adds to their significance.

With overlooks of such varied value and beauty, don't hold out for an overlook trip only in spring or summer! Overlooks are inviting year-round. Pick several in the same area and create your own auto tour. In summer, cool breezes and viewing seascapes of green, wavy forestland invite us to vistas. In the fall, overlooks dazzle us with spectacular leafy color displays. In winter, the leafless land often provides wider and more revealing views than in any other season. In spring, we marvel at the breathtaking sunny views of blooming flora against a background of ever-intensifying green.

Getting out to these places renews the spirit, as a good night's sleep refreshes the body. Pick a bright, crisp day, in any season, choose an overlook in this book and go there with a picnic lunch and a best friend, loved one, or an entire family of loved ones. View a sunrise. Observe a sunset. Experience a nighttime view of a city skyline from a vista. An overlook's panorama leaves us breathless, and viewing nature's majesty from a height bathes us in delight, wonder and hope.

1

STATE GAME LANDS #314

AND DAVID M. RODERICK

WILDLIFE RESERVE

State Game Lands #314, in Erie County, spans 3,131 acres. The

Ohio state line is the western border of these game lands, and the

Lake Erie shoreline forms their northern border for about 1.5

miles. This segment of the shoreline is the longest undeveloped

reach of Lake Erie's south shore between Toledo, Ohio, and Buffalo,

New York. The overlook spot, the site of the David M. Roderick

Monument, offers a nearly unspoiled view of the lake and

its natural shoreline, except for the westward sight of the

Conneaut, Ohio, breakwater and the occasional seagoing vessel

entering or leaving the area.

The David M. Roderick Wildlife Reserve was dedicated in July

1991. The United States Steel Corporation (now usx) owned the

property, which it had bought from Andrew Carnegie early in the

1900s. (Carnegie intended to build a steel mill on the site, but

those plans were changed in the 1960s.) David M. Roderick—for

whom the reserve is named—was chief executive officer of usx

from 1979 to 1989 as well as an avid outdoorsman with an abiding

interest in conservation. During Roderick's tenure as ceo, the

property was sold to the Mellon Foundation, which turned it over

to the Western Pennsylvania Conservancy. The Conservancy sold

the reserve to the Pennsylvania Game Commission.

The most common species here include woodcock, rabbit,

grouse, and white-tailed deer. Indeed, wildlife-watching—and

bird-watching in particular—is the main attraction at this tract,

which covers 4 square miles. The lake and its shoreline mark a

major north-south migration route for birds, including raptors

such as hawks and eagles, waterfowl, and some one hundred documented

songbird species. Upland ground birds, such as grouse,

pheasant, and wild turkey, are also abundant. In spring, birds flying

north use this area as a rest stop before they take wing over

the lake, and in the fall, birds flying south rest in this area after

their journey over the water.

The overlook is a cleared, grassy area about 100 yards long at

the David M. Roderick Monument, and the site stands about 100

feet above the water. The peaceful view is due north, 300 degrees

west-northwest to about 75 degrees east-northeast. Visible to the

east is a clifflike stretch of undeveloped Lake Erie shoreline; to

the west, more shoreline and the Conneaut breakwater. You can

enjoy this view from the benches that face the lake.

The shoreline cliffs here are part of present-day erosional

processes. They are not Ice Age remnants of a former high lake

shoreline. (The retreat of the last glacier to reach this area left the

cliff's sand and gravel.) Today's lake level has been relatively

steady for the last three thousand to four thousand years; earlier

lake levels were different from modern levels. You can see the

remnants of ancient shorelines—sandy, gravelly ridges about 10

to 15 feet high—in several places in Erie County. Many, however,

have been altered or removed by building and regrading, so they

are not obvious.

The lake erodes the shoreline at a rate of about 3 feet annually,

but this rate varies according to elements such as storms in the

area, lake levels, and whether the shoreline has a beach.

OPPORTUNITIES: Hiking, hunting, sightseeing, and wildlifewatching.

ADMINISTRATION AND AMENITIES: There are no services at this

overlook.

DIRECTIONS: From U.S. Route 20, where Route 20 and PA Route

5 meet at West Springfield, turn north onto Rudd Road, which is

clearly marked with a street sign. Drive 2.6 miles north on Rudd

Road to its end at Lake Road. Turn left (west) onto Lake Road

and drive 1.4 miles to the monument's parking area on the north

side of Lake Road.

FOR MORE INFORMATION: Contact the Pennsylvania Game

Commission, Northwest Region Headquarters, PO Box 31,

1509 Pittsburgh Road, Franklin, PA 16323 (814-432-3187 or

1-800-533-6764), or visit its Web site at www.pgc.state.pa.us.

NEARBY OVERLOOKS: Allegheny National Forest overlooks (Warren

County); Seneca Point Overlook (Clarion County); and Beartown

Rocks Vista (Jefferson County).

O T H E R N E A R B Y O P P O R T U N I T I E S

Presque Isle State Park (Erie County). Activities include

bicycling, boating (with unlimited horsepower), ice

boating, fishing for trout and other species, ice fishing,

hiking on 19 trail miles, hunting, picnicking, ice skating,

cross-country skiing, lake swimming, and wildlifewatching.

The park also offers boat launching and

mooring [$], boat rental [$], environmental education, a

food concession, a marina, pavilion rental [$], a

playfield, a playground, and a visitors center.

Pymatuning State Park (Crawford County). Activities

include boating (with 10hp limit), ice boating, tent

and trailer camping [$], organized group tent and

trailer camping [$], fishing for warm-water species, ice

fishing, hiking on 2 trail miles, hunting, picnicking,

ice skating, cross-country skiing, sledding, snowmobiling

on 15 trail miles with trailhead, lake swimming,

and wildlife-watching. The park also offers boat

launching and mooring [$], boat rental [$], modern

cabin rental [$], environmental education, a food concession,

a marina, pavilion rental [$], a playfield, and a

playground.

In Crawford County, the Pennsylvania Fish and Boat

Commission's Linesville Fish Culture Station has a visitors

center (814-683-4451), and Erie County's Fairview Fish

Culture Station also welcomes visitors (814-474-1514).

Erie National Wildlife Refuge (Crawford County). Activities

include boating (in boats without motors), fishing,

hiking, hunting, cross-country skiing, and wildlifewatching.

It also offers boat launching and environmental

education. Call the Refuge (814-789-3584) for

complete information on regulations.
Mailing List
Subscribe to our mailing list and be notified about new titles, journals and catalogs.