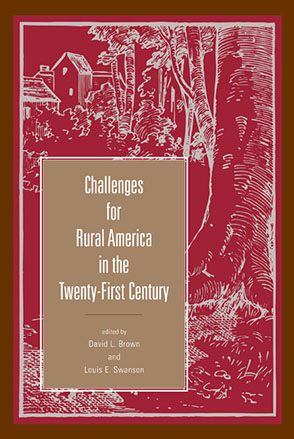 Challenges for Rural America in the Twenty-First Century
Edited by David L. Brown, and Louis E. Swanson
Buy
Challenges for Rural America in the Twenty-First Century
Edited by David L. Brown, and Louis E. Swanson
"Brown and Swanson (both former presidents of the Rural Sociological Society) present one of the finest overviews available of sociological issues facing the rural US today."
Media

Description

Reviews

Bio

Table of Contents

Subjects
Winner of a 2004 Choice Award for an Outstanding Academic Title
The twentieth century was one of profound transformation in rural America. Demographic shifts and economic restructuring have conspired to alter dramatically the lives of rural people and their communities.
Challenges for Rural America in the Twenty-First Century
defines these changes and interprets their implications for the future of rural America. The volume follows in the tradition of "decennial volumes" co-edited by presidents of the Rural Sociological Society and published in the Society's Rural Studies Series. Essays have been specially commissioned to examine key aspects of public policy relevant to rural America in the new century.
Contributors include:Lionel Beaulieu, Alessandro Bonnano, David Brown, Ralph Brown, Frederick Buttel, Ted Bradshaw, Douglas Constance, Steve Daniels, Lynn England, William Falk, Cornelia Flora, Jan Flora, Glenn Fuguitt, Nina Glasgow, Leland Glenna, Angela Gonzales, Gary Green, Rosalind Harris, Tom Hirschl, Douglas Jackson-Smith, Leif Jensen, Ken Johnson, Richard Krannich, Daniel Lichter, Linda Lobao, Al Luloff, Tom Lyson, Kate MacTavish, David McGranahan, Diane McLaughlin, Philip McMichael, Lois Wright Morton, Domenico Parisi, Peggy Petrzelka, Kenneth Pigg, Rogelio Saenz, Sonya Salamon, Jeff Sharp, Curtis Stofferahn, Louis Swanson, Ann Tickameyer, Leanne Tigges, Cruz Torres, Mildred Warner, Ronald Wimberley, Dreamal Worthen, and Julie Zimmerman.
"Brown and Swanson (both former presidents of the Rural Sociological Society) present one of the finest overviews available of sociological issues facing the rural US today."
"Keeping with the tradition of the two earlier volumes (Dillman and Hobbs, 1982 and Christensen and Flora, 1991), this book is a must-read for those who want or need to understand the dynamics of rural America."
David L. Brown is Professor of Rural Sociology at Cornell University and former President of the Rural Sociological Society.
Louis Swanson is Professor of Sociology at Colorado State University and former President of the Rural Sociological Society.
Contents
List of Tables
List of Figures
Acknowledgments
Introduction: Rural America Enters the New Millennium
David L. Brown and Louis E. Swanson
Part I: Who Lives in Rural America Today?
New Directions in Population Change and Diversity
1. Unpredictable Directions of Rural Population Growth and Migration
Kenneth M. Johnson
2. African Americans in Rural America
Rosalind P. Harris and Dreamal Worthen
3. American Indians: Their Contemporary Reality and Future Trajectory
Angela A. Gonzales
4. Latinos in Rural America
Rogelio Saenz and Cruz C. Torres
Reshuffling and Remaking Rural Families
5. What Do Rural Families Look Like Today?
Katherine MacTavish and Sonya Salamon
6. Older Rural Families
Nina Glasgow
7. Rural Children and Youth at Risk
Daniel T. Lichter, Vincent J. Roscigno, and Dennis J. Condron
8. Rural Women: New Roles for the New Century?
Ann R. Tickamyer and Debra A. Henderson
9. Rural Poverty: The Persisting Challenge
Leif Jensen, Diane K. McLaughlin, and Tim Slack
Part II: A Transformed Rural Economy
10. How People Make a Living in Rural America
David A. McGranahan
11. Who Benefits from Economic Restructuring? Lessons From the Past, Challenges for the Future
William W. Falk and Linda M. Lobao
12. Commuting: A Good Job Nearby?
Leanne M. Tigges and Glenn V. Fuguitt
13. Continuities and Disjunctures in the Transformation of the U.S. Agro-Food System
Frederick H. Buttel
14. Tourism and Natural Amenity Development: Real Opportunities?
Richard S. Krannich and Peggy Petrzelka
Part III: The Rural Community: Is It Local? Is It a Community?
Perspectives on Community
15. Community Agency and Local Development
A. E. Luloff and Jeffrey C. Bridger
16. Social Capital
Cornelia Butler Flora and Jan L. Flora
17. Civil Society, Civic Communities, and Rural Development
Thomas A. Lyson and Charles M. Tolbert
The Social Institutions That Maintain and Reproduce Community
18. The Global/Local Interface
Alessandro Bonanno and Douglas H. Constance
19. Competition, Cooperation, and Local Governance
Mildred E. Warner
20. Religion
Leland Glenna
21. Promoting Educational Achievement: A Partnership of Families, Schools, and Communities
Lionel J. Beaulieu, Glenn D. Israel, and Ronald C. Wimberley
22. Rural Health Policy
Lois Wright Morton
Part IV: People and the Environment: Tough Tradeoffs in an Era with Vanishing Buffers
23. Transforming Rural America: The Challenges of Land Use Change in the Twenty-First Century
Douglas B. Jackson-Smith
24. Community and Resource Extraction in Rural America
Lynn England and Ralph B. Brown
25. Fur, Fins, and Feathers: Whose Home Is It Anyway?
Steven E. Daniels and Joan M. Brehm
Part V: Changing National and International Policies: New Uncertainties and New Challenges
26. What Role Can Community Play in Local Economic Development?
Gary Paul Green
27. Devolution: Who Is Responsible for Rural America?
Jeffrey S. Sharp and Domenico M. Parisi
28. Welfare Reform in Rural Areas: A Voyage through Uncharted Waters
Julie N. Zimmerman and Thomas A. Hirschl
29. The Impact of Global Economic Practices on American Farming
Philip McMichael
30. Catalytic Community Development: A Theory of Practice for Changing Rural Society
Kenneth E. Pigg and Ted K. Bradshaw
Conclusion: Challenges Become Opportunities: Trends and Policies Shaping the Future
Louis E. Swanson and David L. Brown
References
Contributors
Index
Mailing List
Subscribe to our mailing list and be notified about new titles, journals and catalogs.