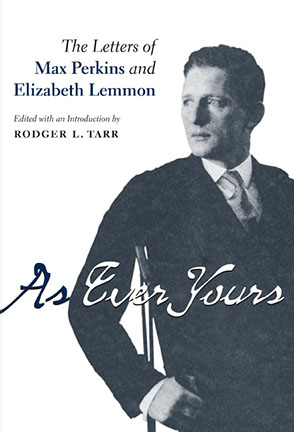 As Ever Yours
The Letters of Max Perkins and Elizabeth Lemmon
Edited by Rodger L. Tarr
Buy
As Ever Yours
The Letters of Max Perkins and Elizabeth Lemmon
Edited by Rodger L. Tarr
"When I found these cigarettes you had left I thought at first to keep them as a remembrance. But I am far from needing a remembrance." —From Max Perkins's first letter to Elizabeth Lemmon, dated 14 April 1922
Description

Bio

Table of Contents

Sample Chapters

Subjects
"When I found these cigarettes you had left I thought at first to keep them as a remembrance. But I am far from needing a remembrance." —From Max Perkins's first letter to Elizabeth Lemmon, dated 14 April 1922
Maxwell E. Perkins, famed editor of such literary luminaries as F. Scott Fitzgerald, Ernest Hemingway, Zora Neale Hurston, Marjorie Kinnan Rawlings, and Thomas Wolfe, was a man whose personal and professional lives often intersected. Nowhere is this more evident than in his correspondence with Elizabeth Lemmon, the Virginia socialite who became his long-distance confidante. Despite the platonic nature of their relationship, others realized the intensity of their connection. The letters contained in As Ever Yours, published here for the first time, reveal an epistolary love story—and they provide fresh insights into Perkins the man and Perkins the editor.
Max first met Elizabeth in 1922 at the Perkins home in Plainfield, New Jersey. Immediately drawn to her stark beauty and southern charm, he struck up a correspondence with her that lasted until his death in 1947. As Ever Yours contains 121 of Perkins's letters to Lemmon as well as the twenty extant letters from Lemmon to Perkins; the rest are presumed lost or destroyed. Letters from Fitzgerald and Wolfe also shed light on the pair's dynamic relationship.
The letters make for compelling reading as Perkins details his personal life in New Jersey and Connecticut and his professional life in the New York publishing world. The writers he discovered, edited, and encouraged at Charles Scribner's Sons emerge as endearing and believable characters, brought to life in Perkins's vivid narrative voice. He is witty, self-deprecating, and painterly in his descriptions of people and locales together with the social milieu of his day. Protected by distance, Max used his letter-writing relationship to unburden himself in a way he could not with his coworkers, his authors, or even his wife—and these letters simultaneously highlight his editorial judgment and disclose his private feelings.
Expertly edited by Rodger L. Tarr, As Ever Yours will be important to students and scholars of the history of publishing. The Perkins-Lemmon letters illuminate the thoughts and experiences of the greatest literary editor of the twentieth century.
Rodger L. Tarr is University Distinguished Professor Emeritus at Illinois State University. He is the editor of a number of books on Thomas Carlyle and Marjorie Kinnan Rawlings, most recently Max and Marjorie: The Correspondence of Maxwell E. Perkins and Marjorie Kinnan Rawlings (1999) and Thomas Carlyle: Sartor Resartus (2000).
Contents
List of Illustrations
Acknowledgments
Editorial Note
Introduction
Letters
Max Perkins to Elizabeth Lemmon
Elizabeth Lemmon to Max Perkins
Appendixes
A. Selected Letters of Louise Perkins, Elizabeth Lemmon, and Elizabeth "Zippy" Perkins Gorsline
B. Perkins on Fitzgerald at Welbourne
C. A Letter from F. Scott Fitzgerald to Louise Perkins
D. Letters from Thomas Wolfe to Elizabeth Lemmon
Bibliography
Index
INTRODUCTION
Maxwell Evarts Perkins is considered to be the finest editor of his generation. Between 1910, when he entered as an advertising manager, and 1947, when at his death he was editor-in-chief and vice-president, Perkins became a force at Charles Scribner's Sons, the "Empire" as Van Wyck Brooks called it. As a young editor, Perkins nurtured the romantic F. Scott Fitzgerald, and as a veteran editor he nourished not only the fragile Fitzgerald but also the ebullient Ernest Hemingway and the volatile Thomas Wolfe. Seldom in the history of literature has one editor been confronted with such talent. A. Scott Berg, Perkins's biographer, refers to him as an "Editor of Genius." There is no doubt that it was Perkins's own genius that helped to illuminate the careers of his writers. As the general collection of his letters, Editor to Author (1950), dramatically demonstrates, Perkins was revered by his authors and by his fellow editors. Add to this collection his letters to Fitzgerald in Dear Scott/Dear Max (1971), to Ring Lardner in Ring Around Max (1973), to Hemingway in The Only Thing That Counts (1996), to Marjorie Kinnan Rawlings in Max and Marjorie (1999), and to Wolfe in To Loot My Life Clean (2000) and the expanse of Perkins's impact becomes evident.
Yet Perkins's contribution to American literature between 1920, when Fitzgerald's Perkins-championed This Side of Paradise was published, and 1947 was even greater than these collections of correspondence suggest. He was also responsible for shepherding the literary careers of many other novelists and poets, including James Boyd, Taylor Caldwell, Marcia Davenport, Waldo Frank, Douglas Southall Freeman, Bernice Gilkyson, Caroline Gordon, Zora Neale Hurston, Will James, Younghill Kang, Edith Pope, John Thomason, Arthur Train, Christine Weston, Stark Young, and, at the end, the as-yet-unheralded James Jones and Alan Paton (the manuscripts of From Here to Eternity and Cry, the Beloved Country were found on Perkins's bedside table after his death). Indeed, Perkins was largely responsible for negotiating Scribners through the repeated financial shocks caused by World War I, the Depression, and World War II. His genius was to discover genius and then to cultivate it.
What do the letters to the Virginia socialite Elizabeth Lemmon tell us that is new about Perkins? For one thing, unlike his letters to Fitzgerald, Hemingway, Lardner, Rawlings, Wolfe, and even his daughters in Father to Daughter (1995), these to Lemmon are much more personal, even verging on the confessional. Perkins was comfortable with her and was able to admit his personal cares, fears, and shortcomings. He was frank with her about problems with his writers, friends, and family. But why Elizabeth Lemmon? What was her mystique?
The answer begins with the rigors of Perkins's professional life, which, from the beginning, threatened to overwhelm him, as Scribners progressively saddled its rising star with more and more work. He needed an emotional outlet for his life beyond his work; in the words of his daughter Bertha Perkins Frothingham, "Thank God, Daddy had somebody to talk to." As his close friend Van Wyck Brooks observed, Perkins seemed to live a life of "fatalistic sadness."1 It is clear from his letters to Lemmon that he suffered not only from the foibles and the demands of his writers but also from an imposed social life that was not always to his liking. His preference was to walk, or to read, or to plot strategies for the future of Scribners. He had no desire to be known as the most important editor of his age, for being a public figure took him from his avocation: books.
The letters to Lemmon reveal much about Perkins's relationship with his wife, Louise Saunders Perkins, herself a socialite. The marriage was never easy, often fractious, and on occasion seemingly beyond repair. There were compensations, however; his daughters, Bertha (Berta or Bert), Elizabeth (Zippy or Zip), Louise (Peggy or Peg), Jane (Jan or Jen), and Nancy (Nan or Duck), became a large part of his life beyond Scribners, sources of love who sustained him though periods of melancholy. There were good moments with Louise as well, especially early in their marriage. Louise had a creative, gregarious personality and was also a devoted mother. "With Mother," says Bertha, "life was exciting, wonderful, magical."2 Yet she was often distracted, determined to have her own career, first as an actor/director and then as a writer. Her professional ambitions intruded upon Perkins's work, and the Perkinses slowly grew apart. Their life became, in the words of William Butler Yeats, a "continual farewell." She developed Catholic devotions; he remained married to his catholic ideals. Thus it is not altogether surprising that a woman who was willing to listen, to sympathize, and most to offer support entered his life. That woman was the refined Elizabeth Lemmon, who lived in an antebellum home (and in part lived an antebellum life) at Welbourne, her family's estate near Middleburg, Virginia.
Who, then, was Elizabeth Lemmon, and why was Perkins so attracted to her? There are few facts and much mystery. Perkins first met her in April 1922, when she was visiting friends in Plainfield, New Jersey, then the home of the Perkinses. By all accounts Perkins was immediately attracted to Lemmon's stark beauty and refined manner.
Their lives, however, read like a litany of opposites. She was a southern belle; he a northern gentleman. She was graduated from Bryn Mawr School in Baltimore; he from Harvard University. She was effusive, charming, and down to earth; he was quiet, withdrawn, and urbane. She taught singing and dancing at the exclusive Foxcroft School; he managed the editorial affairs at Scribners. She coached the Upperville baseball team; he edited books. She cooked gourmet meals; he preferred restaurants. She listened to the opera; he prized silence. She raised champion boxer dogs; he had a passion for books. She liked to knit; he liked to walk. Their worlds could not have been farther apart, yet they quickly became close friends, partly at the encouragement of his wife Louise, who counted Lemmon among her own close friends. Perkins became devoted to Lemmon, and she to him. Even Louise recognized the electricity between the two. In the words of Scott Berg, "Louise believed Max had fallen in love again that night."3
Years later Lemmon insisted that their relationship was platonic. "I never slept with Max!" she once told Berg. "I never kissed him!"4 Yet there is an undercurrent in the letters, an emotional subtext never quite fully articulated. If they were not lovers, were they in love? Louise sensed that they were, at one point asking Lemmon if she would look after Perkins should something happen to her. What Lemmon said in return is not known.
Fortunately, the mystery surrounding Lemmon's relationship with Perkins is addressed, in part at least, in fictional accounts left by Fitzgerald and Wolfe. Fitzgerald's short story, "Her Last Case," is particularly noteworthy. When it is read through the lens of the Perkins–Lemmon letters, the story provides accurate biographical details about Lemmon and Welbourne. Fitzgerald's central female protagonist, Miss Bette Weaver, is unmistakably based upon Lemmon. The male protagonist, Ben Dragonet, is fashioned on Lemmon's brother-in-law, Nathaniel Holmes Morison, the husband of Lemmon's oldest sister, Frances Carter Lemmon, and loosely upon Fitzgerald himself. And, there is evidence to suggest that Howard Carney, Weaver's fiancé, might be modeled on Perkins.
The circumstances that precipitated "Her Last Case" are discussed in the Perkins–Lemmon letters. In July 1934, a by-then alcoholic Fitzgerald visited Lemmon at Welbourne at the urging of Perkins, who hoped that such a visit would invigorate Fitzgerald and help to set him on the road to sobriety. It is clear that both Fitzgerald and Lemmon understood the purpose for the visit. It did not work. However, this visit and a subsequent one in August left such an impression on Fitzgerald that he wrote "Her Last Case," which he describes as the "story about Welbourne."5 The story, carefully constructed on Fitzgerald's experiences, was published in The Saturday Evening Post on 3 November 1934. As if to forewarn Lemmon, Fitzgerald sent a "transcription" to her on 6 September:
This is the story I got out of 'Welbourne,' with my novelist instinct to make copy out of social experience. I don't think for a moment that this does any justice to 'Welbourne' but it might amuse you as conveying the sharp impression that the place made on me during a few week-ends." He then adds, "As the story is so detached from any reality I am sure it won't cause you or family any annoyance.6
As both the setting and the characterization demonstrate, Fitzgerald's disclaimer is not true.
"Her Last Case" concerns Weaver, a nurse, who is engaged to marry New York physician Howard Carney, but not before she confronts her last case, the caring for the desperate alcoholic Ben Dragonet, who lives in an antebellum home near Warrenburg, "Virginia."7 Fitzgerald's italics are evocative and easily lost to the reader who does not know the history behind the story. "Virginia" points to the story's subtexts. Ben Dragonet is consumed by "gin," notably a favorite of Fitzgerald's, and Dragonet, like Fitzgerald, needs a nurse to control his compulsion. However, Fitzgerald's use of italics means much more. He clearly had a romantic interest, however fleeting, in Lemmon. He also used her to tease the vulnerable Perkins, who he believed was in love with her. Fitzgerald once introduced her to Archibald MacLeish, "This used to be Max Perkins's girl," implying that she was now his. To this suggestion Lemmon responded, "But my God, after knowing Max Perkins, how could anyone be Scott's mistress!"8 Fitzgerald's flirtations and insinuations amused neither Perkins nor Lemmon. His behavior especially irritated Perkins. As for Fitzgerald, he was content to speculate to Perkins on 30 July, "I thought Elizabeth Lemon [sic] was charming – I wonder why the hell she never married."9 Fitzgerald visited Lemmon for a second time in August and then wrote to Perkins, "She is a sweet person and I can understand your feeling of affection for her."10 Fitzgerald could be less charitable, once describing Lemmon as the "lovely and unembittered and sacrificed virgin, the victim of what I gradually found was the vanity of her family."11 In this context, Fitzgerald's italicized play on "Virginia" assumes deeper significance. Not only is he toying with the word "gin," he is also expressing his opinion about Lemmon the "virgin."
Fitzgerald felt that Lemmon was wasting her life at Welbourne, and this subject becomes one of the conflicts in "Her Last Case." From the outset, Weaver worries that she will soon become the "housewife and handmaiden" of the determined Carney.12 It is at this point that Fitzgerald plays out his own wish-fulfilling fantasy. Unlike Lemmon, Weaver rejects Carney (Perkins) for her alcoholic ward Dragonet (Fitzgerald). Not surprising, the impetus for this psychological twist is Dragonet's suddenly found affection for his daughter, Amalie Eustace Bedford Dragonet, whose aristocratic name mimics those of the Lemmon family. Amalie's character, is probably based on Fitzgerald's daughter, Frances Scott "Scottie" Fitzgerald, described as a "sad-eyed little girl" of nine.13 Amalie, who has been raised in hotel rooms, cries out, saying mother "hates me" and father "doesn't want me either."14 Dragonet's unnamed wife, described by the Scottish housekeeper, Jean Keith, as the "devil," a "witch," and "poison", is blamed for his psychosis: "It was she that did it."15 The aggressive and irrational behavior of Dragonet's wife, whose "voice was Southern," suggests that she is formed, in part, on Zelda Fitzgerald, whose bouts with insanity during the writing of the story were acute.16 The Dragonets' life is compared to a storm. When she arrives the storm is at its zenith; when she finally departs, the "storm was over."17 Dragonet and Weaver are now free to become lovers: "her last case was going to last forever."18
It could be said that such one-to-one parallels ignore the fact that the story is fiction and that such parallels fly in the face of Fitzgerald's injunction to Lemmon that the story is "detached from any reality." Lemmon knew better. She was furious that Fitzgerald had misjudged and thus abused her sister and her sister's husband. In a hitherto unpublished document, she writes about the whole affair: "Scott lied to my sister (his hostess) on meeting her, and pursued her husband, trying to make him read one of his worst Saturday Evening Post stories. . . . They had no use for Scott. After he left, my sister said Scott must have thought I lived with a couple of dragons and in the story he wrote using Welbourne as the background, he called the owners Mr. and Mrs. Dragonet."19 Whatever the truth of Fitzgerald's intentions, the inspirations for the characters are unmistakable.
Fitzgerald also managed to capture Welbourne with precision. The mansion, except for the deterioration from age, is as Fitzgerald describes it: "It was all there—the stocky central box fronted by tall pillars, the graceful one-story-wings, the intimate gardens only half seen from the front, the hint of other more secret verandas to face the long southern outdoors."20 The descriptions of the grounds and the floor plan, including the library and bedroom (now called the Fitzgerald room), are also accurate. The "windowpane with the name scratched on it" by Colonel Pelham and the full-length portrait of the "Confederate brigadier" in the library are as Fitzgerald describes them.21
<comp: insert Fig. 3 About here: Welbourne>
Fitzgerald's effort in getting his place descriptions right complements his effort to get his character descriptions right. His descriptions of Weaver paint a flattering portrait of Lemmon. She was, says Fitzgerald, "lovely to look at," with "due credentials from Baltimore.22 Lemmon, it should be noted, once lived and went to school in Baltimore. She is described as having a "face whose every contour seemed to be formed to catch the full value of light and shadow, so that no angle could be turned far enough aside to obscure the delicate lines along the ridges of cheek bone, brow, chin and throat. A sculptor's, not a painter's face, but warmed and brought back into full life by the bright healthy warm blue eyes."23 Thus, "Her Last Case" is a confessional in which Fitzgerald not only confronts his attraction to Lemmon but also admits his envy of Perkins, his guilt about Scottie, and his trials with Zelda. Further, when read within the context of the Perkins–Lemmon relationship, the story presents a compelling portrait of the otherwise elusive Lemmon.
Unlike Fitzgerald, Thomas Wolfe visited Lemmon only once, yet he too was intrigued by her and by the aristocratic values she represented, which he emphasized in his drama "The House at Malbourne." However, again unlike Fitzgerald, Wolfe was not as personally conflicted by the characters or the place. His testimony is less psychologically constructed. Wolfe visited Welbourne in October 1934, and he immediately perceived the authority and the tragedy contained within its walls, as seen in his lengthy opening description:
<ext>
Scene: The house at Malbourne in the hunting district of Virginia. The house in its general design is not unlike the one at Mount Vernon, save that it is situated in a hollow rather than on a hill and, lacking somewhat the delicate austerity and precise design of its more famous neighbor, it yet surpasses it in warmth and naturalness. An air of ease and homely comfort has pervaded every line; and even the somewhat rambling and haphazard changes and additions of a century of use have served only to enhance the noble dignity of the old house. The place is warm with life – with death too, strangely, hauntingly – and grandly, instantly familiar the moment a stranger enters it. It seems that he has known it forever, it speaks to him at once like a familiar voice, and the voice it speaks with is not only warm with friendship but haunted with a sense of life dead and gone, all the scenes and people who have lived here and vanished. It is a tragic house.24
<end ext>
Wolfe then adds three more full paragraphs of description of the furnishings, the paintings, and the exterior scene, ending with: "And in this grand and spacious landscape, too, moon-haunted, silent as it is, there is a kind of sadness – a solemn and yet tragic stateliness – the ghost of something gone forevermore."25 The impressionistic Wolfe captures vividly what was then, and still is, Welbourne. The change in name to "Malbourne" suggests the decay he perceives, both in values and in structure. Lemmon and Welbourne represented the past; he was interested in the manifest destinies of the future.26
Nevertheless, Wolfe realized the provocative nature of life in the Virginia chase. Like Fitzgerald, he modeled the scene and the characters after what he observed at Welbourne. Mrs. Latimer, the "mistress and owner of the estate," is Lemmon's older sister, Frances, a "lady of the Southern upper class in the years following the Civil War; inheritor of a large estate and a ruined fortune."27 Andrew Latimer, her husband, is Nathaniel Holmes Morison. Sitting with them in the parlor is Foxhall Edwards, a "family friend and visitor from 'the North,'" and Margaret Meadesmith, Mrs. Latimer's "younger sister."28 Edwards, who later appears in Wolfe's novel You Can't Go Home Again (1940), is Perkins, and Meadesmith is Lemmon. Wolfe deftly captures the essence of Perkins in his description of Edwards:
<ext>
[He] is a listener. He is at this time a young man, a little past his thirtieth year: already a little deaf, holding his head a little to one side as he listens, the whole head and face as it has been – as it will always be: an astounding head, at once as shapely as a boy's, as lean and lonely as a man's, as innocent – as bewildered sometimes as a child's – as shrewd and subtle as a fox – strange mixture of gentleness and granite, innocence and wisdom, simple directness and a maddening deviousness, delicacy and strength, the poet, the shrewd Yankee all combined.29
<end ext>
The description of Meadesmith is equally expressive:
<ext>
She is a girl of twenty-five whose manner in conversation is marked by vivacity and humor. In repose, however, as now, as she bends above her knitting needles, the expression of the face is touched with sadness, a kind of loneliness and resignation.30
<end ext>
Wolfe's portrait of Perkins is both sensitive and accurate, from his deafness to his love of War and Peace, to his self-effacing manner unless provoked, to his penchant for alcohol, to his hope for a male heir, to his love of Vermont, and, most dramatically, to his attraction to Lemmon, who in the play flirts with him "mischievously."31 Wolfe sensed what Fitzgerald sensed—that Perkins was deeply attracted to Lemmon.
Wolfe also sensed that Lemmon was equally attracted to Perkins. His treatment of her in the character of Meadesmith is appreciative, respectful, almost affectionate. He faithfully appropriates her personality, from her love of needlework to her reading of the astrological signs, to her subtle humor, to her endless parade of sisters, to her distinct laugh, to her interest in antebellum America. However, he could not agree with Lemmon on the subject of America's destiny. "Your America is not my America," he wrote her after visiting Welbourne. "I've got to find my America somewhere here in Brooklyn and Manhattan."32 To Wolfe, Lemmon represented the old, the decayed; his interest was in the new, the vibrant. Yet in his drama Wolfe leaves the last word to Lemmon: in the "moon-drenched" landscape of Malbourne (Welbourne), Meadesmith (Lemmon) longingly declares, "Ah Christ! I wonder what is doing in America tonight."33
Fitzgerald and Wolfe have given us sharp impressions of Lemmon and her antebellum world, while protecting for the most part her privacy. Yet we are still left with the question of why she preserved Perkins's letters. The story is the stuff of romance.
When Scott Berg went to see her, some thirty years after Perkins's death, she pulled from under her bed a shoebox full of neatly bundled letters, arranged chronologically and carefully preserved in their envelopes. She obviously treasured them. "These are Max's love letters to me," she told Berg. "I was Max's confidante. . . . Ours was a secret love."34 These letters comprise the personal and the professional history of the man who carried on his shoulders the fortunes of Scribners. Because they are personal and confessional, the "love letters" provide significant insight into Perkins the man and Perkins the editor. He freely confides to Lemmon his innermost feelings about his life as an editor, father, friend, and husband. The revelations are captivating and sad, too often sad. In periods of darkness, when he contemplated suicide, he turned to Lemmon for guidance and sustenance. He repeatedly asked her to read the signs, to look for promise in the astrological charts she read so carefully. She obliged, only on occasion hesitating because so many of her more dire predictions had come true. As a whole, his letters to Lemmon, cautious and reserved, suggest an epistolary love story, a portrait of Perkins until now not fully known.
That Perkins and Lemmon chose letters as their way of communicating is intriguing. Her surviving letters, written toward the end of their relationship, are on the whole matter-of-fact observations on her life in Virginia, supplemented occasionally with sympathy for Perkins and observations on the literary scene. They are more in the nature of a domestic diary and are curiously free of passion. They are also without significant revelation, although they do provide an interesting commentary on World War II. On the other hand, his letters, which encompass their entire relationship, reflect both quiet passion and urgent appeal, as well as hurt, which he often disguised in humor or expressed in anecdote. Perkins's letters command attention. He seems always to be searching for answers to complex social and moral questions. His letters are laced with comments deploring his workload at Scribners, which in turn often prevented trips to Baltimore where they could conveniently meet for dinner. Perkins, however, was determined to keep in contact, arranging visits for others, such as Fitzgerald and Wolfe, to Welbourne. Louise Perkins also visited Lemmon, bringing back stories of the Virginia chase in general and Lemmon in particular. Perkins loved these vicarious moments with Lemmon, and she must have loved them as well.
Still, we are faced with the fact that Perkins preferred letters, not personal contact. Letters provided the security of distance; if he wrote something too revealing, he could always tear up the letter. Once he wrote and destroyed six letters, later writing to Lemmon that he destroyed words he found inadequate. He repeatedly left hints of affection, assuring her that he needed her and owed her more than she knew. When they were able to meet, in Baltimore or New York, he would be in despair afterward: "And now I suppose I'll never see you again," he once wrote her, followed by, "There are few things I'd rather have true than that you should be happy."35
As his letters to Lemmon demonstrate, Perkins had a great capacity for patience, an uncommon gift in a world governed by commercial pressures. He deflected his personal desires and instead turned his attention to his authors. His defenses of Fitzgerald alone are evidence of his dedication. Twice Charles Scribner II refused to publish This Side of Paradise; at Perkins's insistence he did not make that mistake a third time. Throughout his career, Fitzgerald owed an immense debt to Perkins. He turned to Perkins when he was in trouble financially, when he suffered creative agonies, and when he hoped to save his reputation. In turn Perkins promoted Fitzgerald unfailingly, especially to Lemmon, who did not particularly like him. Perkins believed that The Great Gatsby (1925) was the great American novel and placed Fitzgerald's talent above the rest. Yet Perkins was always confronted with Fitzgerald's lack of self-esteem. In one of the more telling letters, he writes to Lemmon, "I do like Scott mighty well. I wish I could do something for him. I can see that he's in danger of defeat now. . . . They've all lost faith in him too, even Ernest [Hemingway]. I wish it could be fixed so he could show them."36
Fitzgerald's life continued to deteriorate. His stories brought in cash, but provided little personal satisfaction. Perkins helped to secure Fitzgerald a job as a screenwriter in Hollywood, but that did not seem to help either, in spite of brief periods of hope. On 3 January 1941, almost matter-of-factly, Perkins wrote to Lemmon: "I almost telegraphed you about Scott. But then I thought, why should I? The funeral was on the outskirts of Washington. . . . It was one of those most dreadful funeral home funerals. . . . Anyhow, Scott had no illness. He died instantly."37 Fitzgerald had died of a heart attack at the home of his lover and companion, the gossip columnist Sheilah Graham, on 21 December 1940. Perkins never fully recovered from the distress of Fitzgerald's death. At the funeral he did not say a word, looked longingly at the sky, and slowly shook his head.38
The death of Thomas Wolfe two years earlier had an even greater effect on Perkins The letters to Lemmon abound with references to Wolfe, who captured Perkins's imagination and affection. Wolfe was the son Perkins never had, and the loss acutely affected him. This attachment was not lost on anyone, particularly not Lemmon. Wolfe's huge frame and stuttering manner won Perkins over immediately. Wolfe was vulnerable in ways Fitzgerald was not. Both were artists of the first magnitude, but they had strikingly dissimilar styles. Fitzgerald turned prose into poetry; Wolfe turned poetry into prose, often too much prose. The manuscript of O Lost, finally published under the haunting title Look Homeward, Angel (1929), proved a daunting experience for Perkins as editor. As the letters to Lemmon document, Perkins believed it his editorial duty to cut from Wolfe's manuscripts what he saw as inappropriate or verbose. Wolfe resisted every inch of the way. The battles over the manuscript of Wolfe's second novel, Of Time and the River (1935), became the stuff of legend, epic bouts of will, often spilling out into the streets and more often into the bars of New York City. Wolfe, never afraid to use profanity, screamed volumes at Perkins, who stood his ground under the withering, often drunken attacks from his star pupil. Perkins used every ploy imaginable, even once asking Marjorie Kinnan Rawlings to come to New York to reason with Wolfe. When it was over, the three were drunk, with Wolfe not conceding a word.
As his letters to Lemmon testify, Perkins was forever in awe of Wolfe's unbridled talent and always in disbelief of his unmatched verbosity. Each time Perkins sent Wolfe home to cut his manuscript, he returned with new material that he insisted must be part of the book. Perkins became distraught, nearly prostrated by Wolfe's ability to turn excision into addition. The storm over the manuscript never abated. Perkins would excise; Wolfe would embellish. As if the editing of his novels were not enough, Wolfe dragged Perkins into his personal affairs as well, such as the lawsuits filed against him by disgruntled agents or nefarious friends. Wolfe was a colossus, an epic test for Perkins. After the publication of Of Time and the River, Wolfe began work on The Web and the Rock (1939), a ponderous sequel, with hints of the earlier Look Homeward, Angel. Perkins was happy for Wolfe, but lamented to Lemmon, "God knows what the result will be, but I suspect it will be the end of me."39 The truth is that it was the beginning of the end for Wolfe. Blaming Perkins for what he perceived as his literary, hence personal, misfortunes, Wolfe bolted to Harpers on 31 December 1937. The end with Scribners portended the end for Wolfe, who died on 15 September 1938. Perkins's trial was further complicated by the fact that Wolfe had named him his literary executor, leaving the already devastated Perkins to flush out from the mass of unpublished manuscripts more works of literary genius. He wrote to Lemmon about Wolfe: "There is one thing: it is hard to think that Tom wouldn't have been utterly tortured as things are in the world. It was in him to do more than he ever did, but he would have suffered all the time."40
Ernest Hemingway also proved to be a colossus, but Perkins handled him in quite a different manner than he did Fitzgerald and Wolfe. He became more than Hemingway's editor; he became his conscience, his source of stability in a literary world spun out from the lost generation. Just how important Perkins was to Hemingway is a matter of debate. Yet it seems abundantly clear that there existed a magic between the two. Perkins admired Hemingway's assertive maleness, a counterpoint to his Yankee reserve. Yet Perkins knew all too well that behind Hemingway's calculated façade was hidden a fragile personality. The more Hemingway pontificated, the more attention Perkins heaped upon him. They were close friends, but not close; each needed the other. Hemingway hid behind his bravado, routinely depending upon Perkins to caress his massive ego. With Fitzgerald Perkins needed to be sensitive; with Wolfe he needed to be stern; with Hemingway he needed to listen. Hemingway always seemed to have the upper hand, but that in itself was Perkins's advantage. When Hemingway cursed, Perkins was calm; when Hemingway insisted, Perkins cajoled. Hemingway admired Perkins's ability to control his nerve, to move forward under fire. Perkins's quiet grace in a curious way epitomized Hemingway's code hero. In consequence, Perkins was one of the very few individuals Hemingway finally heeded, whether it was the removing of obscenities from his manuscripts or the acknowledging of his slights of Fitzgerald and Wolfe. When Perkins spoke, Hemingway finally listened, pretending to the end, with Perkins's blessing, that he was in control.
Insofar as Elizabeth Lemmon was concerned, Perkins protected her from Hemingway. There is far less said about him in the letters than about Fitzgerald and Wolfe, but what is said provides yet another chapter to a legend perpetually in metamorphosis. His first mention of Hemingway involves fishing in Key West, with Perkins reveling in the thought that for once he might be the equal of his host, Hemingway being handicapped by a slow-healing broken arm. Out of character, Perkins adopts the Hemingway trope of machismo to describe the singular moment, writing to Lemmon: "I hold the worlds record for the Giant King fish & I landed him in forty minutes too. If you'd seen me with a grizzled beard looking as tough as a pirate you could imagine me doing nothing else unless it was murder. They said I looked like a rebel cavalry captain."41 In another letter Perkins describes the week he spent with Hemingway on the White River in Arkansas, ostensibly to shoot ducks, but in truth to discuss Hemingway's next novel. "He 'needed' to see me," Perkins proudly wrote Lemmon, adding, "We really had a grand time."42 Hemingway provided what Perkins required most: time away from the pressures of editorial life.
However, life with "Hem," as Perkins affectionately called him, was not always agreeable. Hemingway could be cruel, often displaying a wicked penchant for teasing those he perceived as his mental and physical inferiors. Perkins was especially upset by Hemingway's derogatory reference to Fitzgerald in "The Snows of Kilimanjaro" in Esquire Magazine, calling it "contemptable."43 He later insisted that Hemingway remove Fitzgerald's name altogether from the story before publication by Scribners. Hemingway retreated slowly, but finally complied. Perkins also gives Lemmon a full account of the celebrated confrontation between Hemingway and Max Eastman in Perkins's office, the "big fight," as Perkins charitably described it.44 Strangely, Hemingway is not mentioned in the letters to Lemmon after 1940. Equally odd, there is no mention of Lemmon in the published Perkins's letters to Hemingway.
Fitzgerald, Wolfe, and Hemingway were not the only writers who mattered to Perkins. As the letters to Lemmon attest, he devoted much of his editorial life to untested writers. He worked with many female writers, most prominent among them Marjorie Kinnan Rawlings, whom Perkins discovered. The Pulitzer Prize-winning The Yearling (1938) was a favorite. Perkins not only suggested that she write the novel, he also chose the title and contributed to its language and metaphor. "The Yearling," he wrote Lemmon on 7 July 1938, "sells better every day & it will be selling twenty years from now."45 Perkins came to treat her as a confidante, much as he did Lemmon. He was much closer to Lemmon personally, but of his women writers he was closest to Rawlings. They exchanged over 700 letters, notes, and wires, and it is informative to read Perkins's letters to Lemmon against his letters to Rawlings. Often he shared the same books and the same frustrations with them. Only his affection for Lemmon, as expressed in the letters, was deeper, more intimate.
Another writer he admired and encouraged was Molly Colum, who is mentioned often in the letters to Lemmon. Her outspokenness nearly always created an argument. She could say "pretty mean things," he wrote to Lemmon.46 Colum's most memorable retort was in response to Hemingway's remark that he was "getting to know the rich." She countered, "[T]he only difference between the rich & other people is that the rich have more money."47 Hemingway put the words into the mouth of his alter ego in "The Snows of Kilimanjaro" as a slight to Fitzgerald.
Yet another cause célèbre for Perkins was Elinor Wylie, whose troubles were material. Wylie needed a literary friend like Perkins, although she finally spurned him (and others) for the reincarnate Percy B. Shelley, who became her muse and the subject of her most famous novel, The Orphan Angel, a book certainly more about Wylie than Shelley. Wylie was not a Scribners novelist, but that did not mean that Perkins did not care about her. He believed she was wasting her talent. To Lemmon he confessed, "There is something tragic in her; as if she were one who, deserving the opposite, was destined to bring sorrow to those who loved her."48
Perkins's life at Scribners was a parade of problems. He felt that he was responsible for everyone and everything. What once was a challenge had become a chore. His frustrations mounted. Reviewers, who could make or break a book, were his bêtes noires, that "army . . . who prefer the perfection of mediocrity to the imperfection of genius."49 When he was angry, Perkins usually retreated to such martial metaphors. War and Peace, his favorite novel, was always at hand, although insofar as Scribners was concerned there seemed more war than peace. He admired in retrospect the unfortunate bravery of General Pickett and the obdurate endurance of General Grant. Robert E. Lee was his hero. Allusions to the Civil War abound in the letters, and become more numerous as tensions increase.
To save himself from the unrelenting onslaught of office life, Perkins almost daily retreated to Cherio's, his favorite restaurant, for cocktails and lunch. There he would hold forth on the publishing business, on occasion late into the afternoon. Behind in his work, in spite of the heroic efforts of his secretary Irma Wyckoff to keep him on schedule, Perkins would stay overnight in New York, often in his office, to catch up. As legend has it, he seldom removed his fedora. He loved the challenge of emerging books, the smell of fresh ink upon the paper. "Proofs," he wrote Lemmon, "are very handy to read in bed. . . . I think they are the best form in which a book can be read."50 Perkins had the costly habit of committing evolving manuscripts to proof, which were then followed by subsequent proofs, often rewritten. He much preferred proof to typescript, for it provided him in advance the opportunity to plot the book. Perkins saw his work as a calling: "[I]f a man will only stick to the thing he loves most he will do it right, and end right."51
Perkins's professional life inevitably spilled over into his private life. He brought home his nurturing spirit. Lemmon must have noticed from his letters his indefatigable need to help, to be wanted. The letters show determination to protect those he admired and loved, especially his daughters. Bertha, his oldest, elicits the most concern. He suffers through her childhood maladies, reads her to sleep from War and Peace, screws up his courage to send her to the fashionable Chapin School, and remains poised when she brings boys home. Nowhere is his fatherly concern more acute than when he faces her illnesses and her recurrent eye problems. When Bertha went to an eye specialist in Washington, Perkins hoped she would seize the opportunity to visit Lemmon at Welbourne: "I should love to have Bertha see you there," he wrote. "I should love to have her see you anywhere, but best of all there."52 From time to time Lemmon served as a surrogate mother to each of the children, whom Perkins called his "Vestal Virgins."53 Perkins offers humorous anecdotes about the children; on one occasion, for example, he relates that Peggy, the third daughter, confided to him that she had gone skinny-dipping, "after extracting a promise that I would not be angry. . . . So I extracted a promise that it would not happen again."54 Perkins seemed always astonished by Peggy's capacity to get herself into scrapes and even more astonished by her ability to get out of them. He confided all manner of things to Lemmon, and then would quickly add: "I'm telling this only to you."55
Elizabeth "Zippy" Perkins, the second child, married the artist Douglas Gorsline, who later was to paint a portrait of Thomas Wolfe and who was the illustrator for the 1947 illustrated edition of Look Homeward, Angel. Perkins warns Lemmon, "You may be in for trouble. Zippy, who takes after me, has the greatest admiration for you and says that when her husband enlists in the Navy. . . , she is going to go down to live in Middleburg and help you raise dogs.- . . . [S]he is dead set on Middleburg.- Middleburg better look out. . . ."56 Perkins's sympathies went out to Gorsline, who during the war had to work on a farm to make ends meet. Being a starving artist was one thing, milking cows quite another. He worried about Zippy, who "never expected to be a drudge. I am really worried for fear she will crack up. She won't quit though. She is game, and also she has a great deal of a sense of humor."57
The letters reveal less about the two youngest daughters, Jane and Nancy. Perkins was partial to Jane because she would sit, apparently willingly, as he read at length from War and Peace. On one occasion, though, Jane's social position at Vassar was nearly compromised when Scott Fitzgerald left the impression with his daughter Scottie, then a freshman, that Jane, then a sophomore, reported on Scottie's activities to Perkins. In fact, Perkins had only given Fitzgerald some good advice: "I told him the only rule I knew was not ever to let hostility grow between you & your child whatever happened. When he came back from Vassar he called up & said my advice had been of great help, & when Jane came back she said Scotty had come to see her & had said I had made a lot of trouble for her!"58 Nancy, the youngest daughter, was also subjected to War and Peace. When she was ten, Perkins was reading to her selected passages, with the assurance to Lemmon that "soon I'm going to read her the whole book."59 Nancy, whom he described as "quite a girl," defended her father, once in a veil of tears yelling at Thomas Wolfe for "cursing and raving" at Perkins at dinner. "It all right, Duck," Perkins consoled. "Never mind. Honestly, it's all right."60
Perkins was not always dour and serious. He could be funny, and his letters to Lemmon display his Yankee wit. On the whole, however, his letters are dominated by sober thoughts. Perkins worried incessantly, first about the Depression and then about World War II. Asking Lemmon to read the astrological signs, he predicted: "[M]y opinion is, we'll never know a really peaceful time again."61 Often he expressed defiance: "What of it. What is life but taking a licking."62 He worried about the family investments and his obligation to manage the family resources: "I disbelieve in buying for rises & think its immoral. I think you ought to lose by it."63 On the other hand, Perkins was aware that he was, in part at least, responsible for Scribners fortunes, which he thought was controlled by Dickens like "Parkavenueish" figures: "We've lots of good books & good projects, but we're like farmers who each year plant a crop with care & then drought comes & kills it."64 After a lengthy silence Perkins again writes defiantly to Lemmon: "I . . . have fallen upon evil days & that's why I haven't written you.- I never could write when things were going bad. . . . [A]s for the evil days: we all have to have them, & what the hell, if we can take them."65 As the Depression dragged on and the war in Europe loomed, Perkins became less impressed with liberal causes, writing to Lemmon that Roosevelt was not popular among the educated elite: "[E]veryone here [at the Harvard Club] hates him."66
During the late 1930s, his life became darker. The increasingly despondent Perkins confessed to Lemmon: "I wish I could talk to you, but I never can or will. I'm so happy to be with you that I can't say anything,- not that it makes any difference anyhow."67 By 1940, the darkness was descending: "Elizabeth, I don't think I'll ever see you again. But I remember everything about every time I ever did see you & there was mighty little in life to compare any of it to. I've always thought of you & all the time."68 In 1943, when he and Lemmon met for the last time at the Ritz Bar in New York, he reportedly attempted to profess his love in person, only to lament, "Oh, Elizabeth, . . . it's hopeless."69 Lemmon, it is said, was reduced to tears. Soon the letters become even less frequent, and more tragic, as this in 1945: "I myself would have written you often except that unlike Tom [Wolfe], I cannot write letters when I am in despair."70
Maxwell Perkins died suddenly on 17 June 1947. Elizabeth Lemmon, intuitive and prescient, exclaimed before Frances, her sister, could read the words from the obituary in the New York Times, "Max is dead!"71 Perkins had slipped away from war to peace, and the epistolary love story, begun in 1922, was over. He was sixty-two years old. Elizabeth Lemmon followed peacefully on 30 December 1993, at the age of one hundred.
Mailing List
Subscribe to our mailing list and be notified about new titles, journals and catalogs.