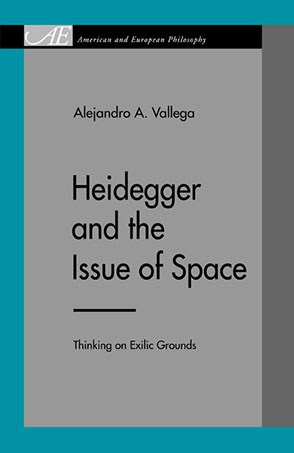 Heidegger and the Issue of Space
Thinking on Exilic Grounds
Alejandro A. Vallega
Buy
Heidegger and the Issue of Space
Thinking on Exilic Grounds
Alejandro A. Vallega
"The word 'alterity' is found infrequently in Heidegger's work, yet Vallega makes the compelling case that the effort to trace the enigmatic force of alterity is at the heart of that work. Suggesting that we find in Heidegger an enactment of that enigma by looking at what he calls 'exilic grounds' in Heidegger's thought, Vallega makes an important and original contribution to Heidegger scholarship. Well written, clear in its presentation of difficult issues, precise in delineating solutions to some thorny problems that come out of Heidegger, this is a provocative and exciting book."
Description

Reviews

Bio

Subjects
As the only full-length treatment in English of spatiality in Martin Heidegger's work, this book makes an important contribution to Heidegger studies as well as to research on the history of philosophy. More generally, it advances our understanding of philosophy in terms of its "exilic" character, a sense of alterity that becomes apparent when one fully engages the temporality or finitude essential to conceptual determinations.
By focusing on Heidegger's treatment of the classical difficulty of giving conceptual articulation to spatiality, the author discusses how Heidegger's thought is caught up in and enacts the temporality it uncovers in Being and Time and in his later writings. Ultimately, when understood in this manner, thought is an "exilic" experience—a determination of being that in each case comes to pass in a loss of first principles and origins and, simultaneously, as an opening to conceptual figurations yet to come. The discussion engages such main historical figures as Plato, Aristotle, Descartes, Kant, and indirectly Husserl, as well as contemporary European and American Continental thought.
"The word 'alterity' is found infrequently in Heidegger's work, yet Vallega makes the compelling case that the effort to trace the enigmatic force of alterity is at the heart of that work. Suggesting that we find in Heidegger an enactment of that enigma by looking at what he calls 'exilic grounds' in Heidegger's thought, Vallega makes an important and original contribution to Heidegger scholarship. Well written, clear in its presentation of difficult issues, precise in delineating solutions to some thorny problems that come out of Heidegger, this is a provocative and exciting book."
Alejandro A. Vallega was born in Santiago, Chile, in 1964. He is Visiting Lecturer in Philosophy at California State University, Stanislaus, and co-editor of A Companion to Heidegger's Contributions to Philosophy (2001).