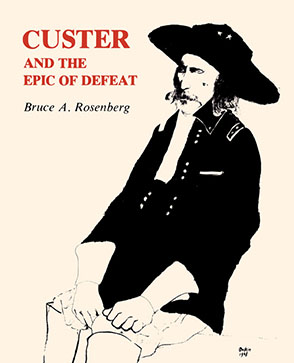 Custer and the Epic of Defeat
Bruce A. Rosenberg
Buy
Custer and the Epic of Defeat
Bruce A. Rosenberg
This exploration of the making of a legend compares the actual events surrounding duster's defeat with the imaginative account of the "Last Stand" as it developed in American folklore. The battle of the Little Big Horn is then compared with other great "epics of defeat" in terms of both the similarities of the narratives and the known facts about them. The other epic stories include the Biblical account of Saul and his losing struggle against the Philistines, Leonidas's defense of the pass at Thermopylae, the death of Roland in the
Chanson de Roland
, the
Morte Arthure
, and similar stories of great "losers" from Scandinavia, Serbia, England, and the Alamo.
Description

Bio

Subjects
This exploration of the making of a legend compares the actual events surrounding duster's defeat with the imaginative account of the "Last Stand" as it developed in American folklore. The battle of the Little Big Horn is then compared with other great "epics of defeat" in terms of both the similarities of the narratives and the known facts about them. The other epic stories include the Biblical account of Saul and his losing struggle against the Philistines, Leonidas's defense of the pass at Thermopylae, the death of Roland in the
Chanson de Roland
, the
Morte Arthure
, and similar stories of great "losers" from Scandinavia, Serbia, England, and the Alamo.
The interaction between literary and oral folk versions is explicated both for Custer and for his counterparts in other cultures. Custer's defeat was celebrated by writers of various stripes including dime novelist Frederick Whittaker, poets Longfellow and Whitman, and by painters of all shades of talent. The other epics have also been treated in both high culture and popular culture forms. Certain aspects of the folk variants of the legend of the defeated hero are shown to exist in legends and anecdotes about such other charismatic figures as Presidents Lincoln and Kennedy.
Finally, the book reinterprets several epics in the light of these new findings. And it goes on to argue that the legend-making process is one of the fundamental processes of the human imagination—the dramatization of all reality. Custer is thus seen as one with many national heroes whose popularity persists despite all the known facts which seem to deflate them.
Custer and the Epic of Defeat is illustrated with realistic as well as fanciful portraits of the heroes discussed, with photographs of several "last stand" sites from the Little Big Horn to Mt. Gilboa, and with battle maps.
Bruce A. Rosenberg is the author or co-author of three previous books, including The Art of the American Folk Preacher, winner of the James Russell Lowell Prize. A member of the English faculty at The Pennsylvania State University, he took his doctorate at The Ohio State University and has been an ACLS and NEH Fellow.