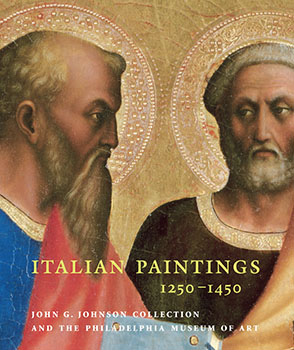 Italian Paintings, 1250–1450, in the John G. Johnson Collection and the Philadelphia Museum of Art
Carl Strehlke
Buy
Italian Paintings, 1250–1450, in the John G. Johnson Collection and the Philadelphia Museum of Art
Carl Strehlke
"This catalog of the Italian portion of the museum collection, including a small number of non-Johnson acquisitions, is masterfully done; it hits the same high standard as recent catalogs in this area from London and Washington exhibitions."
Description

Reviews

Bio

Table of Contents

Subjects
Co-published with the Philadelphia Museum of Art
When the Philadelphia lawyer John G. Johnson began to collect art in the late nineteenth century, he defied contemporary taste by acquiring Italian paintings from the early Renaissance. He eventually donated his distinguished collection to the City of Philadelphia, and it is now housed at the Philadelphia Museum of Art.
Although there have been several catalogues of these paintings, including one by Bernhard Berenson in 1913, Carl Brandon Strehlke, Adjunct Curator of the Johnson Collection, has prepared the first complete scholarly examination. His discussion of such art historical questions as dating and attribution combines extensive archival research with information he gained through his technical study of the paintings with Mark S. Tucker, the Museum's Vice Chairman of Conservation and Senior Conservator of Paintings.
Strehlke's introduction sheds new light on Johnson's collecting and traces the history of the acquisition, conservation, and installation of the Philadelphia paintings. Subsequent chapters situate detailed discussions of the pictures within the context of richly detailed biographies. All the paintings are furnished with a full description; technical report; provenance; art historical commentary; discussion of related works; comparative illustrations; and bibliography.
This extensively illustrated book also provides an appendix of punch marks and a bibliography of some 2,500 entries.
"This catalog of the Italian portion of the museum collection, including a small number of non-Johnson acquisitions, is masterfully done; it hits the same high standard as recent catalogs in this area from London and Washington exhibitions."
"This catalogue will be of great interest to the scholar, providing a vast amount of information, both visual and factual, particularly with regard to punch marks. It is a work to be celebrated and cherished."
"Although this is not the first catalog dedicated to the John G. Johnson Collection, adjunct curator Carl Brandon Strehlke has done here a wonderful job, in a lavish, hardcover book that can be considered as a model in the art book genre. I see Italian Paintings, 1250-1450 as one of the most beautiful art books published in the United States during 2004. Academics in art history and religious studies will be delighted by that reading."
"This handsome, lavishly illustrated, and meticulously researched volume is the first comprehensive and scholarly treatment of the collection and the collector."
Carl Brandon Strehlke is Adjunct Curator of the John G. Johnson Collection at the Philadelphia Museum of Art.
CONTENTS
FOREWORD
Anne d'Harnoncourt and Joseph J. Rishel
ACKNOWLEDGMENTS
NOTES TO THE USE OF THE CATALOGUE
1. JOHN G. JOHNSON AND THE ITALIAN PAINTING COLLECTIONS AT THE PHILADELPHIA MUSEUM OF ART
CATALOGUE
With conservation notes by Carl Brandon Strehlke and Mark S. Tucker
Allegretto di Nuzio
Andrea di Bartolo
Fra Angelico
Apollonio di Giovanni and Marco del Buono
Arrigo di Niccolò
Battista di Gerio
Benedetto di Bindo
Bicci di Lorenzo
Bartolomeo Bulgarini
Cenni di Francesco
Bernardo Daddi
Dalmasio
Fra Diamante
Domenico di Bartolo
Domenico di Zanobi
Duccio
Francesco d'Antonio
Francesco di Vannuccio
Agnolo Gaddi
Niccolò di Pietro Gerini
Giovanni dal Ponte
Giovanni di Francesco
Giovanni di Paolo
Giovanni di Pietro
Benozzo Gozzoli
Jacopo di Cione
Pietro Lorenzetti
Lorenzo Monaco
Lorenzo Veneziano
Martino da Verona
Martino di Bartolomeo
Masaccio
Masolino
Master of Carmignano
Master of the Castello Nativity
Master of 1419
Master of the Johnson Tabernacle
Master of Montelabate
Master of the Osservanza
Master of the Pesaro Crucifix
Master of the Pomegranate
Master of Staffolo
Master of the Terni Dormition
Neri di Bicci
Niccolò di Segna
Niccolò di Tommaso
Nicola d'Ulisse da Siena
Antonio Orsini
Pesellino
Pietro di Domenico da Montepulciano
Pietro di Miniato
Priamo della Quercia
Pseudo-Pier Francesco Fiorentino
Sano di Pietro
Scheggia
Paolo Schiavo
Starnina
Zanobi Strozzi
Taddeo di Bartolo
Tommaso del Mazza
Giovanni Toscani
Ugolino di Nerio
Vitale da Bologna
Venetian-Adriatic School, c. 1290-1300
Paduan School, c. 1320-30
Venetian Adriatic School, c.1340-60
Sienese School, mid-fourteenth century
Florentine School, late fourteenth century
Sienese School, c. 1400
Umbrian School, c. 1400
Marchigian School, c 1425-30
Sienese School, c. 1904
APPENDIX I: DOCUMENTS
APPENDIX II: PUNCH MARKS
BIBLIOGRAPHY
INDEX
INDEX OF ACCESSION NUMBERS
INDEX OF PROVENANCE
PHOTOGRAPHIC CREDITS
Also of Interest
Mailing List
Subscribe to our mailing list and be notified about new titles, journals and catalogs.