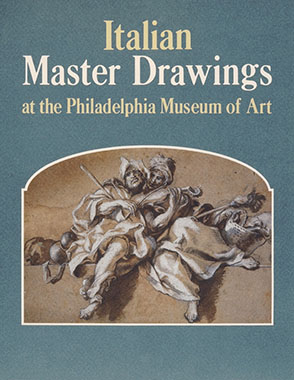 Italian Master Drawings at the Philadelphia Museum of Art
Ann Percy, and Mimi Cazort
Buy
Italian Master Drawings at the Philadelphia Museum of Art
Ann Percy, and Mimi Cazort
"Rarely does one find a combination of the history of collecting and the practice of connoisseurship presented as seamlessly and cogently as in this book."
Description

Reviews

Bio

Table of Contents

Subjects
Co-published with the Philadelphia Museum of Art
The Philadelphia Museum of Art is fortunate to have a collection of Italian drawings that encompasses a broad sweep of Italy's art history, from the Renaissance to Futurism to the contemporary, and includes works by such famed artists as Batoni, Salviati, Guercino, and Modigliani. With this publication, eighty of these drawings are provided with insightful commentary, scholarly analysis, and biographies of the artists by the renowned scholar Mimi Cazort. Ann Percy, the Museum's Curator of Drawings, has contributed the first full account of the people and events that shaped this extraordinary but little-published collection. Her lively essay is amply illustrated with an additional sixty-five drawings owned by the Museum.
The international significance of this collection of Italian drawings is borne out by its selection to be part of Amilcare Pizzi's distinguished series I grandi disegni italiani, which has included volumes on the Metropolitan Museum of Art, the Albertina, the Uffizi, the Louvre, and the Hermitage. Pizzi will publish the Italian edition of this latest addition to the series.
This book will accompany an exhibition to be held at the Philadelphia Museum of Art from October 30, 2004, to February 20, 2005.
"Rarely does one find a combination of the history of collecting and the practice of connoisseurship presented as seamlessly and cogently as in this book."
"While it would have been informative to have an explanation for the particular selection of drawings included, this is nonetheless a very satisfying publication, both to read and to handle. The heavy paper and fine color reproduction seem to mimic the experience of holding the drawings themselves."
Ann Percy has been Curator of Drawings at the Philadelphia Museum of Art since 1972.
Mimi Cazort is the former Curator of Prints and Drawings at the National Gallery in Ottawa.
Contents
Foreword
Anne d'Harnoncourt and Innis Howe Shoemaker
Note to the Reader
Collecting Italian Drawings at Philadelphia:Two Nineteenth-Century Amateurs and a Twentieth-Century Scholar
Ann Percy
With research assistance by James Hargrove
Catalogue
Mimi Cazort
List of Drawings Illustrated in "Collecting Italian Drawings at Philadelphia"
Bibliography
Index of Artists
Acknowledgments