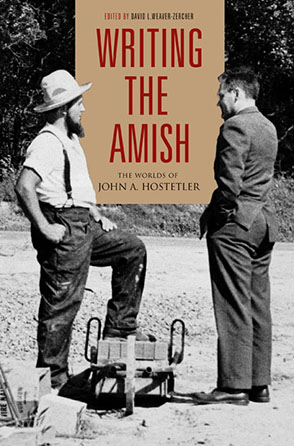 Writing the Amish
The Worlds of John A. Hostetler
Edited by David L. Weaver-Zercher
BUY
Writing the Amish
The Worlds of John A. Hostetler
Edited by David L. Weaver-Zercher
"Hostetler's own writings in the book provide explanation and insight into Amish culture, offering interesting and little-known insight into the Amish way of life."
Description

Reviews

Bio

Table of Contents

Sample Chapters

Subjects
From the early 1960s to the late 1980s, John A. Hostetler was the world's premier scholar of Amish life. Hailed by his peers for his illuminating and sensitive portrayals of this often misunderstood religious sect, Hostetler successfully spanned the divide between popular and academic culture, thereby shaping perceptions of the Amish throughout American society. He was also outspoken in his views of the modern world and of the Amish world—views that continue to stir debate today.
Born into an Old Order Amish family in 1918, Hostetler came of age in an era when the Amish were largely dismissed as a quaint and declining culture, a curious survival with little relevance for contemporary American life. That perception changed during Hostetler's career, for not only did the Amish survive during these decades, they demonstrated a stunning degree of cultural vitality—which Hostetler observed, analyzed, and interpreted for millions of interested readers.
Writing the Amish both recounts and assesses Hostetler's Amish-related work. The first half of the book consists of four reflective essays—by Donald Kraybill, Simon Bronner, David Weaver-Zercher, and Hostetler himself—in which Hostetler is the primary subject. The second half reprints, in chronological order, fourteen key writings by Hostetler with commentaries and annotations by Weaver-Zercher.
Taken together, these writings, supplemented by a comprehensive bibliography of Hostetler's publications, provide ready access to the Hostetler corpus and the tools by which to evaluate his work, his intellectual evolution, and his legacy as a scholar of Amish and American life. Moreover, by providing a window into the varied worlds of John A. Hostetler—his Amish boyhood, his Mennonite Church milieu, his educational pursuits, his scholarly career, and his vocation as a mediator and advocate for Amish life—this volume enhances the ongoing discussion of how ethnographic representation pertains to America's most renowned folk culture, the Old Order Amish.
"Hostetler's own writings in the book provide explanation and insight into Amish culture, offering interesting and little-known insight into the Amish way of life."
"Anyone interested in John Hostetler the person and scholar needs to read this volume. Anyone interested in John's enormous contribution to scholarship and the public understanding of the Amish will find here a fascinating analysis. Anyone interested in the tensions of the scholarly enterprise amidst the pressures of communal and public expectations needs this book as well."
"This text covers the subject well and is recommended for school and public libraries."
"This insightful and important book, which captures the life of a complex man, opens with a series of chapters by a daughter, colleagues and other scholars who have carefully followed the development of his career and influences."
"The book brings into focus many facets of Hostetler's lifework and relates them to one another in an effective and compelling survey."
David L. Weaver-Zercher is Associate Professor of American Religious History at Messiah College. He is the author of The Amish in the American Imagination (2001).
John A. Hostetler (1918–2001) was Professor Emeritus of Anthropology and Sociology at Temple University, where he taught from 1965 to 1985. From 1986 to 1989 he served as director of the Young Center for the Study of Anabaptist and Pietist Groups at Elizabethtown College.
Contents
List of Illustrations
Foreword
Ann Hostetler
Preface and Acknowledgments
David L. Weaver-Zercher
Part I: Perspectives on John A. Hostetler
1. An Amish Beginning
John A. Hostetler, with Susan Fisher Miller
2. The Redemptive Community: An Island of Sanity and Silence
Donald B. Kraybill
3. Plain Folk and Folk Society: John A. Hostetler's Legacy of the Little Community
Simon J. Bronner
4. An Uneasy Calling: John A. Hostetler and the Work of Cultural Mediation
David L. Weaver-Zercher
Part II: Writings of John A. Hostetler
5. Letter to Amish Bishops Concerning Shunning (1944)
6. Toward a New Interpretation of Sectarian Life in America (1951)
7. Excerpt from Amish Life (1952)
8. God Visits the Amish (1954)
9. Why Is Everybody Interested in the Pennsylvania Dutch? (1955)
10. The Amish Use of Symbols and Their Function in Bounding the Community (1964)
11. Persistence and Change Patterns in Amish Society (1964)
12. The Amish Way of Life Is at Stake (1966)
13. Old Order Amish Child Rearing and Schooling Practices: A Summary Report (1970)
14. Folk Medicine and Sympathy Healing Among the Amish (1976)
15. The Amish and the Law: A Religious Minority and Its Legal Encounters (1984)
16. Marketing the Amish Soul (1984)
17. A New Look at the Old Order (1987)
18. Toward Responsible Growth and Stewardship of Lancaster County's Landscape (1989)
The Life of John A. Hostetler: A Chronology
The Publications of John A. Hostetler: A Bibliography
Contributors
Index
Mailing List
Subscribe to our mailing list and be notified about new titles, journals and catalogs.