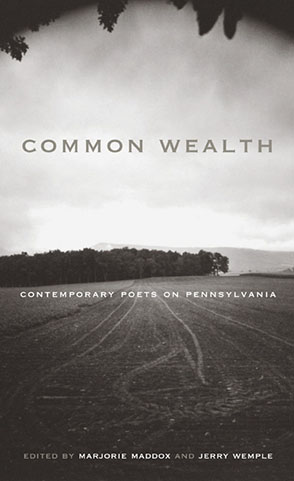 Common Wealth
Contemporary Poets on Pennsylvania
Edited by Marjorie Maddox and Jerry Wemple
Buy
Common Wealth
Contemporary Poets on Pennsylvania
Edited by Marjorie Maddox and Jerry Wemple
"What the book reveals about the state of poetry is the extent to which poetry can still be direct and informative. Read this book from start to finish and you'll have a better feel for Pennsylvania than from reading a guidebook or a history. . . . The book has a great index that lets you look up places' names, so you can see if there's a poem about somewhere you know."
Description

Reviews

Bio

Table of Contents

Sample Chapters

Subjects
Over the years, Pennsylvania has been graced with an abundance of writers whose work draws imaginatively on the state's history and culture.
Common Wealth
sings the essence of Pennsylvania through contemporary poetry. Whether Pennsylvania is their point of origin or their destination, the featured poets ultimately find what matters: heritage, pride, work, inventiveness, struggle, faith, beauty, hope.
Keystone poets Marjorie Maddox and Jerry Wemple celebrate Pennsylvania with this wide range of new and veteran poets, including former state poet Samuel Hazo, National Book Award winner Gerald Stern, Pulitzer Prize winners Maxine Kumin, W. S. Merwin, and W. D. Snodgrass, and Reading-born master John Updike. The book's 103 poets also include such noted authors as Diane Ackerman, Maggie Anderson, Jan Beatty, Robin Becker, Jim Daniels, Toi Derricotte, Gary Fincke, Harry Humes, Julia Kasdorf, Ed Ochester, Jay Parini, Len Roberts, Sonia Sanchez, Betsy Sholl, and Judith Vollmer.
In these pages, poems sketch the landscapes and cultural terrain of the state, delving into the history, traditions, and people of Philadelphia, "Dutch" country, the coal-mining region, the Poconos, and the Lehigh Valley; the Three Rivers region; the Laurel Highlands; and Erie and the Allegheny National Forest. Theirs is a complex narrative cultivated for centuries in coal mines, kitchens, elevated trains, and hometowns, a tale that illuminates the sanctity of the commonplace—the daily chores of a Mennonite housewife, a polka dance in Coaldale, the late shift at a steel factory, the macadam of the Pennsylvania Turnpike. With its panoramic vision of Pennsylvania, its culture, and its thriving literary heritage, Common Wealth is a collection of remembrance for a state that continues to inspire countless contributions to American literature.
"What the book reveals about the state of poetry is the extent to which poetry can still be direct and informative. Read this book from start to finish and you'll have a better feel for Pennsylvania than from reading a guidebook or a history. . . . The book has a great index that lets you look up places' names, so you can see if there's a poem about somewhere you know."
"Common Wealth sings the essence of Pennsylvania through contemporary poetry. Whether Pennsylvania is their point of origin or their destination, the featured poets ultimately find what matters: heritage, pride, work, inventiveness, struggle, faith, beauty and hope."
"The writers who penned this collection of poetry have one thing in common: a love for the Keystone state. The poetic themes are as diverse as the landscapes across our beautiful state. From the city of brotherly love, through the Susquehanna Valley, north to Erie and even on our own three rivers, no area of Pennsylvania is left unexplored."
"These diverse poems about people and places provide authentic new ways of looking at this tired old state—beauty marks, liver spots and all."
"A poem is like a photograph: It's one bright, revealing snapshot of the subject, amplified and able to be studied and enjoyed over and over. And Common Wealth, a book in which contemporary poets delve into memories about Pennsylvania, is full of them."
"Common Wealth is an excellent reminder that one of the best ways to understand a place (besides living there) is to read its literature."
"It's a wonderful anthology, more than 200 pages of Pennsylvania poetry, written by our best observers, from John Updike to Diane Ackerman. A wealth, indeed."
"Common Wealth, a radiant collection of poems by 103 poets from or connected in some way to Pennsylvania, celebrates its own sense of place as these poets see it, recall it, or perhaps, even are cursed by it."
Marjorie Maddox is Director of Creative Writing and Professor of English at Lock Haven University. A resident of central Pennsylvania since 1990, she has published several award-winning poetry collections, including Transplant, Transport, Transubstantiation (2004), When the Wood Clacks Out Your Name: Baseball Poems (2001), and Perpendicular as I (1994).
Jerry Wemple is Associate Professor of English at Bloomsburg University. He is the author of You Can See It from Here (2000), which won the Naomi Long Madgett Poetry Award, and The Civil War in Baltimore (2005). He grew up in the Susquehanna Valley.
Contents
PREFACE XIII
PART I: GREETINGS FROM THE COMMONWEALTH!
"Pennsylvania," Gabriel Welsch
"The Map," Kathryn Hellerstein
"Coming East from Cleveland to Philadelphia at Harvest,"
Jeanne Murray Walker
"Route 81," David Chin
"Me'n Bruce Springsteen Take My Baby Off to College,"
Barbara Crooker
PART II.: BEGINNINGS: PHILADELPHIA, "DUTCH" COUNTRY, AND THEIR ENVIRONS
"Philly Things," David Livewell
"Colors," Jeanne Murray Walker
"Rowers on the Schuykill," Leonard Kress
"Listening for Bridge Builders," David Livewell
"Crazy Mary Rides the El," Michele A. Belluomini
"Spiritual Exercise, Kensington, Philadelphia," Leonard Kress
"If You Are Reading This," Lynn Levin
"Preliminary Sketches: Philadelphia," Elizabeth Alexander
"Our Lady of the Cabbages," Deborah Burnham
"10 PM at a Philadelphia Recreation Center," Peter Krok
"The Star Show," Robin Becker
"A Poem for a Black Boy," Sonia Sanchez
"Chester County Winter Day," George Fleck
"Spiritual Morning," Robin Becker
"A Hill in Pennsylvania," Nathaniel Smith
"In the Small World," Sandra Kohler
"Mennonites," Julia Kasdorf
"Mennonite Farm Wife," Janet Kauffman
"Female Ancestor," Ann Hostetler
"Buggy Ride at Sixteen," Marjorie Maddox
"Papaya: Lancaster County," Juanita Brunk
"Back with the Quakers," Betsy Sholl
"Before the Silver Chord Is Loosed," Helen Mallon
"In Carpenter's Woods," Gerald Stern
"Halfway," Maxine Kumin
"Potter's Field, Germantown," Robin Hiteshew
"Wallace Stevens House Prayer," Heather Thomas
"Shillington," John Updike
"Route 222: Reading to Kutztown," Heather Thomas
"The Idea of the Ordinary," Carmine Sarracino
PART III: CIRCLING EAST: MINES, MOUNTAINS, AND MILLS
"Ode to Coal," Sherry Fairchok
"Coalscape," Craig Czury
"Coal Crackers," James Hoch
"Burning Mountain," W.S. Merwin
"Christ Comes to Centralia," Barbara Crooker
"Centralia (October 31, 1986)," Karen Blomain
"This Is Not My Cousin," Valerie Fox
"What They Wanted Us to Bring Back," Sherry Fairchok
"Family Portrait, 1933," Peter Oresick
"Working the Face," Jay Parini
"Coal Train," Jay Parini
"The Miner's Wife Leaves Home," Karen Blomain
"So the Coal Was Gone," Thomas Kielty Blomain
"Showing a Friend My Town," Harry Humes
"March 10, 1951," Craig Czury
"Bones & Ashes," Helen Ruggieri
"Photograph," Anthony Petrosky
"The Strippings," Linda Tomol Pennisi
"Cousin, Will You Take My Hand?" Jerry Wemple
"Susquehanna: The Projects," Ruth Ellen Kocher
"The Field (an Excerpt)," Linda Tomol Pennisi
"The Jeweler," Peter Oresick
"Real Faux Pearls," Betsy Sholl
"Polka Dancing to Eddie Blazonczyk and His Versatones in Coaldale, Pennsylvania," Leonard Kress
"A Different House," Paul Martin
"In Cursive," Len Roberts
"Spring Peepers, April, Wassergass," Len Roberts
"Easter Sunday, Seisholtzville," Ann E. Michael
"We Never Leave," Jason Moser
"Sprawl," Ann E. Michael
"Hawk Falls," Dan Maguire
"Climbing the Three Hills in Search of the Best Christmas Tree," Len Roberts
"Lehighton," David Staudt
"Gallivanting," Paul Martin
"Bombogenesis," Karen Blomain
"The Quarry," Paul Martin
"J.B. Phones Me at the End of Summer, Asking Where I Find Silence in the Lehigh Valley," Steven Myers
"The Poconos," Robin Becker
"Deer," Harry Humes
PART IV: HILLS AND RIDGES: THE SUSQUEHANNA VALLEY AND CENTRAL PENNSYLVANIA
"Naming Heraclitus," Sandra Kohler
"November Textures," Karl Patten
"Cousins," Charles J. Rice
"The Agnes Mark," Gary Fincke
"Renovo," Sandra Kohler
"Freight," Julia Kasdorf
"The Little League World Series: First Play," Marjorie Maddox
"Going Back," Gregory Djanikan
"Nocturne: Roller Mills Flea Market," Nicole Cooley
"Clearfield County Fair," Ginny MacKenzie
"The Bloomsburg Fair," JoAnne Growney
"Racetrack Downriver," David Staudt
"Fishing the Little J. Beneath the Methodist Church," Harry Humes
"The Company We Keep," Ron Mohring
"Worlds End," Barbara Crooker
"Winter Walks, Perry County," Susan Weaver
"It Isn't Raining," Cynthia Hogue
"Pleasure Gap," Bruce Bond
"Aunt Lena Committed to Bellefonte State Hospital," Ginny Mackenzie
"Running through Danville State Hospital," Michael Hardin
"Laid Off in July," Matthew Perakovich
"Awl Street," Jerry Wemple
"Harrisburg Echoes (Excerpts)," Robert Small
"Nights Like This," Julia Kasdorf
"Three Mile Island Siren," Jack Veasey
"Dream City," Barbara DeCesare
"Twelve Facts about the Immigrants: A Prose Poem," Carmine Sarracino
"Acoustic Shadows," Bruce Bond
"Gettysburg," Samuel Hazo
"The Battlefield Museum Guide Speaks," Carmine Sarracino
PART V: SOUTHWESTERN PENNSYLVANIA: THE THREE RIVERS REGION AND THE LAUREL HIGHLANDS
"Lines Written in a Pittsburgh Skyscraper," Diane Ackerman
"Bells," Deirdre O'Connor
"Listening to Jimmy Garrison (Pittsburgh, PA.)," Sonia Sanchez
"The Dancing," Gerald Stern
"Integration (Kennywood Park, June 1963)," Daniel J. Wideman
"My Father Likes Pittsburgh," Jeffrey Oaks
"Pittsburgh Poem," Jan Beatty
"Brick," Kristin Kovacic
"My Grandfather's Cronies," Deirdre O'Connor
"Steelers! Steelers! Steelers!," Ann Hayes
"Class A, Salem, the Rookie League," Gary Fincke
"Slaving," Daniel J. Wideman
"Closed Mill," Maggie Anderson
"One of Many Bars in Ford City, Pennsylvania," Peter Oresick
"Spill," Judith Vollmer
"Listening to Birds after a Mild Winter," Judith Vollmer
"Audubon's Nature Preserve, Fox Chapel," Sharon F. McDermott
"Desire," Lynn Emanuel
"Panther Hollow Bridge, Pittsburgh," Jim Daniels
"Mysteries of Pittsburgh," Toi Derricotte
"In Her Mind, She's Already Quit," Leslie Anne Mcilroy
"Miracle Mile," Ed Ochester
"Buddy Picture," Charles Clifton
"Leaving Pittsburgh," Kristin Kovacic
"Gray," Maggie Anderson
"Imagining the Johnstown Flood," Jerry Wemple
"Flash Flood," W.D. Snodgrass
"Altoona," E.A. Miller
"Memorial Day, Elderton, Pennsylvania," Ed Ochester
"Home Town," W.D. Snodgrass
"Apollo Is a Pink Town," JoAnne Growney
"Pennsylvania September: The Witnesses," Marjorie Maddox
"Spring: Fayette County, PA," Luise van Keuren
"This Hill Will Get You There," Patricia Jabbeh Wesley
"Turning into a Pond," Gerald Stern
PART VI: NORTH BY NORTHWEST: THE ALLEGHENIES AND ERIE
"Second Coming in Northern Pennsylvania," Steven Huff
"When I Looked Next," Michael Teig
"After Tithonus and Aurora, Thoughts on a Life of Work," David Swerdlow
"Bullet Shell Heart," Kirk Nesset
"Jacklighting," Antonio Vallone
"White Tent in the Alleghenies," David Staudt
"Mountain Night," Berwyn Moore
"Swimming in Lake Erie: Intermediate Beginners," Deborah Burnham
"The Resurrection of Lake Erie," Gerald Costanzo
"Confession Off the Lake," George Looney
"Yet," John Repp
"Bus Stop at West 12th Street," Sean Thomas Dougherty
"In the Old Neighborhood It Begins in the Urgency of Whoever Is Nameless It Pulls the Night Hard in the Hands," Sean Thomas Dougherty
"Driving in Someone Else's Light," Mark S. Borczon
"In a Diner in Franklin, Pennsylvania," George Looney
"Meditation in Oil City, PA," Philip Terman
"The Auctioneer," Philip Terman
"Tractor Pull," Brad Comann
"If We Were as Brilliant as Groundhogs," Philip Terman
"On Gobbler's Knob," Shirley S. Stevens
"The History of Summer," Sharon F. McDermott
ACKNOWLEDGMENTS
THE POETS
INDEX
Preface
Pennsylvanians have a right to be proud. This state has birthed or inspired powerful wordsmiths: poets, novelists, essayists, dramatists, biographers, children's authors, short story writers. Mention Shillington, and someone will echo "John Updike"; utter "Pottsville," "Reading," and "Chaneysville," and hear the names John O'Hara, Wallace Stevens, and David Bradley; Pittsburgh, and listen for a long chorus that includes Annie Dillard, August Wilson, Gladys Schmitt, Gerald Stern, Robinson Jeffers, Diane Ackerman, and Samuel Hazo. What Philadelphian will not claim as literary neighbors William Penn, Benjamin Franklin, Louisa May Alcott, Edgar Allan Poe, Pearl Buck, and Sonia Sanchez? As Rudyard Kipling argued nearly a century ago in his poem "Philadelphia," "The things that truly last when men and times have passed, / They are all in Pennsylvania this morning!"
Whether arriving in or launching from Pennsylvania, this state's authors find what matters: heritage, pride, work, inventiveness, struggle, faith, beauty, hope. From the inner cities to the rolling hills and forested mountains, Pennsylvania speaks through its land and its peoples. Past and present converge. Family narratives intertwine tales of agriculture and industry. Everywhere is the accent of ancestry.
Both detailed and panoramic, the view spans generations. Marianne Moore gives us the moon over the Susquehanna; Stephen Vincent Benét, the body of John Brown; Francis Bret Harte, the battle of Gettysburg; W. D. Snodgrass, the claustrophobia and allure of home towns; Janet Kauffman, the farm life of Mennonite communities; Harry Humes, the dust of coal towns; Lee Gutkind, the folklore of Penn's Woods; John Edgar Wideman, the streets of Homewood. What brings together better such distinct authors as Gertrude Stein, W. S. Merwin, Malcolm Cowley, Willa Cather, Chaim Potok, Maxine Kumin, and John Barth? What connects more closely Philip Roth, Marguerite diAngeli, Ezra Pound, Conrad Richter, James Michener, H.D., and Thomas Paine? All share by birthright or exploration the bond of landscape and literature— Pennsylvania flowing through the pen.
In part, this anthology stems from "Our Own: Pennsylvania Authors," a course taught at Lock Haven University, and from its companion, The Pennsylvania Authors' Reading Series, as well as from focused studies of Pennsylvania writers in several courses at Bloomsburg University. Through these forums, students study and discuss their diverse literary forbearers. "Who writes about us?" they want to know. "Who writes about our home towns?" While this question could be answered from the larger canon, the more life-affecting response for these young adults is "Len Roberts, Sherry Fairchok, Gary Fincke, Betsy Sholl, Jim Daniels, Karen Blomain, Philip Terman. . . ."
Pennsylvania overflows with those who continue the story and, as in the case of the writers represented in this anthology, through the medium of poetry. Most of the authors with whom we spoke gave us the gift of more poets. After much reading, we decided to focus on contemporary narratives of place, written by those still living in the Keystone, as well as by those now residing elsewhere but strongly connected to Pennsylvania through memory and experience. To ensure a wider expression of voices, we limited our selection to three or fewer by each author. At the same time, we wanted a collection that celebrated the geographical diversity of the state, as well as one that spoke to and for the citizens of Pennsylvania.
Foremost, then, this collection is about place. Specifically, it is about the places in Pennsylvania that we hold sacred. It is about the places we revere: the places that have been with many of us since childhood in every journey near and far, and those places that many of us encounter every day, but still, from time to time, can gaze upon with wonder.
For many of us, the term "sacred place" summons images of an ancient city in the Middle East, the Ganges in India, perhaps a temple somewhere in Southeast Asia. For the poets in this anthology, Pennsylvania offers numerous places to revere. For Charles J. Rice, that holy place of childhood was the confluence of the west and north branches of the Susquehanna, the lure of the river's "secrets concealed in murky depths." Though he's traveled around the world, David Staudt kept images of a Carbon County boyhood with him, of a place where peewee football "lights forge / a bracelet of bright stones." For Philly native Robin Becker, the idea of sacred space is clear, when in the midst of describing a trip to Fels Planetarium, she compares the star show's narrator to "my rabbi appearing suddenly in the dome / to discuss Moses."
But it is not only the places of our youth that become meaningful to us. In Julia Kasdorf's "Nights Like This," an adult narrator walks the darkened neighborhoods of Camp Hill, wondering about the symmetry of the moon, "pale blue TV glow / of family rooms" and a trucker crooning the old tune "Blue Moon." Likewise, an adult perspective gives us Philip Terman's "The Auctioneer," a poem that senses we must all earn our place in this world. In "Second Coming in Northern Pennsylvania," Steven Huff gives us a wonderful image of "driving back into woods, deep into the mountains" to a small town, wondering what the reception would be for Jesus, and the narrator, years gone, who feels like an interloper among kin. Still, as the title of Jason Moser's poem states: "We Never Leave." Perhaps it is that there is something about Pennsylvania that never leaves us. Throughout our lives, we keep traveling this Commonwealth's highways and country roads, surprised by its many and often circuitous routes leading us toward "home."
Native Pennsylvanians, students, factory workers, coal miners, teachers, writers, fellow travelers passing through, we welcome you. We invite you to read more by authors who write about where you live, then journey around the state via the other poems collected here. Experience again the festivals, the natural and man-made disasters, the farm lands, the religious communities, the mountains, the railroads, the forests, the mines, the inner cities, and the small towns of the Keystone. With good wishes, we give you this map and send you on your way, trusting that from these poems you learn something about the lasting influence of the Commonwealth, and something about the power of poetry that allows us to share our similar and dissimilar experiences, yet somehow connect us through the energy of our sacred places. Join this gathering of contemporary voices and journey with us. Come, celebrate our Common Wealth.
Marjorie Maddox, Williamsport
Jerry Wemple, Bloomsburg
© 2005 The Penn State University
Mailing List
Subscribe to our mailing list and be notified about new titles, journals and catalogs.