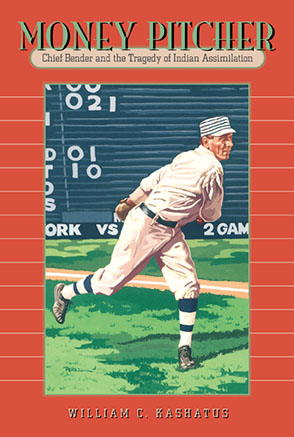 Money Pitcher
Chief Bender and the Tragedy of Indian Assimilation
William C. Kashatus
Buy
Money Pitcher
Chief Bender and the Tragedy of Indian Assimilation
William C. Kashatus
"I thoroughly enjoyed Money Pitcher. Kashatus tells Bender's story through lively, accessible writing. He refuses to get bogged down in statistics, but at the same time gives baseball fans all the sports trivia they'll want. And by exploring not just the height of Bender's fame, but also his early years and post-majors career, Kashatus draws out some very important—and counterintuitive—conclusions."
Description

Reviews

Bio

Table of Contents

Sample Chapters

Subjects
Charles Albert Bender was one of baseball's most talented pitchers. By the end of his major league career in 1925, he had accrued 212 wins and more than 1,700 strikeouts, and in 1953, he became the first American Indian elected to baseball's Hall of Fame. But as a high-profile Chippewa Indian in a bigoted society, Bender knew firsthand the trauma of racism. In
Money Pitcher: Chief Bender and the Tragedy of Indian Assimilation
, William C. Kashatus offers the first biography of this compelling and complex figure.
Bender's career in baseball began on the sandlots of Pennsylvania's Carlisle Indian Industrial School, where he distinguished himself as a hard-throwing pitcher. Soon, in 1903, Philadelphia Athletics manager Connie Mack signed Bender to his pitching staff, where he was a mainstay for more than a decade. Mack regarded Bender as his "money pitcher"—the hurler he relied on whenever he needed a critical victory. But with success came suffering. Spectators jeered Bender on the field and taunted him with war whoops. Newspapers ridiculed him in their sports pages. His own teammates derisively referred to him as "Chief," and Mack paid him less than half the salary of other star pitchers.
This constant disrespect became a major factor in one of the most controversial episodes in the history of baseball: the alleged corruption of the 1914 World Series. Despite being heavily favored going into the Series against the Boston Braves, the A's lost four straight games. Kashatus offers compelling evidence that Bender intentionally compromised his performance in the Series as retribution for the poor treatment he suffered.
Money Pitcher is not just another baseball book. It is a book about social justice and Native Americans' tragic pursuit of the white American Dream at the expense of their own identity. Having arrived in the major leagues only thirteen years after the Wounded Knee Massacre of 1890, Bender experienced the disastrous effects of governmental assimilation policies designed to quash indigenous Indian culture. Yet his remarkable athleticism and dignified behavior disproved popular notions of Native American inferiority and opened the door to the majors for more than 120 Indians who played baseball during the first half of the twentieth century.
"I thoroughly enjoyed Money Pitcher. Kashatus tells Bender's story through lively, accessible writing. He refuses to get bogged down in statistics, but at the same time gives baseball fans all the sports trivia they'll want. And by exploring not just the height of Bender's fame, but also his early years and post-majors career, Kashatus draws out some very important—and counterintuitive—conclusions."
"Chief Bender's extraordinary life took him from White Earth to the Hall of Fame. That much we knew. Now comes Bill Kashatus to tell us the rest. This extraordinary book puts us alongside Bender on his troubled and triumphant journey through America's shameful treatment of its native people."
"In many ways, American Indian players were the first pioneers to integrate major league baseball. And of these integrators, Charles Albert Bender was among the first and certainly the greatest, a cornerstone of the Philadelphia Athletics' championship teams. Money Pitcher, Bill Kashatus's well-written and well-researched biography, tells Bender's story at length, from his early days on the White Earth Reservation, to his glory days as a World Series hero, to his last days as a Philadelphia pitching coach. This is a great life story, sensitively told by Kashatus."
"William Kashatus has been telling interesting baseball stories for some years now and . . . he does what he does best: put it all in perspective."
"Money Pitcher is a book that is definitely a must-read for anyone interested in Native Americans during the Progressive Era and in Pennsylvania's sports history."
"Money Pitcher is a pleasurable read. It will appeal to both sports fans and those with a general interest in Native American history. He consistently provides the reader with an understanding of the times that Bender lived through and the struggles he endured. I recommend this book for purchase by tribal libraries."
William C. Kashatus is a professional historian who earned a doctorate at the University of Pennsylvania. A regular contributor to the Philadelphia Daily News, he is the author of several books, including September Swoon: Richie Allen, the '64 Phillies, and Racial Integration (Penn State, 2004), the winner of the 2005 Dave Moore Award presented by Elysian Fields Quarterly.
Contents
Acknowledgments
Introduction
1. Mandowescence, 1884–1896
2. Carlisle, 1896–1902
3. Philadelphia, 1903–1905
4. Chief, 1906–1909
5. Dynasty, 1910–1914
6. Corrupted World Series, 1914
7. Feds, Phils, and Bushes, 1915–1930
8. Mending Fences, 1931–1954
9. Legacy
Appendix: Charles A. Bender's Career Statistics
Notes
Selected Bibliography
Index
About the Author
INTRODUCTION
On October 10, 1905, a crowd of 24,902 packed New York's Polo Grounds to watch the hometown Giants play the Philadelphia Athletics in Game Two of the World Series. Christy Mathewson, the fair-haired pitching ace of the Giants, had already shut out the A's, 3–0, the day before in Philadelphia, to give his team a one-to-nothing lead in the Fall Classic. Now it was the A's turn to even the Series.
Philadelphia manager Connie Mack sent his twenty-two-year-old right-hander Chief Bender to the mound against "Iron Man" Joe McGinnity, the Giants' number-two starter. Both hurlers had at least eighteen victories to their credit and could boast of having surrendered fewer than three runs per game that season. Their mental approach was just as unyielding. Each man was a fierce competitor, refusing to give an inch to the opponent, especially when the stakes were this high. Under the circumstances, even the slightest advantage would help.
New York's sportswriters did their part to intimidate. Seizing the opportunity to belittle the A's pitcher, who was part Chippewa, the New York American ran an earlier parody of Henry Wadsworth Longfellow's poem "Hiawatha," predicting the "scalping of the Chief" by New York. Not to be outdone, Giants manager John McGraw, a pugnacious Irishman known for his vitriolic bench jockeying, approached Bender during his warm-up tosses and snapped: "It'll be off the warpath for you today, Chief!" Refusing to honor the remark with a reply, the A's hurler simply stared back in stolid silence.
Throughout the game, Bender was forced to endure a running fire of racist epithets from the bleachers. Slurs like "Back to the Reservation!" and "Giants grab heap much wampum!" were inevitably accompanied by imitation war whoops, creating a despicable scene that went far beyond the usual ragging of the opponent by the hometown crowd.4
Bender managed to maintain his composure, holding the powerful Giants lineup to four hits and completing a 3–0 shutout to even the Series. Afterward, when he was asked by a Philadelphia sportswriter if his Chippewa background was the reason for his remarkable poise under pressure, the A's pitcher replied: "I want to be known as a pitcher; not an Indian." Bender's remark appeared the following day in the Philadelphia Inquirer, accompanied by a cartoon showing him with a large feather protruding from his pillbox cap and a tomahawk attached to his belt. He was staring into the eyes of a Giants player and hypnotizing him with an Indian sign.
Even in victory, Chief Bender was the subject of mock derision. His request to "be known as a pitcher" and "not an Indian" was just as tragic for a man who unwittingly became a pioneer for Native American athletes. In the process, he also became Connie Mack's so-called "money pitcher," the hurler he counted on to pitch the single most critical games during the Athletics' first championship dynasty of 1910 to 1914, and one of the greatest pitchers in the history of baseball.
By the dawn of the twentieth century, the white man had come to the conclusion that the only way to save the American Indian was to extinguish his culture. During the previous two centuries, white America had tried to achieve that objective through missionary efforts, warfare, disease and starvation, the removal of Indians from their tribal land base, and by fostering a culture of dependence on the reservation. Still, the Indian persevered. Forcible assimilation was the only weapon that remained in the federal government's arsenal.
The Bureau of Indian Affairs, the federal agency responsible for assimilation, began by sending Native American youth off the reservation to government-sponsored boarding schools in places like Carlisle, Pennsylvania, Hampton, Virginia, and Lawrence, Kansas. Here, Indian children were introduced to white ways of thinking and acting, along with strict military discipline. Long hair, a symbol of manhood for young men, was shorn in a close-cropped fashion. Tribal dress was abandoned for the dark woolen uniforms similar to those worn by U.S. soldiers. Speaking in one's tribal language was strictly forbidden; both written and oral communication was to be done in the English language. Those who rebelled were chastised, or punished by the military instructors who ran the school. The system worked quite effectively. Once they entered the boarding school, many students never returned to the reservation, seeking instead to build a life in the white mainstream. Some, like Charles Albert Bender, came to regret the decision.
Bender, a standout pitcher for the Carlisle Indian Industrial School, became the great hope of Native American athletes. Just six years before his arrival at the central Pennsylvania boarding school, the federal government, fresh from its final military encounter with Indians at Wounded Knee, South Dakota, instigated an aggressive assimilation process designed to extinguish Indian culture. Baseball was an important vehicle in that process. The game was taught at all government-sponsored Indian boarding schools as a means of cultivating Anglo-American values of teamwork, sportsmanship, and individual achievement. Those who excelled at the sport could enter the white mainstream through semipro and minor league ball.
Nicknamed "Mandowescence," or "Little Spirit Animal," Bender grew up on the White Earth Indian Reservation near Brainerd, Minnesota, before going east for a boarding school education, first at Philadelphia and later at Carlisle. Along the way, he learned how to pitch so impressively that his talent captured the attention of Connie Mack, who signed him to an A's contract in 1903. Bender was a soft-spoken, highly intelligent individual whose dark complexion and coal-black hair gave him the distinctive appearance of an American Indian, though he was the product of a mixed marriage. Because of his physical appearance, he shouldered the burden of racism from the very beginning of his career.
At Philadelphia's Columbia Park, fans taunted him with war whoops and such vitriolic jeers as "Back to the Reservation!" Teammates nicknamed him "Chief," considered a racial slur by Native Americans. Bender also became a popular object of derision on the Philadelphia sports pages, where he was often caricatured in buckskin, moccasins, and feathers. Nor was he the only Indian ballplayer to suffer such indignities. More than 120 Native American major leaguers—and dozens of others who played minor league ball—were treated with mock disdain by white fans, opponents, and sometimes even teammates. Public humiliation was an inescapable burden for all Indian athletes.
Because Native Americans have told their history through oral tradition, there are few written records revealing the Indian perspective. Not until 1969, with the publication of Vine Deloria Jr.'s Custer Died for Your Sins: An Indian Manifesto, did Native American writers succeed in reaching a mass audience with published works on the discrimination of their peoples. Dee Brown's Bury My Heart at Wounded Knee: An Indian History of the American West followed in 1971, paving the way for other revisionist histories of the Indian wars and the evolution and nature of the reservation system. Still others turned their attention to the Indian boarding school as a vehicle for Indian assimilation. These studies examine the relationship between policy formation and education, specifically how reformers and government officials came to view the off-reservation boarding school as an instrument for acculturating Indian youth to white ways of thinking and behavior, as well as how educational policy was translated into institutional practice and how students responded to those efforts.
More recently, historians have begun to explore the relationship between Indian assimilation and sports, especially baseball. Harold Seymour was the first to point out that while Indian ballplayers might have experienced discrimination, organized baseball still accepted them because their differences with whites were "mainly cultural," not "racial," as was the case with blacks, who were banned from the professional game. Seymour's argument encouraged others to look more carefully at the issue of American Indian discrimination. Ellen J. Staurowsky's insightful essay on Louis Sockalexis (1998), for example, examined the cultural exploitation of the first Native American major leaguer, who inspired Cleveland's "Indian" mascot but was never credited for it. David L. Fleitz and Brian McDonald followed, in 2002, with detailed accounts of Sockalexis's meteoric rise to fame and equally rapid downfall. Both writers offer a tragic tale of a young Native American who was victimized by baseball, its owners, fans and the press. Sockalexis was the object of tremendous fascination as well as bigotry. As a student athlete at Holy Cross College, his ability to run, hit, and throw captured the imaginations of scouts and the national media alike. But when he arrived in Cleveland, his exceptional talent was surpassed only by the war whoops and jeers he received each time he stepped onto a baseball diamond. Fleitz and McDonald minimize Sockalexis's role in Indian integration, being primarily concerned with his remarkable playing feats and struggle with alcoholism. They also dismiss the possibility that he might have consciously used baseball as a means of self-empowerment.
Jeff Powers-Beck, in his work The American Indian Integration of Baseball (2004), goes further than these historians by examining the mixed legacy of Native American ballplayers as well as the roots of discrimination against them. Surveying the careers of more than 120 athletes of Indian ancestry, he argues that professional baseball was "a crucible of both racial and cultural prejudices" against Native Americans, who were forced to shoulder the burden of racism. Cartoonists made them popular objects of derision on the sports pages. Fans taunted them with war whoops and vitriolic jeers. Even teammates insulted them with nicknames like "Chief," "Nig," "Squanto," and "Kemosabe." "This was not simply a 'cultural prejudice' toward someone who lived differently," insists Powers-Beck. "It was a starkly racist prejudice toward someone who looked different." He adds that the roots of discrimination can be traced to government-sponsored boarding schools like the Carlisle Industrial School in central Pennsylvania. Carlisle used baseball "as a tool for assimilation as well as for the prestige and profit of the school," which fielded some of the finest athletic talent in the nation. At the same time, Powers-Beck views Indian ballplayers like Bender as assertive individuals who used baseball as "a means of cultural resistance and a source of pride." In fact, Bender pursued a major league baseball career in order to distance himself from his Indian heritage, and it was a decision that haunted him for the rest of his life.
Money Pitcher: Chief Bender and the Tragedy of Indian Assimilation explores the life and times of Charles A. Bender in the context of American Indian assimilation. In an era when baseball's reputation was forged by mean-spirited personalities like Ty Cobb and John McGraw and colorful characters like Shoeless Joe Jackson and Rube Waddell, little attention has been paid to Bender, who was one of a very small group of unusually upstanding players. What appeared to be a docile nature, however, was a personal struggle to repress the anger and frustration he felt against a white society and sport that exploited him personally and financially. Eventually Bender sought revenge by pitting the renegade Federal League against the American League Athletics for his services and by costing Mack a fourth world championship.
Chapter 1 gives a historical context for the book by examining the federal government's Indian policy and its implications for Native American children. Bender became a casualty of that policy. Sent east to Philadelphia for an education, Mandowescence was one of hundreds of Indian children who were divorced from their tribes in order to be acculturated into the white mainstream. After four years away from the reservation, Bender returned to discover that he had no future there and ran away to enroll at the Indian Industrial School at Carlisle, Pennsylvania. Chapter 2 discusses the educational and acculturation experience of Indian children at Carlisle. Between 1896 and 1902 Bender, like many of the students, embraced the military regimen of the boarding school. He also learned to play baseball, a sport at which he excelled as a pitcher. After matriculating to nearby Dickinson College, Bender competed at the intercollegiate level and, for pay, at the semiprofessional level. Offered a contract by the Philadelphia Athletics in 1902, the young hurler decided to build a life in the white man's world through professional baseball.
Chapters 3 and 4 chronicle the colorful—and controversial—origins of Connie Mack's Athletics in the brash and sooty environment of Philadelphia at the turn of the century. Bender's rise to stardom amid the racial and cultural discrimination of a white urban society is detailed in these chapters. The creation of Mack's first championship dynasty between 1910 and 1914 is the subject of Chapter 5. Bender was a mainstay on those teams and one of the few soft-spoken members of a rough-and-tumble gang of ballplayers known collectively as the "White Elephants." During these years he built his reputation as Connie Mack's "money pitcher," the hurler to be relied on in the single most important game of a series.
The name "money pitcher" assumed a different meaning during the last year of that remarkable dynasty. Caught in a battle over salary negotiations with Mack, Bender, who was never paid more than $2,500 a season by the A's, was offered three times that amount to jump to the renegade Federal League. Chapter 6 focuses on Bender's decision to "pitch for more money," a choice that corrupted the 1914 World Series and raised the question of whether the Chippewa hurler was involved in a game-fixing conspiracy or whether he simply "lay down" when he was called upon to pitch the opening game of the Fall Classic. It is a controversial event that is inextricably tied to the game's unsavory culture of gambling, roster raiding, and financial exploitation of players in the early twentieth century. But the circumstantial evidence against Bender is damning.
The Athletics, who had captured three world championships in the previous four years, were 10-to-6 favorites going into the 1914 World Series against the Boston Braves, a team whose offense and defense were significantly inferior to Philadelphia's. But the A's lost the Series in four straight games. The circumstances surrounding that blown championship suggest that some members of the team purposely refused to give their best effort, being disgruntled with Mack and his tightfisted ways. Chapter 6 explores in depth those circumstances and Bender's critical role in the tarnished World Series.
Chapter 7 chronicles the decline of the Indian hurler's major league career with the Baltimore Terrapins of the Federal League and the Philadelphia Phillies of the National League, and how he resurrected himself as a pitcher-manager for several minor league teams. At the same time, Bender's attentions turned increasingly to a more successful—and financially lucrative—life off the playing field. Trading on his name, he worked first as a haberdasher and later as the owner of a sporting goods store. He also increased his real estate holdings by purchasing several properties in Cumberland County, Pennsylvania. In short, Bender had finally learned how to become "successful" in a white society based on the accumulation of land and capital, one that had never fully accepted him because of his Native American heritage. The final years of Bender's life, and how he reconciled his differences with Mack and the Athletics, are discussed in Chapter 8.
Chapter 9 provides some final thoughts on the achievement and tragedy of Charles A. Bender in the context of American Indian assimilation. Bender's remarkable playing career, which paved the way to the majors for dozens of American Indian ballplayers, and the singular honor of being the first Native American to be inducted into the National Baseball Hall of Fame, serve to underscore the tragic legacy of his life—the abandonment of one's native culture to chase after the white man's American Dream, a dream that proved to be a personal nightmare. It is the same tragedy of Indian assimilation itself.
William C. Kashatus
Lake Silkworth, Pennsylvania
Spring 2005
Also of Interest
Mailing List
Subscribe to our mailing list and be notified about new titles, journals and catalogs.