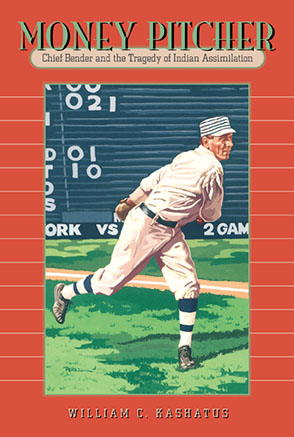 Money Pitcher
Chief Bender and the Tragedy of Indian Assimilation
William C. Kashatus
BUY
Money Pitcher
Chief Bender and the Tragedy of Indian Assimilation
William C. Kashatus
"I thoroughly enjoyed Money Pitcher. Kashatus tells Bender's story through lively, accessible writing. He refuses to get bogged down in statistics, but at the same time gives baseball fans all the sports trivia they'll want. And by exploring not just the height of Bender's fame, but also his early years and post-majors career, Kashatus draws out some very important—and counterintuitive—conclusions."
Description

Reviews

Bio

Table of Contents

Sample Chapters

Subjects
Charles Albert Bender was one of baseball's most talented pitchers. By the end of his major league career in 1925, he had accrued 212 wins and more than 1,700 strikeouts, and in 1953, he became the first American Indian elected to baseball's Hall of Fame. But as a high-profile Chippewa Indian in a bigoted society, Bender knew firsthand the trauma of racism. In
Money Pitcher: Chief Bender and the Tragedy of Indian Assimilation
, William C. Kashatus offers the first biography of this compelling and complex figure.
Bender's career in baseball began on the sandlots of Pennsylvania's Carlisle Indian Industrial School, where he distinguished himself as a hard-throwing pitcher. Soon, in 1903, Philadelphia Athletics manager Connie Mack signed Bender to his pitching staff, where he was a mainstay for more than a decade. Mack regarded Bender as his "money pitcher"—the hurler he relied on whenever he needed a critical victory. But with success came suffering. Spectators jeered Bender on the field and taunted him with war whoops. Newspapers ridiculed him in their sports pages. His own teammates derisively referred to him as "Chief," and Mack paid him less than half the salary of other star pitchers.
This constant disrespect became a major factor in one of the most controversial episodes in the history of baseball: the alleged corruption of the 1914 World Series. Despite being heavily favored going into the Series against the Boston Braves, the A's lost four straight games. Kashatus offers compelling evidence that Bender intentionally compromised his performance in the Series as retribution for the poor treatment he suffered.
Money Pitcher is not just another baseball book. It is a book about social justice and Native Americans' tragic pursuit of the white American Dream at the expense of their own identity. Having arrived in the major leagues only thirteen years after the Wounded Knee Massacre of 1890, Bender experienced the disastrous effects of governmental assimilation policies designed to quash indigenous Indian culture. Yet his remarkable athleticism and dignified behavior disproved popular notions of Native American inferiority and opened the door to the majors for more than 120 Indians who played baseball during the first half of the twentieth century.
"I thoroughly enjoyed Money Pitcher. Kashatus tells Bender's story through lively, accessible writing. He refuses to get bogged down in statistics, but at the same time gives baseball fans all the sports trivia they'll want. And by exploring not just the height of Bender's fame, but also his early years and post-majors career, Kashatus draws out some very important—and counterintuitive—conclusions."
"Chief Bender's extraordinary life took him from White Earth to the Hall of Fame. That much we knew. Now comes Bill Kashatus to tell us the rest. This extraordinary book puts us alongside Bender on his troubled and triumphant journey through America's shameful treatment of its native people."
"In many ways, American Indian players were the first pioneers to integrate major league baseball. And of these integrators, Charles Albert Bender was among the first and certainly the greatest, a cornerstone of the Philadelphia Athletics' championship teams. Money Pitcher, Bill Kashatus's well-written and well-researched biography, tells Bender's story at length, from his early days on the White Earth Reservation, to his glory days as a World Series hero, to his last days as a Philadelphia pitching coach. This is a great life story, sensitively told by Kashatus."
"William Kashatus has been telling interesting baseball stories for some years now and . . . he does what he does best: put it all in perspective."
"Money Pitcher is a book that is definitely a must-read for anyone interested in Native Americans during the Progressive Era and in Pennsylvania's sports history."
"Money Pitcher is a pleasurable read. It will appeal to both sports fans and those with a general interest in Native American history. He consistently provides the reader with an understanding of the times that Bender lived through and the struggles he endured. I recommend this book for purchase by tribal libraries."
William C. Kashatus is a professional historian who earned a doctorate at the University of Pennsylvania. A regular contributor to the Philadelphia Daily News, he is the author of several books, including September Swoon: Richie Allen, the '64 Phillies, and Racial Integration (Penn State, 2004), the winner of the 2005 Dave Moore Award presented by Elysian Fields Quarterly.
Contents
Acknowledgments
Introduction
1. Mandowescence, 1884–1896
2. Carlisle, 1896–1902
3. Philadelphia, 1903–1905
4. Chief, 1906–1909
5. Dynasty, 1910–1914
6. Corrupted World Series, 1914
7. Feds, Phils, and Bushes, 1915–1930
8. Mending Fences, 1931–1954
9. Legacy
Appendix: Charles A. Bender's Career Statistics
Notes
Selected Bibliography
Index
About the Author
Also of Interest
Mailing List
Subscribe to our mailing list and be notified about new titles, journals and catalogs.