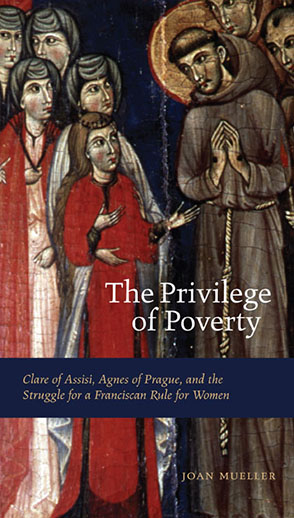 The Privilege of Poverty
Clare of Assisi, Agnes of Prague, and the Struggle for a Franciscan Rule for Women
Joan Mueller
Buy
The Privilege of Poverty
Clare of Assisi, Agnes of Prague, and the Struggle for a Franciscan Rule for Women
Joan Mueller
"This is an extraordinary contribution to the field. Mueller brings together all the available primary and secondary sources in multiple languages. The result is a book that will appeal to medievalists of every discipline, as well as to scholars of women's and religious history."
Description

Reviews

Bio

Table of Contents

Sample Chapters

Subjects
Early in the thirteenth century a young woman named Clare was so moved by the teachings of Francis of Assisi that she renounced her possessions, vowing to live a life of radical poverty. Today Clare is remembered for her relationship with Francis, but her own dedication to poverty and her struggle to gain papal approval for a Franciscan Rule for women is a fascinating story that has not received the attention it deserves. In
The Privilege of Poverty
, Joan Mueller tells this story, and in so doing she reshapes our understanding of early Franciscan history.
Clare knew, as did Francis, that she needed a Rule to preserve the "privilege of poverty"—a papal exemption that gave monasteries of women permission not to rely on endowment income. Early Franciscan women gave their dowries to the poor and were as passionately holy and shrewdly political in this choice as were their male counterparts. Mueller shows the crucial role played in this by Agnes of Prague, one of Clare's closest collaborators. A Bohemian princess who declined an engagement to Emperor Frederick II in order to found a monastery of Poor Ladies in Prague, Agnes capitalized on the papal need for a political alliance with the kingdom of Bohemia to negotiate the privilege of poverty for her monastery and set up a hospital for the poor in Prague.
The efforts of Clare and Agnes ultimately paid off, as Pope Innocent IV approved a Franciscan Rule for women with the privilege of poverty at its core on Clare's deathbed in 1253. Only two years later, Clare was canonized, and the Poor Clares—as they came to be known—continue today as contemplative and active communities devoted to the same ideals that inspired Francis and Clare.
The Privilege of Poverty not only contributes new insight into Franciscan history but also redefines it. No longer can we view early Franciscanism as primarily a male story. Franciscan women were courted by their brothers and by the papacy for their essential contributions to the early Franciscan movement.
"This is an extraordinary contribution to the field. Mueller brings together all the available primary and secondary sources in multiple languages. The result is a book that will appeal to medievalists of every discipline, as well as to scholars of women's and religious history."
"This is a very impressive work. Mueller sets out to pursue the long series of negotiations that went into designing a Franciscan life for women. She begins with Clare and Agnes, who were inspired by the model provided by St. Francis, or at least the model as they saw it. When they attempted to gain the papal permission to pursue that model, they found that the popes whose permission they required saw the life proper to a female religious quite differently. Mueller does a good job of explaining how the models differed and why. She places the ongoing struggle between the two women and the popes in a credible ecclesiastical context."
"It will be important for academic study and for those leading religious lives. Brava!"
"In demonstrating that Franciscan women were from the beginning courted by Franciscan brothers and the papacy as devout contemplatives, Mueller redefines early Franciscan history by showing that women were essential partners with Franciscan friars."
"Mueller knows the texts intimately and although she is less secure on the wider background. . . . She brings to life a world which is at once fascinating and problematic."
"Mueller provides an accomplished description of ecclesiastical and imperial politics, while at the same time honoring the spiritual ideals that motivated Clare and Agnes. The reader is treated to an engaging narrative that ably balances the world of secular politics with the spirituality of the cloister."
"This well-researched book presents an impressive bibliography that includes primary and secondary sources in various languages. Moreover, this study integrates both male and female Franciscan sources, offering an interesting 'mutual' reading of such sources, as Mueller herself points out in her introduction to the volume. The Privilege of Poverty is a significant contribution to the field of religious history and women's history as well as medieval studies."
Joan Mueller is Professor of Theology and Christian Spirituality at Creighton University and an active Poor Clare sister. She is the author of Clare's Letters to Agnes: Text and Sources (2000) and articles in Franciscan Studies and Collectanea Franciscana. She has also written a historical novel, Francis: The Saint of Assisi (2000), which has been translated into several languages.
Contents
Preface
Introduction
1. Clare: The Beginnings
2. The Privilege of Having Nothing
3. Agnes of Prague
4. Agnes's Privilege of Poverty
5. Innocent IV
6. The Rule of Saint Clare
Epilogue: Agnes of Prague After Clare's Death
Notes
Selected Bibliography
Index
Introduction
In the early decades of the thirteenth century, women who had everything to lose decided to sell everything. They did this not for the political advantage of their sex, although rejecting their possessions did have political ramifications. Nor were they primarily inspired to action by the plight of the poor, although the poor certainly benefited from their choice. Rather, these women risked both civil and ecclesial contempt for what their leader called "the one thing necessary"—the privilege to be poor.
The leader of this movement was an Umbrian woman named Chiara, or Clare. Born in Assisi in 1194 to the nobleman Favarone di Offreduccio and his wife, Ortolana, Clare came of age in a day when she would have been expected to assent to a marriage designed to advance the power and landed resources of her family. Instead, Clare chose to follow Francis, who had rejected the riches of his own father, the luxury cloth merchant Pietro Bernardone of Assisi. She had to elope in order to pursue her choice. On the night of Palm Sunday in the year 1212, at the age of eighteen, Clare escaped from her family palazzo and secretly met Francis and his brothers in the tiny church of Saint Maria degli Angeli in the valley below Assisi. There she promised herself to God and was tonsured by Francis's hand.
The choice seems medieval enough—noblewoman desires alternative lifestyle, defies family ambitions, becomes a nun. Yet, Clare's decision was radically and perhaps even dangerously distinctive. Most women involved in the religious movement of her day did not share Clare's desire to be radically poor. Monastic women willingly accepted land grants and tax exemptions given to them by wealthy relatives and solicitous popes. After the death of Francis in 1226, the Franciscan brothers themselves struggled to redefine their institutional poverty, making it easier for them to use and access money for the promotion of their Order and the church's mission. The popes of Clare's time, who wanted to keep monastic women secure under papal protection, were disconcerted by her economic vulnerability. They would repeatedly urge Clare and her associates to change their minds, repent, and even grow up!
Clare remained true to her commitment to live in utter poverty even when confronted by forces that sought to moderate her choice. She watched with deep sadness as her Franciscan brothers set aside the instructions concerning poverty that Francis had written for them before he died. Because these instructions had not been formally approved either by the brothers or by the papacy, they were judged to be nonbinding. Determined not to repeat the same mistake, Clare wrote a Rule in which she detailed the exact form of poverty to be professed by the sisters of her monastery. She received confirmation of this Rule from Pope Innocent IV only one day before her death.
The image of the dying Clare lovingly kissing the papal seal on her Rule is perhaps one of the most poignant scenes in Franciscan history. Clare's childhood friend, Sister Filippa, describes the emotion that Clare expressed on receiving this papal approval.
<ext>
At the end of her life, calling all of her sisters, she solicitously entrusted the "privilege of poverty" to them. She deeply desired to have the Rule of the Order confirmed with the papal bull, so that one day she could place the papal seal to her lips, and then die on the next. It happened just as she desired. She learned that a friar had come with letters stamped with the papal seal. Although she was near death, she reverently took the letters and pressed the papal seal to her mouth to kiss it. The following day, Lady Clare, truly transparent without stain, without the darkness of sin, passed from this life to the Lord into the brilliance of eternal light.
<end ext>
Essential to Clare's success was the rather unexpected soul mate she found in Agnes of Prague, a Bohemian princess who declined an engagement to the German emperor Frederick II in order to found a monastery of Poor Sisters in Prague. Although they never met, Agnes sided with Clare in the spiritual and political struggle to preserve the primitive Franciscan character of the Poor Sisters. Because the papacy needed assistance from the Bohemian king, Agnes's brother, in its struggle against the German emperor, Agnes had the political clout necessary to negotiate legal concessions. With these concessions in place, Clare and her sisters used their spiritual authority and physical proximity in working with the papal jurist, Cardinal Rainaldo, to compose a Rule appropriate for Clare's monastery and its associates. This Clare did with the successful conclusion that Sister Filippa related in Clare's Process.
In doing my research for this book I have made every effort to integrate both male and female Franciscan sources. This approach is novel in Franciscan literature. The experiences of Franciscan women have been basically ignored in the standard histories of the Franciscan Order. In Lazaro Iriarte's seminal work, Franciscan History: The Three Orders of St. Francis of Assisi, 437 pages are dedicated to the friars, while the Clares receive thirty-two pages. Of these thirty-two pages, six concern the life and work of Clare of Assisi. Cajetan Essers's Origins of the Franciscan Order mentions Clare only in passing. John Moorman's History of the Franciscan Order: From Its Origins to the Year 1517, dedicates 30 out of 585 pages to the entire history of the Clarisses until 1517. Théophile Desbonnets's work De l'intuition à l'institution: Les franciscains develops its thesis without examining the effects that the friars' institutionalization had on the early Franciscan sisters.
If the contribution of the sisters has not been recognized, it is not because of a lack of sources. Besides hundreds of papal letters addressed to various early monasteries of women associated either by kindred spirit or by juridical convenience with Clare's monastery, there are also four letters that Clare wrote to Agnes of Prague between 1234 and 1253 and of course Clare's Rule. Most scholars regard Clare's letters and Rule as authentic, although the Rule has been pieced together from many sources. Clare's letters are of particular value especially when read within the context of other royal and canonical correspondence. Although we do not possess the autographs of these letters, the intimate knowledge that they reveal regarding issues specific to Agnes, their growing affection for Agnes who wins for her monastery the coveted "privilege of poverty," their unaffected spirituality, and their lack of a clerical agenda signal their authenticity. Clare's Process of Canonization, which required of its witnesses veracity under oath, is also a valuable tool in reconstructing Clare's struggle to obtain and keep the "privilege of poverty," as is the Vita of Agnes of Prague.
In fact, if one examines papal documents addressed to the friars and sisters of the early Franciscan Order, one recognizes immediately that the sisters are addressed more often than the friars. One obvious reason for this is that the brothers had a centralized administration while the sisters lived in independent monasteries. Letters sent to the brothers were, for the most part, sent to the general minister or other involved party, with the dissemination of their contents being the responsibility of the administrator. Because the sisters lived in enclosed monasteries, the Roman curia needed to address each abbess of every monastery in order to put its policies into effect. There is, therefore, valuable material the historian can use to reconstruct the history of the early sisters.
Just as the reader would inevitably understand the inadequacy of a Franciscan women's history that failed to include sources regarding the friars, it is hoped that this volume will convince readers and future writers of Franciscan history to attend to the sisters. As noble and royal women, early Franciscan women were as passionately holy and shrewdly political as were their male counterparts. Knowing their history not only contributes new insight into the Franciscan story but also redefines it. Rather than seeing early Franciscanism as primarily a male story with cloistered women mysteriously shrouded within a few respectful but inconsequential pages, a mutual reading of sources demonstrates that Franciscan women were courted both by brothers and by the papacy, not only as devout contemplatives, which they were, but also as essential characters contributing both depth and intrigue to the early Franciscan story. As we shall see, this mutual reading is particularly important to the history of the lived experience of early Franciscan poverty.
Why did Clare and Agnes struggle so resolutely for their "privilege of poverty"? What difference did the choice to live in utter poverty make? In an age when the laity was rediscovering the Bible and especially the Gospels, the words of Jesus about selling everything in order to inherit treasure in heaven no doubt influenced Clare. She was convinced that the Lord had guaranteed the right to enter the kingdom of heaven only to the poor: "Blessed are the poor, for the kingdom of heaven is theirs" (Luke 6:20). Clare was also reacting to the political and social conditions of her day. The Roman church was exacting large tithes from both rich and poor, while at the same time many of its clergy were entangled in monetary and political scandals. Clare's and Agnes's "privilege of poverty" gave their monasteries credibility not only among the pious rich but also among the unfortunate poor, who needed a haven where they might experience God's love, healing and mercy. Their choice of poverty was a decision not to become entangled in the endemic warfare and litigation that affected all who owned property and asserted their rights—even monasteries of nuns. Clare and Agnes wanted peace, and they were willing to give up everything in order to have this peace.
<Figure 1 about here>
Theologically, Clare was profoundly inspired by the concept of an infinitely rich God who chose to come among humankind as a poor baby. God, who had infinite treasure, became voluntarily poor out of a deep and salvific love for humanity. In Clare's mind, those who dedicated themselves wholeheartedly to following Christ needed to join him in this choice of poverty. One who is in love wants to live with and in the circumstances of the beloved.
This theological idea, though rare in its extreme form, presented the medieval world, the Franciscan Order, the papacy, and eventually university scholars with foundational questions regarding how Christians ought to use the goods of this world. While early Franciscan women were not theologians, they did have the political clout to force theological questions. This case history of how medieval women read their scriptures and took them seriously demonstrates their struggle to follow the gospel while developing an economy that could sustain them in this world. Poverty for early Franciscan women was a political stance, an economic choice, and a spiritual imperative. It was, as Clare said, "the one thing necessary."
Also of Interest
Mailing List
Subscribe to our mailing list and be notified about new titles, journals and catalogs.