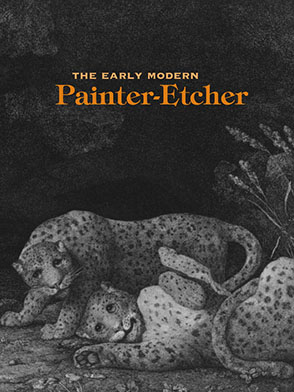 The Early Modern Painter-Etcher
Edited by Michael Cole
Buy
The Early Modern Painter-Etcher
Edited by Michael Cole
"This catalogue represents a real contribution and original and convincing explanations for the reason to consider the work of painter/etchers as a category apart. . . . I believe that this will become a useful and well-used resource for print historians, and will be one of the museum catalogues that will become more than a souvenir of a fascinating exhibit."
Media

Description

Reviews

Bio

Table of Contents

Sample Chapters

Subjects
Winner of a 2007 Choice Outstanding Academic Title
For half a century after its introduction in Europe, printmaking remained the province of a specially trained group of professionals. What changed this situation was the invention of etching, which allowed for print designs to be drawn directly onto a plate so that any competent draftsman could try his hand at it. Many artists did, and as a result, we now have a wide-ranging corpus of major Renaissance and Baroque graphics made by artists who, though famous in other fields, were novices in the print medium.
Featuring essays by Michael Cole, Larry Silver, Susan Dackerman, Graham Larkin, and exhibit co-curator Madeleine Viljoen, The Early Modern Painter-Etcher spans three centuries, roughly from the time of Dürer to that of Goya, and looks at works executed by some seventy painters for whom printmaking was primarily an experimental field. The book accompanies an exhibition that opened in April 2006 at the University of Pennsylvania and will travel to the Ringling Museum of Art and to the Smith College Museum of Art.
"This catalogue represents a real contribution and original and convincing explanations for the reason to consider the work of painter/etchers as a category apart. . . . I believe that this will become a useful and well-used resource for print historians, and will be one of the museum catalogues that will become more than a souvenir of a fascinating exhibit."
"The essays and descriptions of the numerous illustrations are well written and documented but not pendantic."
"With index and comprehensive bibliography, this lavishly illustrated catalog is essential for the historian of early modern European art."
"The notes associated with each catalog image are detailed and enlightening and place the work in relation to other works. The many black-and-white illustrations are of good quality and etchers will particularly enjoy the illustrations that show the same plate in different states."
Michael Cole is Associate Professor of the History of Art at the University of Pennsylvania. He is the author of Cellini and the Principles of Sculpture (2002) and the co-editor of Inventions of the Studio, Renaissance to Romanticism (2004).
Contents
Foreword
Acknowledgments
Introduction
Michael Cole
1. Fluid Boundaries: Formations of the Painter-Etcher
Michael Cole and Larry Silver
2. Dürer's Etchings: Printed Drawings?
Susan Dackerman
3. Drawing and Etching in Early Modern Europe
Madeleine Viljoen
4. The Unfinished Eighteenth Century
Graham Larkin
Catalogue
Bibliography
Index
Introduction:
Cultural historians have long been aware that the hierarchies and relations connecting different forms of artistic expression are specific to time and place. Today, for example, we may still regard classic media such as painting and sculpture as noble pursuits, but they are not nearly so exciting to many of us as novels, photographs, films, or even television. Meanwhile, fields such as calligraphy, armor, and tapestry design, highly prized in the not-so-distant past, now seem antiquated and even irrelevant.
We can all list examples of such shifts. What has been less obvious is the degree to which the very idea of a "system of the arts," to use Paul Kristeller's phrase, distorts as much as it defines the fields it purports to include. The tendency to think of the arts in terms of delimited categories shapes the way those arts get studied and taught. Traditional conceptions of sculpture, for example, frequently exclude pottery, goldsmithery, and architectural decoration, though such works may be made with the same materials, using the same techniques, as more canonical objects. Similarly, we commonly confine our histories of painting to pictures done on walls, panels, and canvas, though many painters produced a considerably broader range of objects. The problem is particularly acute in printmaking. To most people today, prints look alike: few regular museum visitors, I suspect, could explain the difference between etching, engraving, and drypoint. Nor is such a monolithic conception of the field entirely new. Giorgio Vasari, one of the earliest writers to propose any role for printmaking within a system of the arts, already treated the history of engravings, etchings, and woodcuts as a single one. Our own institutions, moreover, largely follow the Vasarian model. Prints today are studied primarily by their curators, while students of those arts that Vasari seemed to favor tend to pay them little attention.
As with other arts, however, such assumptions do not do justice to the historical material. We may wonder, to begin, how most printmakers would have described their labors. The inscriptions on the etchings this catalogue features include the verbs pinxit (painted), sculpsit (sculpted), and delineavit (drew) after the names of their makers. None incorporates a verb that could be translated as "etched" or "engraved"; commonly, those printmakers who gave us a name for their activities suggested that "etching" might belong to any number of other categories. Such inscriptions, moreover, point us to questions about the place of etching within the system—or, to use a less anachronistic term, the "family"—of the arts. Consider the following: while the highly selective exhibition this catalogue accompanies presents prints executed by some seventy well-known painters active in Europe between 1500 and 1800, it is difficult to name even a half-dozen sculptors or architects who made comparable works. In addition, the painters who made the prints shown here were by no means democratic about their media. They worked overwhelmingly in a single technique, etching, and very rarely attempted to master any other. As the entries in this catalogue on Annibale Carracci and Guercino suggest, in fact, even a painter's addition of engraved lines to his etchings may betray more a desire to disguise inexperience in one medium than an aspiration to command several. Beyond the broad question, then, of whether artists like those featured here considered the production of a print to be significantly different from the production of a sculpture or a drawing, there is a real historical affinity to be reckoned with, a kinship between painting and etching that runs against the customary grain. If the practice of etching separates painters from the sculptors and architects with whom Vasari would have placed them, then its historical family of practitioners takes etching out of the "print room," differentiating it from engraving and woodcut.
This is a general point about historical tendencies, but it matters on a more local level as well. Browsing through the entries in this catalogue, the reader will discover that the greatest etchers of the early modern period have familiar names. They are familiar because historians of art continue to write largely in a biographical mode, dwelling on a group of exceptional individuals who worked in high-status fields like painting. That these figures are so well known, however, only makes it all the more remarkable that etchings by painters, with a few very prominent exceptions, have remained so little in evidence. The printed works that painters made usually exist in multiples; they are accessible in many collections and relatively easy to view firsthand. It is tempting to conclude, then, that the absence of works like those featured here in many of the most thoughtful monographic studies of the artists who made them stems from a half-knowing neglect.
The organizers of this exhibition aim to encourage a comparative look at the broad historical phenomenon signaled by the term "painter-etcher": the move of painters into one specific variety of printmaking. We argue that the frequency of this move, in different places and in different times, invites historians to rethink aspects of the configuration of the arts in the early modern period. This is a project, we believe, that can best be carried out in the form of an exhibition. For one thing, the reasons painters took up etching, as well as the objects they made on those occasions, are often distinctive and interesting enough to merit individual attention —attention most conveniently offered in the form of a catalogue entry. Catalogue essays, meanwhile, allow a breadth of scope that academic journals discourage. A primary aim of the project, finally, is simply to show non–print specialists the remarkable variety of experimental prints created by painters.
This conception of the project has largely driven the selection of objects in the exhibition. What is included, as well as what is not, should demonstrate that we are not concerned per se with the history of etching as a historical practice. The exhibition does not present works by Jacques Callot, Wenzel Hollar, Giambattista Piranesi, or a number of other famous early modern etchers for the simple reason that these artists did not paint. Similarly, the exhibition does not feature those rare painters—Martin Schongauer, Hendrik Goltzius, William Hogarth—who made prints in media other than etching. Most artists of this sort were painters only incidentally. The phenomenon of professional printmakers taking up the brush is, in some ways, the complement of the tradition we are looking at here, but it is a rather different subject.
Just as the exhibition avoids any attempt to survey the technical history of etching as a medium, it also seeks to elude the regionalism that has dominated the history of printmaking. Nearly all of the previous exhibitions, catalogues, and books dedicated to early modern etching have focused on famous individuals or on national traditions, seldom covering a period of much more than a century. We propose, by contrast, that the very category of the painter-etcher encourages a rethinking of the artistic geography. Centers were often more consequential than the boundaries of modern states: the etching practice of Claude Lorrain, Claude Vignon, Jean-Honoré Fragonard or Hubert Robert is better explained by their experiences in Rome than by the fact that these artists were French. Since a painter's etchings, much more than his or her other works, were likely to travel, it is, additionally, appropriate to imagine the makers of such graphics operating in a more international network than their primary activities might indicate. Often painters knew what their counterparts in different regions were doing on paper much better than they knew what they were doing on panel or canvas, as the reception of Antonio Tempesta in the north, of Rembrandt in Italy, and of Giovanni Benedetto Castiglione in France all illustrate. More to the point, the exhibition and catalogue suggest that the availability of the technology of etching, together with the accumulating history of painters who employed it, invited experiments that were similarly motivated or conceived, regardless of where or when they were undertaken. One of the primary aims of the exhibition is to evaluate the circumstances in which these artists decided to produce printed works on paper, allowing us to draw and test generalizations about the kinds of etchings the artists were attempting to make. On another level, we believe that seeing etching as a field that was, by nature, experimental, especially for the painters who tried it, sheds light on relations between artists who are not often considered in conjunction, largely because those artists remain separated by boundaries established by the history of painting.
The desire to encourage wide-ranging comparisons, along with the constraints of an exhibition originating at a university, called for difficult decisions about which artists to include. In order to illustrate how many well-known painters made etchings, we opted for broad rather than deep representation, usually choosing just one print rather than surveying the graphics of even important print masters. The selections, moreover, were not universally driven by the brilliance of a given work's execution. That painters could even make etchings depended on a transformation in printmaking that brought in others besides professionals. Some painters, it is true, became so intrigued by the technique and devoted to its possibilities that they became de facto professionals—Rembrandt, Testa, Jacques Bellange, and Francisco de Goya are good examples. Others abandoned the field after producing just a few sheets. The exhibition will draw attention not only to the promise that etching seemed to hold for painters, but also to the resistance it could offer, including technical and other difficulties they did not anticipate. One of the remarkable aspects of the tradition, we find, is that some painters, even without formal training in the medium, seemed to possess almost miraculous abilities to make etchings, while others, even those who were virtuosos with the brush, found the medium intractable. We hope that general audiences will be surprised to see which painters were good etchers and which were not.
Deciding where the show should begin and end posed its own difficulties. Most scholars agree that Daniel Hopfer was the first artist to print etched plates on paper, but Hopfer was not a painter, and his work does not really illustrate the professional configuration that interests us. Albrecht Dürer seemed a better choice: though Dürer, as the first two catalogue essays argue, does not really belong in the same category as the major etchers of the later period, he set important precedents for all who follow, including the choice to take landscape as a subject for etching. With regard to the question of where to end the survey, we briefly considered omitting the eighteenth century, a period that saw the introduction of a whole range of new techniques. Alternatively, we considered taking the exhibition through the nineteenth century, so as to be able to include such important later painter-etchers as James McNeill Whistler and Edgar Degas. Ultimately, we thought that the years around 1800 provided a natural break. In much of Europe, that moment saw lithography take over many of etching's traditional roles. In France and England, etching fell sufficiently from favor in the early nineteenth century that the return of painters to the medium in later years is generally regarded as a "revival." Perhaps more importantly, the painter-etchers of the eighteenth century seem to have seen themselves continuing the earlier tradition, the new print forms of their professional contemporaries notwithstanding. François Boucher, Honoré Fragonard, Goya, and others all made reproductive etchings after seventeenth-century masters, working largely with traditional techniques. And just as Dürer, with his landscape, provides the first example of a subject that runs as a leitmotif through the early modern tradition, so Goya, with his caprichos, presents a final great example of a topic that had long been a favorite of etchers. The medium of etching, by giving artists a middle ground between the inventive possibilities of drawing, which allowed scope for unusual subject matter, and the more restrictive parameters of painting, which, though often more public, also imposed the control of the commission, offered them a place of license where their fantasy could be put on display.
<comp: set as an unnumbered note, flush left, at the bottom of the essay's first page>
We owe thanks to three anonymous readers and to the students in our team-taught spring 2005 seminar, who read and commented on a draft of this article, and to David Stone, who provided a number of helpful references.