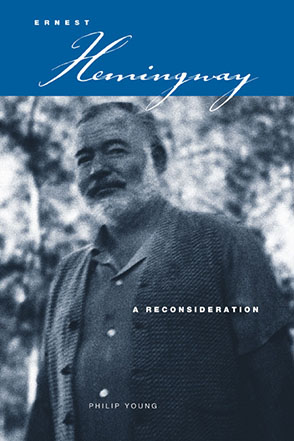 Ernest Hemingway
A Reconsideration
Philip Young
Buy
Ernest Hemingway
A Reconsideration
Philip Young
"Mr. Young's book will undoubtedly have a permanent place in the scholarship of American Literature. It cannot be superseded, and future study of Hemingway must start from it."
Description

Reviews

Bio

Subjects
The original edition of this widely praised critical study was described as "quite the best book on Hemingway," and its importance was substantially enhanced when Philip Young added an absorbing account of his difficult exchange with Hemingway during the book's preparation and a summary of Hemingway's final years. Now available in a paperback edition through Lightning Print, this book explores the relationship between Hemingway the man and Hemingway the author, offering perspectives that remain fresh and insightful.
"Mr. Young's book will undoubtedly have a permanent place in the scholarship of American Literature. It cannot be superseded, and future study of Hemingway must start from it."
Philip Young was professor of English at The Pennsylvania State University from 1959 until his death in 1991. He published widely in the field of American literature, including The Hemingway Manuscripts: An Inventory (with Charles Mann, Penn State, 1969), Three Bags Full: Essays in American Fiction (1972), and The Private Melville (published posthumously, Penn State, 1993).