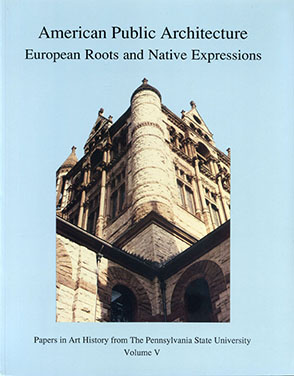 American Public Architecture
European Roots and Native Expressions
Edited by Craig Zabel, and Susan S. Munshower
BUY
American Public Architecture
European Roots and Native Expressions
Edited by Craig Zabel, and Susan S. Munshower
Table of Contents

Subjects
Contents
1. Richardson's Trinity Church and the New England Meeting House
William H. Pierson, Jr. Professor Emeritus, Williams College
2. The Park Cemetery: Its Westward Migration
Gunther Barth, University of California at Berkeley
3. Henry Van Brunt "The Historic Styles, Modern Architecture"
Mary N. Woods, Cornell University
4. The Disquieting Progress of Chicago
Arnold Lewis, The College of Wooster
5. Frank Lloyd Wright as the Anti-Victor Hugo
Narciso G. Menocal, University of Wisconsin at Madison
6. The Phoenix Rising: San Francisco Confronts the Danger of Earthquake and Fire, 1906-1914
Stephen Tobriner, University of California at Berkeley
7. Tanks and Towers: Waterworks in America
John S. Garner, University of Illinois at Urbana-Champaign
8. George Grant Elmslie: Turning the Jewel Box into a Bank Home
Craig Zabel, The Pennsylvania State University
9. Modernized Classicism and Washington, D. C.
Richard Guy Wilson, The University of Virginia
Also of Interest
Mailing List
Subscribe to our mailing list and be notified about new titles, journals and catalogs.