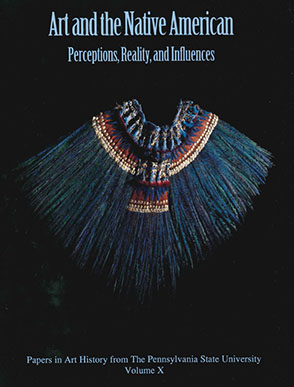 Art and the Native American
Perceptions, Reality, and Influences
Edited by Susan Scott, and Edited by Mary Louise Krumrine
Buy
Art and the Native American
Perceptions, Reality, and Influences
Edited by Susan Scott, and Edited by Mary Louise Krumrine
Table of Contents

Subjects
Contents
Introduction
Acknowledgments
1. Why are Native Americans (still) Called "Indians"?
The Illuminating Example of Giovanni di Paolo's Quattrocento Mappamundi
2. Between Science and Art: The European Representation of America, 1500-1800
3. "Een West-Indien Landtschap met Vreemt Ghebouw": Jan Mostaert on the Architectural Primitivism Characterizing a "Golden Age" Reborn in the New World
4. Cooper, Cole and The Last of the Mohicans
5. Carpeaux's America: Art and Sculptural Politics
6. Nineteenth Century Haida Argillite Carvings: Documents of Cultural Encounter
7. "Maids of Palastine": Pueblo Pots, Potters, and the Politics of Representation
8. Art and Indian Culture at the Crossroads of a New Century: A Postlude to the Exhibition "Lost and Found Traditions: Native American Art 1965-1985"
9. The Collection of the North and Central American Department of the Museum fur Volkerkunde, Vienna