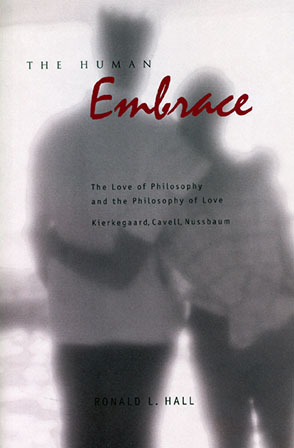 The Human Embrace
The Love of Philosophy and the Philosophy of Love; Kierkegaard, Cavell, Nussbaum
Ronald L. Hall
Buy
The Human Embrace
The Love of Philosophy and the Philosophy of Love; Kierkegaard, Cavell, Nussbaum
Ronald L. Hall
"In the end this is a provocative, passionate, even polemical work, arguing that 'a full affirmative embrace of our humanness must dialectically include precisely what it excludes, the ubiquitous human urge to transcend our humanness' (88). Moreover, the correlations with Cavell and Nussbaum are fascinating reading and show that Kierkegaard's thinking remains instructive for the contemporary attempt to live the good life."
Description

Reviews

Bio

Subjects
Starting from Søren Kierkegaard's insight that fully accepting the human condition requires one to live with the persistent temptation to escape from it, Ronald Hall finds similar concerns reflected in the work of two modern-day philosophers, Stanley Cavell and Martha Nussbaum, who equally find in a philosophy of love and marriage the key to understanding how humans may achieve happiness in the acceptance of their humanity.
All three thinkers follow a "logic of paradox" in showing how success in the human quest to be human depends crucially on the struggle humans experience with the ever-present opportunities to pursue alternative paths. What Kierkegaard called "living existentially" can be achieved only after confronting and refusing the possibilities of living in "aesthetic," "ethical," or even "religious" denial of one's true humanity.
By creating this dialogue between the nineteenth-century Danish thinker and two eminent twentieth-century philosophers, Hall reveals the continuing relevance of Kierkegaard's thought to our own age and its cogency as an interpretation of the human predicament.
"In the end this is a provocative, passionate, even polemical work, arguing that 'a full affirmative embrace of our humanness must dialectically include precisely what it excludes, the ubiquitous human urge to transcend our humanness' (88). Moreover, the correlations with Cavell and Nussbaum are fascinating reading and show that Kierkegaard's thinking remains instructive for the contemporary attempt to live the good life."
Ronald L. Hall is Professor of Philosophy and Coordinator for the Philosophy and Religious Studies Program at Francis Marion University. He is the author of Word and Spirit: A Kierkegaardian Critique of of Modern Age (1993).