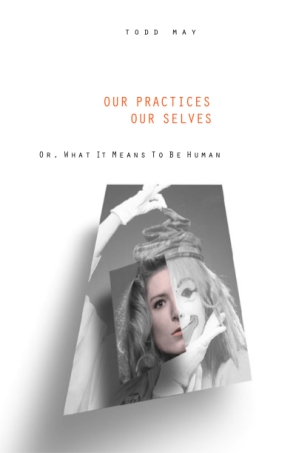 Our Practices, Our Selves
Or, What it Means to Be Human
Todd May
Buy
Our Practices, Our Selves
Or, What it Means to Be Human
Todd May
"This book is extremely thought-provoking, readable, and clear. It will appeal to readers of all ages who ponder what it is to be a human being."
Description

Reviews

Bio

Subjects
A book for everyone interested in learning how philosophy is done and what it can tell us about who we are.
"This book is extremely thought-provoking, readable, and clear. It will appeal to readers of all ages who ponder what it is to be a human being."
"On reading this book, I kept thinking that May must be a really great teacher of philosophy. And what I might particularly appeal to an inexperienced philosophy reader is the deep sense of humility the author displays throughout the book. Finally, I was definitely taken by the author's tremendous sense of humor. As it is well-known, humor is not a very common currency among philosophers. This is precisely why May's sharp irony (safely doubled with self-irony), satire, incisiveness, as well as his constant amused gaze at the humorous side of life renders this a truly rare philosophy book."
"This enjoyable book, written in an engaging, colloquial voice, is that rare kind of introduction to philosophy that both (1) shows that philosophy is a distinctive form of lively conceptual activity rather than an inert body of dusty doctrines and (2) makes a contribution to the field it introduces by showing the importance of our multifarious human practices to questions of selfhood and identity.
The fundamental thesis of the book—that practices are constitutive of the self in a deep way that has not been sufficiently recognized—is explored through wide-ranging examples, including global-technological capitalism, religious authority and the creationism debate, multiculturalism, psychoanalytical explanation, jazz, baseball, political activism, cooking, and many others. These diverse strands, although they obviously come from far and wide, are convincingly woven into a coherent and illuminating large-scale pattern.
This book shows the student, the general reader, or anyone interested in what philosophy—itself a practice—how hard, clear thinking promotes human understanding and how helpful analytical thought can be to numerous hotly debated issues. Readers are given the conceptual tools and philosophical equipment they need as the book progresses, and they will know that they are in the hands of an excellent, confidence-inspiring teacher of the subject."
Todd May is Professor of Philosophy at Clemson University. His previous books are Between Genealogy and Epistemology: Psychology, Politics, and Knowledge in the Thought of Michel Foucault(1993), The Political Philosophy of Post-Structuralist Anarchism (1994), The Moral Theory of Poststructuralism (1995), and Reconsidering Difference: Nancy, Derrida, Levinas, Deleuze (1996), all by Penn State Press.
Also of Interest
Mailing List
Subscribe to our mailing list and be notified about new titles, journals and catalogs.