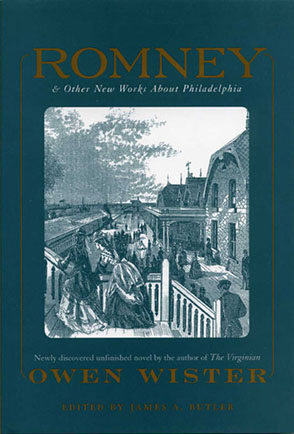 Romney
And Other New Works About Philadelphia By Owen Wister
Edited by James A. Butler
BUY
Romney
And Other New Works About Philadelphia By Owen Wister
Edited by James A. Butler
"Romney is a delightfully surprising and important contribution to our understanding of Owen Wister, of Philadelphia and its Main Line suburbs, and of American literature in the early twentieth century. Readers will be intrigued to find that Wister anticipates in this unfinished novel, by more than seventy years, the thesis put forth by E. Digby Baltzell in his Puritan Boston and Quaker Philadelphia. For anyone wishing to come to terms with the Philadelphia story, this is a 'must-read' book."
Description

Reviews

Bio

Sample Chapters

Subjects
Owen Wister is known to most Americans as the creator of the heroic cowboy in
The Virginian
(1902). Despite his success as a Western novelist, Wister's failure to write about his native city of Philadelphia has been lamented by many for the loss of a literary "might-have-been." If only, sighed Wister's contemporary Elizabeth Robins Pennell in 1914, the novelist could understand that Philadelphia was as good a subject as the Wild West. Hence the surprise when James Butler uncovered a substantial fragment of a Philadelphia novel, which Wister intended to call
Romney
. Here, published for the first time, is the complete fragment of
Romney
together with two of his other unpublished Philadelphia works.
Even in its incomplete state—nearly fifty thousand words—Romney is Wister's longest piece of fiction after The Virginian and Lady Baltimore. Writing at the express command of his friend Theodore Roosevelt, Wister set Romney in Philadelphia (called Monopolis in the novel) during the 1880s, when, as he saw it, the city was passing from the old to a new order. The hero of the story, Romney, is a man of "no social position" who nonetheless rises to the top because he has superior ability. It is thus a novel about the possibilities for meaningful social change in a democracy. Although, alas, the story breaks off before the birth of Romney, Wister gives us much to savor in the existing thirteen chapters. We are treated to delightful scenes at the Bryn Mawr train station, the Bellevue Hotel, and Independence Square, which yield brilliant insights into life on the Main Line, the power of the Pennsylvania Railroad, and the insidious effects of political corruption.
Wister's acute analysis in Romney of what differentiates Philadelphia and Boston upper classes is remarkably similar to, but anticipates by more than half a century, the classic study by E. Digby Baltzell in Puritan Boston and Quaker Philadelphia (1979). Like Baltzell, Wister analyzes the urban aristocracy of Boston and Philadelphia, finding in Boston a Puritan drive for achievement and civic service but in Philadelphia a Quaker preference for toleration and moderation, all too often leading to acquiescence and stagnation.
Romney is undoubtedly the best fictional portrayal of "Gilded Age" Philadelphia, brilliantly capturing Wister's vision of old-money, aristocratic society gasping its last before the onrushing vulgarity of the nouveaux riches. It is a novel of manners that does for Philadelphia what Edith Wharton and John Marquand have done for New York and Boston.
"Romney is a delightfully surprising and important contribution to our understanding of Owen Wister, of Philadelphia and its Main Line suburbs, and of American literature in the early twentieth century. Readers will be intrigued to find that Wister anticipates in this unfinished novel, by more than seventy years, the thesis put forth by E. Digby Baltzell in his Puritan Boston and Quaker Philadelphia. For anyone wishing to come to terms with the Philadelphia story, this is a 'must-read' book."
"Owen Wister's Romney, edited and annotated with extraordinary precision by James A. Butler, is an unexpected and most valuable contribution to two important matters. One is our knowledge of Owen Wister, through this—hitherto practically unavailable—book. The other is the very content of this unfinished Wister work, essentially a novel of manners, set in Philadelphia society of the 1880s. Philadelphia has been a nearly ideal setting for a novel of manners but, for various reasons, during two centuries few of them have been forthcoming. Romney, unfinished as it is, is a substantial exception-which is why it ought to be read by everyone interested in the history of Philadelphia and of Philadelphians."
"Romney ought to be read by anyone with an interest in American history, in the price of 'progress,' in comic literature, or in the timeless tension between 'old' and 'new' money."
"Thanks in great part to superb editing by Butler, this volume is a welcome addition to the Wister canon. Romney would have taken its place alongside The Virginian (1902) and Lady Baltimore (1906) . . . but he never completed it.
The novel occasionally brings to mind the work of Howells, James, and Henry Adams, and Wister's thesis anticipates the urban-contrast arguments of E. Digby Baltzell's Puritan Boston and Quaker Philadelphia (1979). Nicely illustrated, with an introduction, notes, chronology, and appendixes detailing other pertinent works, this book is highly recommended at all levels."
"Like Wharton's best work, the unfinished Romney, along with Wister's essays about Philadelphia society, remains striking for its examination of American social pathologies that, despite changes in ethnic, cultural, and technological composition, remain virulently prevalent today."
James A. Butler is Professor of English at La Salle University, where he is also Curator of the Wister Family Special Collection. He is Associate Editor of The Cornell Wordsworth Series.