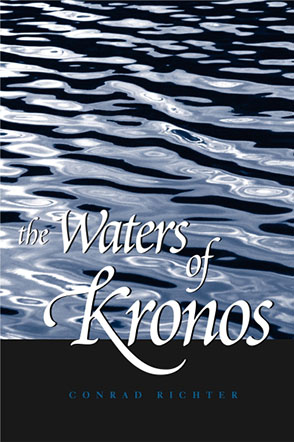 The Waters of Kronos
Conrad Richter
Buy
The Waters of Kronos
Conrad Richter
"The Waters of Kronos is an enchanted book. It reminds us anew of the magic which the printed page may hold, what we thought in a more innocent time as the spell and transport which the craftsmen of words may create."
Description

Reviews

Bio

Subjects
From the time of its first publication in 1960, Conrad Richter's
The Waters of Kronos
sparked lively debate about the extent to which its story of a belated return to childhood scenes mirrored key events of Richter's own life. As was well known at the time, Richter had spent several years in the Southwest, where he collected the material for his first successful book,
Early Americans and Other Stories
, but by 1933, he had returned to live in his hometown, Pine Grove, Pennsylvania.
John Donner, the main protagonist in The Waters of Kronos, traces a similar route from west to east, although he finds that his family home and native town have been submerged under the deep waters of a lake formed by the construction of a hydroelectric dam. As Richter narrates his alter ego's efforts to salvage his past, he moves beyond "semi-autobiography" to offer what are widely recognized as his most haunting reflections upon the power of family history, the fragility of human memory, and art's role in structuring the communal ethos. David McCullough, a fellow Pulitzer Prize winner, met and befriended Richter in the 1960s and has called him "an American master," praising The Waters of Kronos as "his most beautiful book."
"The Waters of Kronos is an enchanted book. It reminds us anew of the magic which the printed page may hold, what we thought in a more innocent time as the spell and transport which the craftsmen of words may create."
"Writers as various as Marcel Proust, Thomas Wolfe, and James Thurber separately discovered that 'you can't go home again.' In The Waters of Kronos, novelist Conrad Richter adds an extra dimension to this truism. His hero grasps what countless other men have sensed: you can never really leave home."
"May it never go out of print again. It is an extraordinary book, the kind that could only have been written by someone for whom the techniques of storytelling had become second nature."
"To celebrate the reappearance of such a worthy novel may be an expression of regional patriotism, but it should also be an opportunity to think about our own small towns, our own haunted memories, and our own quest for the meaning of the past."
Conrad Richter (1890-1968) was awarded the National Book Award for The Waters of Kronos in 1961. He was also awarded the Pulitzer Prize for The Town, the last volume in a trilogy about frontier life in Ohio, in 1951.