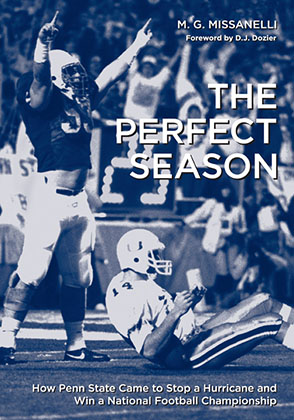 The Perfect Season
How Penn State Came to Stop a Hurricane and Win a National Football Championship
M. G. Missanelli
BUY
The Perfect Season
How Penn State Came to Stop a Hurricane and Win a National Football Championship
M. G. Missanelli
"It's been 20 years since that night in the Arizona desert when Penn State and Miami clashed in a battle of football and philosophy in the Fiesta Bowl. It was the last national championship for Penn State, won in dramatic fashion with a goal-line interception in the final seconds to preserve a 14–10 win. It was, in the eyes of many, the zenith of the program. And many of the players, now middle-aged fathers, remain icons in the history of the sport at Penn State. Mike Missanelli does a masterful job of re-creating the game, reconnecting with the key players for both teams, and rekindles fond memories of a night when no star in the college football galaxy shined brighter than Penn State's."
Description

Reviews

Bio

Table of Contents

Sample Chapters

Subjects
The 1987 NCAA championship game between the Penn State Nittany Lions and the University of Miami Hurricanes is often considered the most memorable championship game in all of college football history. Both teams were undefeated going into the game, but the Hurricanes were heavily favored, as they had demolished each of their opponents during the regular season. On January 2, 1987, Penn State pulled off one of the most surprising upsets in college football by handing the University of Miami team its only loss of the season. In
The Perfect Season
, with help from the Penn State players involved, M. G. Missanelli retells the story not just of this championship game but also of Penn State's entire season.
Beginning with its Orange Bowl loss in 1985 (Penn State's only loss that year), Missanelli recounts the glorious 1986 season through the eyes of those Penn State athletes. The book also focuses on the media's buildup of the national championship, explaining why the University of Miami team was considered the villain in this battle. Numerous anecdotes stories are included, such as the incident where the University of Miami team arrived at the Fiesta Bowl wearing combat fatigues in an attempt to wage psychological war on its opponents. But such tactics appeared to have little effect the Penn State Nittany Lions, whose tenacity resulted in victory in the final minutes of the game.
Drawing on interviews as well as his own recollections, the author relates the vivid story of one of the most triumphant seasons in the history of Penn State football. Anyone interested in college football, the Nittany Lions, or Joe Paterno's legacy will find this book impossible to put down.
"It's been 20 years since that night in the Arizona desert when Penn State and Miami clashed in a battle of football and philosophy in the Fiesta Bowl. It was the last national championship for Penn State, won in dramatic fashion with a goal-line interception in the final seconds to preserve a 14–10 win. It was, in the eyes of many, the zenith of the program. And many of the players, now middle-aged fathers, remain icons in the history of the sport at Penn State. Mike Missanelli does a masterful job of re-creating the game, reconnecting with the key players for both teams, and rekindles fond memories of a night when no star in the college football galaxy shined brighter than Penn State's."
"Missanelli brings to life the 1986 national football championship season, with a great account of the Nittany Lion victory over the combat fatigue–clad Miami Hurricanes. The Foreword by D. J. Dozier is a delight, as are various vignettes of participants such as Jerry Sandusky, Shane Conlan, Bob White, and the unfortunate-in-life John Bruno."
"Jan. 2, 1987. It is at once the most profound and significant day of the nearly 15,000 Joe Paterno has spent as Penn State's football coach. On that night, in the spotlit Arizona desert, Paterno's Nittany Lions defeated Miami in a national championship match-up whose contrasts were as vivid as the personalities involved. In The Perfect Season, Mike Missanelli carefully dissects and re-creates this memorable game, one that would serve as a perfect little morality play, a showcase for all that was right and wrong with college football."
"An engaging story about the people involved and the events leading into one of the most exciting games in college football history."
"Missanelli's book is eight yards ahead of the other two, a poignant look back at that colorful bunch that went unbeaten in the regular season and then whipped favored Miami in the Fiesta Bowl. Nobody who heard Missanelli's barbed-wire sarcasm when he was a regular on WIP ever described him as warm and fuzzy, but the best parts of his book are the chapters where he visits with ex-players and their families."
M. G. Missanelli, Penn State Class of 1977, is a well-known media personality in Philadelphia who has worked for more than twenty-five years in the area of sports journalism. He is also a 1986 graduate of the Delaware Law School of Widener University and is a licensed attorney. Currently, he teaches a class on sports and entertainment law at St. Joseph's University in Philadelphia.
Contents
Foreword by D.J. Dozier
Preface and Acknowledgments
How They Finished 12–0
1. Deke
2. Shane and Linebacker U
3. The Quarterback
4. A Case for the Defense
5. The Season Reported
6. Penn State vs. Miami, The Plays
7. Fallen Heroes
8. The Broadcast
9. Hurricane Fallout
10. Where Lions Landed
Epilogue
Notes
Index
Foreword
I remember feeling like somebody had hit me over the head with a blunt object. My mouth was wide open. I was stunned into silence.
It was the night before the Fiesta Bowl, January 2, 1987. Hours before we went out to break heads in the game for the national championship, Penn State's players and coaches broke bread with Miami's players and coaches at a barbeque given by bowl organizers. College football, after all, is about sportsmanship.
Or so we thought.
John Bruno, our punter and team crack-up, had just finished what we thought was a hilarious parody of Miami coach Jimmy Johnson, and his stiff, sprayed-up hair. No one from Miami—whose players mostly wore battle fatigue clothing to the shindig—cracked a smile.
All of a sudden, Jerome Brown, the Hurricanes' All-American defensive tackle, got up and made a loud statement.
"Did the Japanese sit down and eat with Pearl Harbor before they bombed them?!" Brown screamed. "We're out of here!"
And with that, the entire Miami team got up and walked out.
I followed them with my eyes, all the way out the door, thinking that this was their comedy routine. I figured they would soon do an about-face, come back into the room, and say, "Just kidding." When they didn't, I looked at Bucky Conlin, one of our mammoth offensive linemen. Bucky had barely looked up from his plate, despite the mayhem that surrounded us, and continued cutting into a big steak.
"Let 'em go," Conlin said. "That's just more food for us."
Conlin's cavalier reaction spoke volumes. As a team, we were covered with this quiet confidence and Miami's disrespect only heightened our intensity about three or four times what it already had been.
They have no idea what they just did, I remember thinking to myself.
We were a heavy underdog to Miami that night, but had come to Tempe on a mission. College football experts had called the 1986 Nittany Lions frauds—and that was the nicest word they called us—with no legitimate claim to a national championship. We came into the Fiesta Bowl undefeated. But our schedule was soft, they said, and we had a hard time even overcoming that during the season. Our quarterback, John Shaffer, was said to be a no-name and a no-talent—even though he had lost only one game since seventh grade as a starting quarterback
But we knew better.
The die had been cast for a Fiesta Bowl triumph the year before, almost to the day, after we took an undefeated record into the '86 Orange Bowl and promptly got smoked by Oklahoma, 25–10. We were embarrassed that night by a team whose image was brashly similar to Miami's. A freshman quarterback named Jamielle Holloway had said during the week leading up to that game that all Oklahoma had to do to beat us was "put seven points on the board." The Sooners coach, Barry Switzer, was about as rebellious as our coach, Joe Paterno, was conservative. We knew Joe didn't much like Switzer and liked a lot less losing to him. And after that loss, the part of the sporting public that derided the Penn State program for being "too squeaky clean" reveled in our misfortune. So we were determined not to let that happen again.
In the locker room after the Oklahoma loss, a collection of guys who would be fifth-year seniors said they were coming back for another year rather than leave for the NFL draft. We were already an experienced team because most of the juniors—guys like Shaffer, Tim Manoa, Steve Smith, Shane Conlan, Trey Bauer, and myself—had gotten playing time our freshman year. We didn't have to start over after that Orange Bowl loss. We merely had to take it up one more notch.
Knowing that, we started our workouts for the next season, literally, on the next day—when we returned home to State College. A bunch of us decided to go out and take a jog through campus. All of a sudden, almost everybody on the team was running on a daily basis—despite the frozen snow that is Penn State University in the winter.
By the time the season began that September, we were fueled for something really special. Our goal was simple: another undefeated season, and this time, to win that final game and the national championship.
Through the eyes of several of the key players who helped make the '86 championship season, this is the story of how we did it.
D.J. Dozier