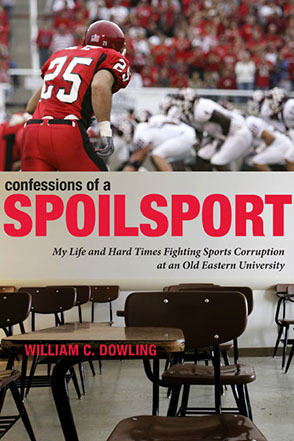 Confessions of a Spoilsport
My Life and Hard Times Fighting Sports Corruption at an Old Eastern University
William C. Dowling
Buy
Confessions of a Spoilsport
My Life and Hard Times Fighting Sports Corruption at an Old Eastern University
William C. Dowling
"Universities exist to transmit understanding and ideals and values to students . . . not to provide entertainment for spectators or employment for athletes. . . . When I entered a much smaller Rutgers sixty years ago, athletics were an important but strictly minor aspect of Rutgers education. I trust that today's much larger Rutgers will honor this tradition from which I benefited so much."
Media

Description

Reviews

Bio

Table of Contents

Sample Chapters

Subjects
An op-ed by William Dowling appeared in the New York Times on October 28, 2007. To read the op-ed, click the link. An interview with Professor Dowling also appeared in The New York Times on September 26, 2007. To read the interview, click here.
Click here to read an interview with Professor Dowling published in Inside Higher Education.
In 1998, Milton Friedman's statement drew national attention to Rutgers 1000, a campaign in which students, faculty, and alumni were resisting the takeover of their university by commercialized Division I-A athletics. Subsequently, the movement received extensive coverage in the
New York Times
, the
Wall Street Journal
, the C
hronicle of Higher Education
,
Sports Illustrated
, and other publications.
Today, "big-time" college athletics remains a hotly debated issue at Rutgers. Why did an old eastern university that had long competed against such institutions as Colgate, Columbia, Lafayette, and Princeton, choose, by joining the Big East conference in 1994, to plunge into the world of such TV-revenue-driven extravaganzas as "March Madness" and the Tostitos Fiesta Bowl? What is the moral for universities where big-time college sports have already become the primary source of institutional identity?
Confessions of a Spoilsport is the story of an English professor who, having seen the University of New Mexico sink academically in the period of a major basketball scandal, was galvanized into action when Rutgers joined the Big East. It is also the story of the Rutgers 1000 students and alumni who set out against enormous odds to resist the decline of their university—eviscerated academic programs, cancellation of minor sports, loss of the "best and brightest" in-state students to the nearby College of New Jersey—while tens of millions of dollars were being lavished on Division I-A athletics. Ultimately, however, the story of Rutgers 1000 is what the New York Times called it when Milton Friedman issued his ringing statement: a struggle for the soul of a major university.
"Universities exist to transmit understanding and ideals and values to students . . . not to provide entertainment for spectators or employment for athletes. . . . When I entered a much smaller Rutgers sixty years ago, athletics were an important but strictly minor aspect of Rutgers education. I trust that today's much larger Rutgers will honor this tradition from which I benefited so much."
"Read this book if you care about both sports and undergraduate education. Dowling is one of the most brilliant and dedicated teachers I know. He has been struggling for more than a decade to save the educational soul of Rutgers University. This book exposes the Faustian bargain university trustees and presidents make to field nationally competitive athletic teams.
"Dowling tells a sad and very personal story of the failed struggle at Rutgers, but readers at other institutions will have no difficulty in substituting the names of their own presidents and athletic directors. Dowling is not against athletics. He is for education."
"Big-time college athletics are helping to ruin higher education at Rutgers and elsewhere, writes insider and star professor of literature, William Dowling. In his personal story of involvement with athletics at Rutgers, Dowling pleads for Rutgers and other universities to become places that are student-centered and intellectually challenging."
"Even if you care not a fig about the Neanderthalization of our universities, you'll get a buzz out of Dowling's furious prose. Dude's got a chip on both shoulders and half a dozen angry beehives throbbing in his bonnet. . . . Spoilsport is the follow-up fans of the classic football book Friday Night Lights (which was about sports corruption in the football-rotted high schools of West Texas) have been waiting for."
"[Confessions of a Spoilsport] is, mostly, a well-argued diatribe, and a very useful one—perhaps the best overview of college-sports corruption published. It should be required reading, for education and sports writers, not to mention high school students pondering their college choices along with their financially fearful parents."
"Dowling provides evidence that will make the reader sit up and take notice. He writes well, providing clear, comprehensive evidence of the pitfalls of big-time athletics."
William C. Dowling is University Distinguished Professor of English and American Literature at Rutgers University and the 2012 recipient of the Robert Maynard Hutchins Award for his contributions to the cause of integrity in intercollegiate athletics. Of the ten books he has published, the most recent include Oliver Wendell Holmes in Paris: Medicine, Theology, and the Autocrat of the Breakfast Table, Literary Federalism in the Age of Jefferson, and The Senses of the Text: Intensional Semantics and Literary Theory. He has also written widely on college sports in such publications as The Chronicle of Higher Education and Academic Questions, and about challenges to the system of scholarly communication in the Journal of Scholarly Publishing.
Contents
Introduction
1. Lost in Loboland
2. The Birth of Rutgers 1000
3. The Friedman Statement
4. Warriors on the Web
5. The Coca-Cola University
6. Sportswriters in Wonderland
7. Sympathy for the Devil
8. "I Am an Alumni!"
9. The Hour of Victory
10. Requiem for Rutgers 1000
Epilogue: A View from the Banks
Appendix: The Rutgers Review Interview
Note on Sources
Acknowledgments
Index
Introduction
On July 25, 2003, police investigators found the badly decomposed body of a Baylor University basketball player, Patrick Dennehy, in a grassy field four miles from the Baylor campus. Dennehy had been missing for more than a month. His disappearance had drawn widespread press coverage. Six days after he'd been reported missing, his SUV, a dark blue new-model Chevrolet Tahoe, turned up in Virginia, stripped of its Texas plates. In Waco, rumors were circulating that Dennehy's disappearance was connected to a fight he'd had with another Baylor basketball player, Carlton Dotson. Then Dotson, calling from his home in Maryland, told the FBI he was willing to discuss Dennehy's disappearance. The information he provided led Waco police to the field where Dennehy's corpse, lying exposed to a hot Texas summer sun, had been decomposing for more than four weeks. An autopsy showed that the player had been killed by two bullets to the head, fired at close range from a 9mm pistol.
The story that unfolded after Dennehy's body was found is a parable about Div IA athletics at hundreds of American universities. It's a story of corruption and hypocrisy and self-deception. Of pious claims and brutally cynical behavior. Of frightened faculty and powerful regents or trustees who see winning football and basketball teams as immeasurably more important than academic and intellectual values. It is the story, not least, of thousands of ordinary undergraduates who, brainwashed by years of televised bowl games and "March Madness" hype, have no idea of what a real college education might otherwise be. The Baylor scandal is in this sense all Div IA scandals: academic fraud at Ohio State or Georgia or Minnesota, booster bribery as in Michigan's "Fab Five" case, sex-and-recruiting parties at the University of Colorado, rape and assault and financial fraud at Miami or Virginia Tech, and others too numerous to count.
The Baylor scandal is about the way commercialized college sports, powered by billions of dollars in TV advertising revenues, have permitted a retrograde booster subculture to assert control over institutions of higher learning from coast to coast. Private universities like Baylor and Miami and Duke. Public universities like Nebraska and Colorado and Ohio State. It's about the academic decline that sets in when the brightest students in a state flee in large numbers to out-of-state schools whose undergraduates value ideas and knowledge over big-time sports. Or when top faculty, sickened by teaching at a school owned and operated by the local boosters' club, leave for institutions whose undergraduates have come to college to use their minds. The Baylor story is in this sense about the triumph of commercial culture and consumerist ideology over higher education in contemporary America.
Most of all, though, the Baylor scandal is about the separate sphere of reality inhabited by everyone involved in Div IA athletics—players, coaches, academic tutors, Athletics Department personnel, sports-friendly trustees and administrators. The great value—perhaps the only value—of the Div IA scandals that have so regularly broken out over the last few years is that they permit those who know nothing about the NCAA or "March Madness" to see what this sphere of reality looks like from the inside. It's increasingly important that they do so. As recently as thirty or forty years ago, Div IA reality was still a self-enclosed subculture within the university. Today, it has expanded its boundaries to become, in many cases, identical with the university as such. This is the context in which the scandals provide, in addition to predictably sordid stories of corruption and moral cynicism, a way of understanding the actual dynamics of sports corruption in American higher education.
Let's return for a moment to Baylor. At Baylor, administrators maintained that Dennehy's death had nothing specifically to do with Baylor athletics. "This is not related to anything Baylor does or doesn't do," a Baylor vice president assured the Chronicle of Higher Education. "We're not insulated from society, or from what good or bad happens in the world." By the same token, the rules laid down by the NCAA for treatment of scholarship athletes—tuition money, some help with living expenses, and no special benefits beyond that—really had been scrupulously observed at Baylor. "We followed the rules, however difficult they may be, for thirty years," basketball coach Dave Bliss said at a press conference. Given that Baylor was a Baptist institution with a strong commitment to Christian morality, there was every reason to suppose that he was telling the truth. A Baylor student who organized a prayer meeting during the turmoil surrounding Dennehy's murder called President Robert Sloan "the godliest president Baylor has had." A distraught Coach Bliss told reporters that "all the members of the Baylor family and myself are in tremendous disbelief" at Dennehy's disappearance, because Dennehy was "an unbelievable young man."
Still, there was some concern at Baylor that all might not be quite right with Coach Bliss's basketball program. For one thing, Patrick Dennehy, a talented six-foot-ten center, had transferred to Baylor the year before from the University of New Mexico. NCAA rules require transfer athletes to sit out one playing year at their new school. Dennehy's family was unable to contribute to college costs. Since Coach Bliss had not wanted to give his new center an athletic scholarship that could go to an active player, Dennehy was without university funding to cover his $17,200 tuition bill at Baylor, much less the cost of a brand-new Chevrolet Tahoe. Still, he had somehow managed to pay his bills and drive a late-model SUV. So there were anomalies that seemed to need explaining. The trustees appointed a special investigating committee to scrutinize the program more closely.
After Dennehy's body was recovered, an assistant basketball coach, driven to disillusionment by Dennehy's fatal shooting, took a hidden microcassette into Coach Bliss's closed-door sessions with his team and coaching staff. Listening to the tapes he brought out, committee members heard Coach Bliss urging his players, some of whom were also getting money from undisclosed sources, to collaborate on a cover story that would explain how Dennehy had paid for his own tuition and Chevy Tahoe. The most effective strategy, the coach somberly told the players, would be to portray Dennehy as a drug dealer who'd been killed in a botched narcotics deal. His teammates could testify that they'd seen him with a tray of illegal drugs and a roll of $100 bills. The virtue of the scenario, Coach Bliss told them, was that Dennehy, since he was dead, "is never going to refute what we say." All the team and the other coaches had to do was present a solid front. Police and media attention would soon shift to something else.
The downfall of Bliss's basketball program came when the Fort Worth Star-Telegram printed portions of the transcript. The Baylor regents and President Robert Sloan promptly expressed moral outrage. Coach Bliss's attempt to cover up the truth, declared the president, was "a profound betrayal of the trust that Baylor University and our players put in him." "All the Baylor family," echoed the chair of the board of regents, had experienced "a huge sense of betrayal and anger" at the basketball coach's behavior. Viewed against the background of numerous other stories about crimes involving Div IA coaches and players, the Baylor story follows a familiar pattern. There is the utter shock of college officials. There's the decision to establish an investigating committee. Then comes the protest that, regrettable as the current case may be, it is not representative of the true ideals of the institution. Finally, there is a solemn announcement that nothing similar will ever be allowed to happen again. Still, the homicidal violence at Baylor brought into the broad light of day something that remains obscured in many scandals: the dynamics through which big-time athletics can take over an entire institution.
Until recently, the typical Div IA athletic program was presented as being complementary to the educational mission of the university. Coaches were "teachers." Sports involved "learning opportunities" and "discipline" and "character." Athletes took courses, lived in college dormitories, and were, like students who acted in plays or wrote for the student newspaper, simply pursuing a chosen extracurricular activity. Even when the football coach was making four or five times as much as the university president, when special tutors were provided to help athletes with their class work, or when boosters showered expensive gifts upon "blue-chip" recruits, it remained possible for many people, and especially members of the local boosters club, to imagine the sports program as a realm analogous to the university—one populated by individuals who might be larger, stronger, and more physically coordinated than other students, but not essentially different from them. Only when the moral and legal conventions of the everyday world undergo a dramatic collapse, as in the murder of Patrick Dennehy at Baylor, does the repressed question of the connection between athletics and criminality come more insistently into view.
Consider the evidence that Baylor basketball players saw themselves as belonging not to some separate but complementary realm within the university, but to a self-contained reality utterly distinct from it. Three of Coach Bliss's newest recruits were junior college transfers—players who, having failed to meet the NCAA's very minimal academic standards, had been sent to junior college to earn enough credits to qualify for athletic scholarships. In the world of Div IA athletics, "JUCO transfers" are notoriously likely to be what sportswriters and boosters call problem players—young men with a history of violent or antisocial behavior in addition to severe academic deficiencies. Among the Baylor players, personal tensions had built up to the point that Dennehy bought and practiced with a .32 caliber pistol for self-protection. His closest friend on the team, Carlton Dotson, bought a 9mm pistol for the same reason. This was the same gun that, when tensions later developed between the two young men, was used to kill Patrick Dennehy. This background helps explain why Baylor's infractions of NCAA rules, its silent evasion of the university's own standards and procedures—necessary for virtually any "big-time" sports program to remain competitive—were more than mere infractions. They helped to create at Baylor a sense of moral and legal immunity that led to a rotting corpse in a grassy field.
The moral of the Baylor story is not that Div IA athletes imagine themselves to be dwelling in a separate reality exempt from ordinary moral and legal claims. It's that athletes are right to think so. To turn from Baylor to any major NCAA program is to discover that its athletes live inside a sphere in which the duties and responsibilities of the outside world have been suspended. Consider, for instance, the basketball program of Jim Harrick at the University of Georgia. Like Coach Bliss at Baylor, Harrick was an effective recruiter of marginal players. Many did not qualify academically. In some cases, those who did qualify had histories of violent or antisocial behavior. One was Tony Cole, a star point guard Harrick had first recruited when coaching at the University of Rhode Island. When Cole failed to qualify academically for URI, he was sent to a junior college in Rhode Island to pick up the credits needed to qualify as a transfer student. Forced to leave when he was charged by two women in the athletics department with sexual molestation, Cole was then cycled through two other junior colleges—Jacksonville College in Texas and Wabash Valley College in Illinois—before joining Harrick's team at Georgia.
Harrick was unapologetic about recruiting players like Cole. "I believe in young people," he told the Chronicle of Higher Education. "When you teach you take a vow to educate all the public's children." The education Coach Harrick's players were getting at Georgia was exposed to public view when Tony Cole, by then a star player on a winning team, ran into trouble with the law. Among the courses Cole was taking at the time was "Coaching Principles and Strategies of Basketball," taught by the coach's son, Jim Harrick Jr. In the burst of publicity surrounding Cole's legal troubles, its final exam became briefly notorious. Some sample questions:
1. How many halves are in a college basketball game?
a. 1
b. 2
c. 3
d. 4
2. How many points does one field goal account for in a basketball game?
a. 1
b. 2
c. 3
d. 4
3. How many points does a 3-point field goal account for in a basketball game?
a. 1
b. 2
c. 3
d. 4
Despite the make-believe character of the final exam, Cole didn't show up to take it. He also never attended class. Still, he received an A for the course.
Tony Cole's charmed life at Georgia changed dramatically in 2002, when he and another player were charged with aggravated assault and rape. The episode says a great deal about the moral epistemology of Div IA athletics. For to view events through the bewildered eyes of Tony Cole himself is to get a sense of shattered reality. A world that always before arranged matters in his favor had somehow dissolved around him. About the alleged rape, Cole repeatedly and disbelievingly protested that the woman accusing him just hadn't understood the prerogatives of star Div IA athletes. "You know how it is in college," he told the Chronicle reporter. "You come into my room, you already know what's going on." When Coach Harrick tried to deny all knowledge of Cole's previous history of sexual molestation or his circuitous junior college path to Georgia eligibility, Cole was dumbfounded. "Coach Harrick knew everything," he protested. It was a plausible enough assertion, since Harrick had verifiably been in contact with Cole since high school.
At Georgia, Cole and his teammates experienced Div IA basketball as a magic sphere in which powerful men—Coach Harrick, a network of wealthy local boosters, even, as events would show, Georgia's president—could bestow a cloak of invulnerability upon players in their lives off the court. Now, suddenly and unaccountably, the players had awakened to find themselves stripped of the magic charm. Even Coach Harrick himself was no longer invulnerable. When ESPN reporters made public the bogus grades and make-believe final in "Coaching Principles and Strategies of Basketball," assistant coach Jim Harrick Jr. was fired outright. Harrick Sr., a popular figure with Georgia boosters and legislators owing to his successful program—ESPN's preseason poll for 2002 had ranked Georgia No. 7 nationally—was placed on suspension. Still protesting that his only aim had been to give disadvantaged young men a second chance in life, Coach Harrick subsequently resigned. As with similar scandals, the episode was soon forgotten.
The separate reality created for athletes by Div IA sports was even more on display in the case of Ohio State football player Maurice Clarett, who as a freshman carried OSU to a national championship. On campus, driving a Lexus SC 430, Clarett moved among ordinary mortals as a god, with every desire—money, girls, expensive clothes, breathless adulation from students and adults alike—granted as soon as it was wished. His eligibility, Clarett later reported, had been bestowed by bogus grades and credit for nonexistent courses. Looking up from the field to the hundred thousand adoring spectators in the OSU stands, or at the state legislators, wealthy boosters, and high-level university administrators gazing raptly down from the corporate skyboxes on high, Clarett would have been delusional not to believe that this multitudinous, throbbing, televised spectacle—rather than some ephemeral institution of higher learning—was the real Ohio State. "The only thing that matters at Ohio State," Clarett said, "is football." Yet a bitter break with coach Jim Tressell would soon enough teach Clarett to look back on his football celebrity as a vanished fairy tale. "Ohio State created me," he would tell an ESPN reporter, almost in wonderment at the total change. Then Ohio State had unmade him. In the aftermath, Clarett would undergo something very like a complete psychological disintegration.
The grade changes and bogus credits that Clarett said kept him eligible are a normal feature of big-time college athletics. In Clem Haskins's basketball program at the University of Minnesota, for example, a tutor was revealed to have written some four hundred pieces of work for Haskins's players over one five-year period. Minnesota's president, Mark Yudof, quickly ran through the standard repertory of responses. He displayed shock and outrage at academic fraud in the athletic program. He ordered an immediate investigation. Then he announced sweeping changes that would guarantee academic integrity from now on. Yet the crucial point was never mentioned. It is that the Minnesota tutor who was supplying papers and exams to Haskins's basketball players was not simply an academic convenience. She was a reality principle, a constant reminder of the coach's power over the institution as a whole. Just as at Dave Bliss's Baylor or Jim Harrick's Georgia, Clem Haskins's Minnesota represented to his players a world in which the power wielded by the athletics department could rearrange, to any degree necessary, the environment in which athletes lived their daily lives.
In such a moral climate, there's no mystery about why anything that counts as criminality in the ordinary world should come to seem, for athletes living inside the magic sphere of Div IA reality, little more than harmlessly exuberant behavior. Take the case of Virginia Tech's football team. In a single year during the 1990s, the school had nineteen football players facing criminal charges ranging from rape to assault and battery. To the outside world, it looked disgraceful. But Virginia Tech had built a winning program in a very short time by recruiting problem players turned away by more established programs. Which was likely to seem more powerful to the players, the machinery that had transported them to Blacksburg, Virginia, solemnly presenting them to the world as college students, or the feeble prohibitions of local law? In recent years, as stories of violence and criminality—murder, assault, rape, armed robbery, drug use, illegal gambling, and more—have become commonplace, the question why they so often appear on the sports page rather than in the police blotter is seldom addressed. Still, the reason seems obvious enough: college sports has produced them. Such crimes are the outcome of the separate reality generated and sustained by commercialized college athletics.
The more sordid aspects of Div IA reality were on display in the briefly notorious sex-and-recruiting scandal that erupted at the University of Colorado in 2004. Three women reported to Boulder police that they'd been raped by Colorado football players at a campus party. When the district attorney declined to bring charges, they filed a lawsuit against the university. The suit brought to light police records showing that two other women had reported being raped by Colorado football players earlier that year. In a widening investigation, the University of Colorado was portrayed as routinely using alcohol, drugs, and sex to lure recruits to its highly successful football program. News accounts featured strip clubs and drinking parties. Reports circulated about consensual sex with female students who volunteered as campus escorts for visiting recruits. A football team assistant admitted to using his university-provided cell phone to hire prostitutes and dial up sex-chat lines. All this activity was understood by the recruits, one of them was reported to have told a Colorado campus police officer, as a promise of what you could expect if you came to play football at Colorado. As the firestorm of media coverage grew, crimes and recruiting abuses involving sex were uncovered at Div IA schools nationwide.
To high school athletes looking in from the outside, the magic of Div IA invulnerability must have seemed unusually powerful at Colorado. Six players accused of raping a female student were allowed to play in a New Year's bowl game a month later. A university spokesman explained that, because of a crowded court schedule, their case couldn't be heard immediately. Meanwhile, the athletic department was taking the position that accused rapists were innocent until proved guilty. Colorado's president, Elizabeth Hoffman, stressed that, in the original incident, no recruits had been present. "It was not a recruiting party," she noted. "It was a regular Saturday-night college party." The chairwoman of an investigative panel appointed by Colorado's governor raised the possibility that the women themselves, rather than the accused rapists, were responsible: "The question I have for these ladies is why they are going to parties like this and drinking." How could these young women not realize that they were "putting themselves in a very threatening or serious position"? "You know how it is in college," Georgia basketball player Tony Cole had protested, making much the same point. "You come into my room, you already know what's going on."
At Colorado, President Hoffman's attempt to control public relations damage gave a rare glimpse of the part administrators are today increasingly willing to play in sustaining the magic sphere of Div IA invulnerability. Until recently, the role of presidents at schools like Colorado was to publicly proclaim Div IA athletics to be a realm complementary to the academic sphere of the university. The Colorado scandal showed why this has long since become a sentimental fiction. For it was one thing to hear that a visiting Colorado recruit might have had consensual sex with a female student who volunteered to serve as his campus escort. It was quite another to learn that many other Div IA programs have organizations of female students—news stories mentioned the Bulldog Bells of Mississippi State, the Crimson-n-Cream of Oklahoma, the Texas Angels of the University of Texas—assigned to visiting recruits as a standard practice. A stripper hired for a Colorado recruiting party might represent an isolated case. But when the Denver adult entertainment company that supplied that stripper is reported to have done the same for recruiting parties at other Div IA schools—the University of Houston, Rice, Colorado State, the University of Northern Colorado—another reality begins to emerge.
At Ohio State, we heard Maurice Clarett say, the only thing that matters is football. When the only thing that matters at a university is big-time sports, the symbolic center of the institution has shifted profoundly. Everyone at the university becomes at some level palpably aware of the change. When the athletes recognize that they are virtual demigods on campus, real students come to regard themselves as marginally important to the university, less real in the life of the school. When every institutional resource is dedicated—and known to be dedicated—to the support and celebration of specialized physical skills, intellectual talent and the pursuit of learning come to be disregarded and displaced, even, at many schools, despised. In the world of Div IA institutions, the Maurice Claretts and Tony Coles are real. The student who has come to college hoping to learn about Greek philosophy or Renaissance poetry or molecular biology walks the campus as a ghost.
This is the significance of that curious phenomenon, the undergraduate sports riot. The masses of Ohio State students who broke store windows and overturned automobiles in downtown Columbus after their football team beat Michigan, for instance, or the University of Connecticut students who set fires and passed out drunk in public after a basketball victory, were responding to the hallucinatory reality projected by Div IA sports. Dazzled by the celebrity and media power of their teams, students at OSU and UConn and other schools were doing their best to lay claim through postgame rioting and vandalism to the sphere of moral and legal invulnerability already granted to the athletes on their campuses. They were enacting the belief that professionalized sports are the only thing that matters, in just the terms already enunciated by a university whenever new stadiums are funded while library acquisitions are cut, or the coaching staff is enlarged while the honors program is curtailed.
Wherever this shift in the symbolic center of an institution occurs, the consequences for higher learning are profound. Even at private universities with admissions standards well above those at state schools, a highly visible Div IA sports program works to attract students openly hostile to any higher culture of ideas or learning, as the recent lacrosse scandal at Duke demonstrated. But the situation is most critical at public universities. For consider what bright and intellectually engaged students find upon enrolling at a typical Div IA school. They've imagined college as a time of personal growth and inward development, a world in which Wittgenstein's Tractatus or medieval European history or the intricacies of RNA replication are considered as real as—or indeed much more real than—the transitory spectacle of basketball's March Madness or the New Year's Day bowl games. Instead, they find themselves in a dreary educational wasteland. They pick their way through a curriculum largely given over to remedial teaching and learning. Their professors, they come to realize, are faculty members who've been unable to escape to better institutions elsewhere, as their more talented colleagues have done long since.
To be sure, many bright and intellectually engaged students don't need to worry about the way Div IA athletics work to reduce a university to an educational wasteland. The most talented will be admitted to schools like Harvard and Yale and Amherst and Swarthmore, where substantial endowments provide full scholarship aid to anyone coming from a less-than-wealthy background. An Ohio high school student accepted at Harvard or Amherst need never waste a moment thinking about football riots at Ohio State. Students who fall just short of Ivy League standards of selectivity have, if they come from moderately wealthy families, an excellent list of choices among private universities like Tufts, Emory, and the University of Chicago, or smaller liberal arts colleges like Oberlin and Middlebury and Bowdoin. The moral of the story lies in the schools students in both categories choose. Their common denominator is that academic and intellectual values lie at the core of the institution. Athletics, except as an extracurricular activity important mainly to those who participate, remain at the margins.
The single biggest problem in contemporary American higher education concerns bright students who lack these options. For these students—I have come to think of them as America's missing million—the only practical choice is their state university. Here the threat posed by Div IA athletics to American higher education may be seen in its starkest terms. When you teach, Coach Harrick said at Georgia, you take a vow to educate all the public's children. It is precisely through big-time athletics that the university violates its vow to teach the public's children—not just the bright or talented students who are marginalized and neglected in favor of star athletes like Tony Cole and Maurice Clarett, but thousands of others whose own education would be incomparably richer if intellectually talented students were put at the symbolic center of the institution's values. As bright students flee to other colleges and universities because of a school's Div IA sports emphasis, remedial courses proliferate and standards in regular courses begin to sag. When the big-time sports ethos of athletes and boosters breeds drunkenness, violence, and defiant crudity, impressionable young people, joining in because they fear being left out, lose out on an educational experience that could lift their lives to something better.
In the immediate background of Div IA athletics as they exist today, in short, may be glimpsed a violated ideal of democratic education. If we take that ideal to mean that bright and intellectually engaged students from less-than-wealthy backgrounds deserve an education worthy of their talents, the typical Div IA university is something very like its opposite. At public universities, a talented student most often arrives on campus to find that every other bright student who has been able to do so has fled the state to a better institution elsewhere. In the classroom, where a core group of highly talented students would otherwise provide intellectual energy and incentive to more average undergraduates, very bright students find themselves isolated and suspect. Above-average students find themselves absorbed into the mass of unmotivated or disruptive undergraduates who are now so prominent a presence in public university classrooms. Under the regime of big-time professionalized sports programs, any idea of genuine intellectual community—that invisible university that might exist if such bright and motivated students were put at the center of the institutional structure—remains an impossible dream.
The view I've just sketched of democratic education and its demise at the hands of "professionalized" college athletics is not abstract theory. It comes as the result of personal experience. As the following chapters will show, some of that experience was sickening. Some of it was painful. Some of it led to the most treasured moments in my life as a teacher. My awakening to the reality of big-time athletics began when I arrived, wide-eyed and innocent, as an assistant professor of English at the University of New Mexico in the mid-1970s. What I learned at UNM about the pernicious influence of Div IA sports was something I wanted to forget as fast as possible. I thought I'd done that when, some years later, I took up a professorship at Rutgers University in New Jersey. But there, I would find to my dismay that I hadn't left behind big-time sports corruption at all. It had begun to penetrate Rutgers. I let my dismay be known, partly by organizing faculty resistance to the growing power of the Athletics Department, partly by writing a series of op-ed columns for New Jersey newspapers about the dangers of commercialized athletics.
Thus began my career as a spoilsport. Within weeks, Rutgers booster boards on the Internet were flooded with angry denunciations of the mad English professor who for some incomprehensible reason didn't understand that holiday bowl games and appearances in "March Madness" were what made a real university. My observations on Div IA sports, one outraged booster wrote, "insult student-athletes, alumni, and the taxpayers who support Dowling and pay his salary, pension, and benefits." He called for my immediate dismissal. "Not a chance this ass gets fired," another wrote glumly. "One word: tenure. In that one word, you can basically do whatever the hell you want and have no reason to be nervous about your job. It makes me sick." I got death threats, and anonymous threats of physical harm. There were even proposals to organize anti-Dowling chants at football and basketball games. By the mid-1990s, I had become for most Rutgers athletics boosters the Devil personified.
Nonetheless, Confessions of a Spoilsport isn't really my story. I happened to become the target of booster outrage because I wrote a few outspoken columns at just the moment when Rutgers was for the first time in its history entering the corrupt world of big-time athletics. But the real heroes and heroines of the struggle that followed were the Rutgers undergraduates who took up the cause as their own. For at Rutgers, the ideal of democratic education that seemed so tragically to have disappeared at other state universities still remained strong. An uncompromising campaign against Div IA athletics was born in the moment a small band of bright and resourceful students decided to dig in and resist, refusing to be marginalized or displaced from the symbolic center of their university in favor of the world of pampered athletes and screaming spectators and corporate skyboxes. Their struggle ended with an amazing apparent victory that then, as through a sudden twist of fate, turned into disheartening defeat. I believe their story contains serious lessons for American higher education. The name of their campaign was Rutgers 1000.
Mailing List
Subscribe to our mailing list and be notified about new titles, journals and catalogs.