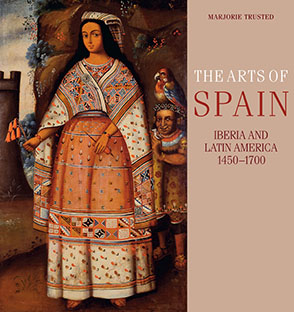 The Arts of Spain
Iberia and Latin America, 1450–1700
Marjorie Trusted
Buy
The Arts of Spain
Iberia and Latin America, 1450–1700
Marjorie Trusted
"This is a richly detailed synthesis of a vast body of material. The arts of the cultures treated in this book were varied and extremely refined, yet these arts have not been given an accessible synthesis until now; this book will play an important role in orienting the public within this material."
Description

Reviews

Bio

Subjects
This beautifully illustrated book opens up the great age of Spanish and Portuguese sculpture, painting, architecture, and the decorative arts. A dazzling array of arts from the Peninsula and Hispanic America of the sixteenth and seventeenth centuries, from the time of the Reconquest of Granada to the decline of the Habsburg dynasty in Spain, is presented here.
The book also discusses Spain's cultural relationships with the rest of Europe, particularly Britain, in the eighteenth and nineteenth centuries and explores the ambivalent ways in which Spanish art was viewed and received. Often prejudiced ideas about Spanish Catholicism and culture led to a biased understanding of Iberian arts. This view also sometimes affected the Spaniards' own view of their arts and traditions, as well as the way in which the art of Spain is perceived today by others. This landmark publication explores how works of art produced in Spain and Portugal relate to other European traditions through themes such as the role of the church, secular art, the heritage of Islam and Judaism, and trade and patronage.
The variety of artworks examined in context within each chapter is impressive and eclectic, ranging from paintings, sculpture, books, and engravings to tapestries, furnishings, ceramics, and architecture. Marjorie Trusted's accessible but authoritative text, works of art from Spain, Portugal, and Hispanic America, and maps and a timeline linking Hispanic art and culture with contemporary events elsewhere make this an invaluable survey of Hispanic art during its golden age.
"This is a richly detailed synthesis of a vast body of material. The arts of the cultures treated in this book were varied and extremely refined, yet these arts have not been given an accessible synthesis until now; this book will play an important role in orienting the public within this material."
"This richly illustrated volume is a masterful study of the arts of Spain and its colonies from 1450 to 1700."
"This is an excellent book. Its virtues are that it offers an overview of the painting, sculpture, architecture, and luxury arts of Iberia; furthermore, it is highly reliable. Between the footnotes and the bibliography, it contains a trustworthy list of existing publications on Spanish and Portuguese art, a list that registers the history of Iberia with depth and balanced judgment."
"Despite minor organizational problems that might create confusion for a novice, this book provides newcomers with a useful history of the arts, introduces them to the scholarly debates, and is richly illustrated."
Marjorie Trusted FSA, a graduate of Cambridge University and the Courtauld Institute of Art, is Senior Curator of Sculpture in the Victoria and Albert Museum's Department of Sculpture, Metalwork, Ceramics and Glass. She has published widely on sculpture and won the 1998 Eleanor Tufts Award for Spanish Sculpture: A Catalogue of the Collection in the Victoria and Albert Museum.