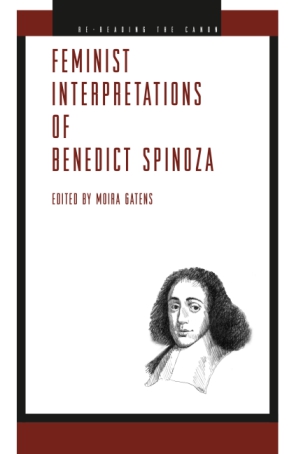 Feminist Interpretations of Benedict Spinoza
Edited by Moira Gatens
BUY
Feminist Interpretations of Benedict Spinoza
Edited by Moira Gatens
"This volume makes a significant contribution, both to Spinoza studies and to feminist theory. This stimulating collection of essays offers readers in both fields some provocative, and sometimes controversial, new interpretations of the classic rationalist philosopher."
Description

Reviews

Bio

Table of Contents

Sample Chapters

Subjects
This volume brings together international scholars working at the intersection of Spinoza studies and critical and feminist philosophy. It is the first book-length study dedicated to the re-reading of Spinoza's ethical and theologico-political works from a feminist perspective. The twelve outstanding chapters range over the entire field of Spinoza's writings—metaphysical, political, theological, ethical, and psychological—drawing out the ways in which his philosophy presents a rich resource for the reconceptualization of friendship, sexuality, politics, and ethics in contemporary life.
The clear and accessible Introduction offers a historical sketch of Spinoza's life and intellectual context and indicates how Spinoza's philosophy might be seen as a rich cultural resource today. Topics treated here include the mind-body problem and its relation to the sex-gender distinction; relational autonomy; the nature of love and friendship; sexuality and normative morality; free will and determinism and their relation to Christian theology; imagination and recognition between the sexes; emotion and the body; and power, imagination, and political sovereignty. The essays engage in a rich and challenging conversation that opens new paths for feminist research.
Contributors, besides the editor, are Aurelia Armstrong, Sarah Donovan, Paola Grassi, Luce Irigaray, Susan James, Genevieve Lloyd, Alexandre Matheron, Heidi Ravven, Amelie Rorty, and David West.
"This volume makes a significant contribution, both to Spinoza studies and to feminist theory. This stimulating collection of essays offers readers in both fields some provocative, and sometimes controversial, new interpretations of the classic rationalist philosopher."
"This volume is an excellent contribution to Spinoza scholarship. Spinoza scholars will find that this book offers new angles from which to think through questions about Spinoza's metaphysics, ethics, and politics. Feminist researchers will find it provides additional, perhaps surprising resources for considering a range of issues, such as autonomy, individuality, political organization, ethics, and sexuality and gender."
Moira Gatens is Professor of Philosophy at the University of Sydney in Australia. Among her previous books is Collective Imaginings: Spinoza, Past and Present (1999).
Contents
Preface Nancy Tuana
Acknowledgments
List of Abbreviations and Notes on Translations
1. Introduction: Through Spinoza's "Looking Glass"
  Moira Gatens
2. Dominance and Difference: A Spinozistic Alternative to the Distinction Between "Sex" and "Gender"
  Genevieve Lloyd
3. Autonomy and the Relational Individual: Spinoza and Feminism
  Aurelia Armstrong
4. Spinoza on the Pathos of Idolatrous Love and the Hilarity of True Love
  Amelie Rorty
5. Spinoza and Sexuality
  Alexandre Matheron
6. Reason, Sexuality, and the Self in Spinoza
  David West
7. What Spinoza Can Teach Us About Embodying and Naturalizing Ethics
  Heidi Morrison Ravven
8. Adam and the Serpent: Everyman and the Imagination
  Paola Grassi
9. The Envelope: A Reading of Spinoza's Ethics, "Of God"
  Luce Irigaray
10. Re-reading Irigaray's Spinoza
  Sarah Donovan
11. The Politics of the Imagination
  Moira Gatens
12. Law and Sovereignty in Spinoza's Politics
  Susan James
Further Reading
List of Contributors
Index