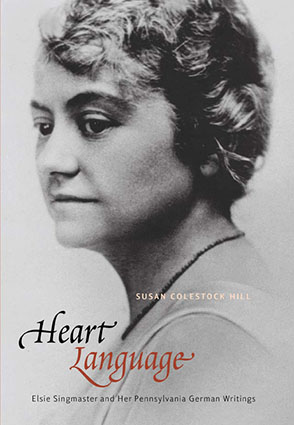 Heart Language
Elsie Singmaster and Her Pennsylvania German Writings
Susan Colestock Hill
BUY
Heart Language
Elsie Singmaster and Her Pennsylvania German Writings
Susan Colestock Hill
"By repositioning Singmaster's stories within the context of women's history and the local-color genre, Susan Colestock Hill breathes new life and possibility into these stories for researchers interested in literature, religious culture and identity, gender issues, or Pennsylvania German heritage. . . . Hill's critical eye draws the whole collection together and clarifies why she chose these particular stories for republication. This book will be a welcome resource and will hopefully introduce Singmaster's work to a new generation of readers."
Description

Reviews

Bio

Table of Contents

Sample Chapters

Subjects
At the turn of the twentieth century, American popular literary magazines and journals pulsed with local-color fiction, seeking to satisfy a national hunger for American identity. Anxiety over increasing numbers of "new stock" immigrants—and the changing face of an industrializing America—gave rise to greater popular interest in stories with a simple focus on localized folk culture and "old stock" immigrant tradition. In the footsteps of writers like Harriet Beecher Stowe and Sarah Orne Jewett, the Pennsylvania German writings of Elsie Singmaster emerged to great popularity and acclaim.
Born and raised in the Pennsylvania German tradition, Elsie Singmaster wrote extensively over the first half of the twentieth century. Through her intimate knowledge of the community, Singmaster exposed the nation's expanding readership to Pennsylvania German beliefs, culture, and distinct dialect without denigrating the community or resorting to stereotypes. She believed that the Pennsylvania Germans embodied the best of the nation's ideals, and she crafted her characters and stories to participate in the national dialogue about immigration, development, and the definition of a hardworking, middle-class sensibility grounded in Old World traditions. While Singmaster's work fell out of sight as the century wore on, her writings remain a significant contribution to the study of both Pennsylvania German history and culture and the literature of the last century. This volume restores to print sixteen of Singmaster's short stories, reintroducing these important works into a new context of American development.
"By repositioning Singmaster's stories within the context of women's history and the local-color genre, Susan Colestock Hill breathes new life and possibility into these stories for researchers interested in literature, religious culture and identity, gender issues, or Pennsylvania German heritage. . . . Hill's critical eye draws the whole collection together and clarifies why she chose these particular stories for republication. This book will be a welcome resource and will hopefully introduce Singmaster's work to a new generation of readers."
Susan Colestock Hill is a graduate of the Lutheran Theological Seminary in Gettysburg, Pennsylvania.
Contents
List of Illustrations
Foreword by Charles H. Glatfelter
Preface
Acknowledgments
A Sketch of Elsie Singmaster
Selected Pennsylvania German Short Stories by Elsie Singmaster
Big Thursday
The Vacillation of Benjamin Gaumer
The County Seat
The Old Régime
The Eternal Feminine
The Squire
The Belsnickel
The Suffrage in Millerstown
Zion Church
A Sound in the Night
The Courier of the Czar
The Amishman
Frau Nolte
Wildfire
Settled Out of Court
Thanksgiving Is n't Christmas
Bibliography of Elsie Singmaster's Works
Index
Mailing List
Subscribe to our mailing list and be notified about new titles, journals and catalogs.