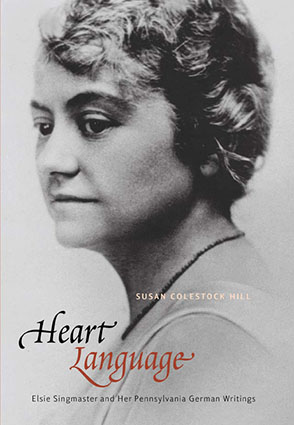 Heart Language
Elsie Singmaster and Her Pennsylvania German Writings
Susan Colestock Hill
Buy
Heart Language
Elsie Singmaster and Her Pennsylvania German Writings
Susan Colestock Hill
"By repositioning Singmaster's stories within the context of women's history and the local-color genre, Susan Colestock Hill breathes new life and possibility into these stories for researchers interested in literature, religious culture and identity, gender issues, or Pennsylvania German heritage. . . . Hill's critical eye draws the whole collection together and clarifies why she chose these particular stories for republication. This book will be a welcome resource and will hopefully introduce Singmaster's work to a new generation of readers."
Description

Reviews

Bio

Table of Contents

Sample Chapters

Subjects
At the turn of the twentieth century, American popular literary magazines and journals pulsed with local-color fiction, seeking to satisfy a national hunger for American identity. Anxiety over increasing numbers of "new stock" immigrants—and the changing face of an industrializing America—gave rise to greater popular interest in stories with a simple focus on localized folk culture and "old stock" immigrant tradition. In the footsteps of writers like Harriet Beecher Stowe and Sarah Orne Jewett, the Pennsylvania German writings of Elsie Singmaster emerged to great popularity and acclaim.
Born and raised in the Pennsylvania German tradition, Elsie Singmaster wrote extensively over the first half of the twentieth century. Through her intimate knowledge of the community, Singmaster exposed the nation's expanding readership to Pennsylvania German beliefs, culture, and distinct dialect without denigrating the community or resorting to stereotypes. She believed that the Pennsylvania Germans embodied the best of the nation's ideals, and she crafted her characters and stories to participate in the national dialogue about immigration, development, and the definition of a hardworking, middle-class sensibility grounded in Old World traditions. While Singmaster's work fell out of sight as the century wore on, her writings remain a significant contribution to the study of both Pennsylvania German history and culture and the literature of the last century. This volume restores to print sixteen of Singmaster's short stories, reintroducing these important works into a new context of American development.
"By repositioning Singmaster's stories within the context of women's history and the local-color genre, Susan Colestock Hill breathes new life and possibility into these stories for researchers interested in literature, religious culture and identity, gender issues, or Pennsylvania German heritage. . . . Hill's critical eye draws the whole collection together and clarifies why she chose these particular stories for republication. This book will be a welcome resource and will hopefully introduce Singmaster's work to a new generation of readers."
Susan Colestock Hill is a graduate of the Lutheran Theological Seminary in Gettysburg, Pennsylvania.
Contents
List of Illustrations
Foreword by Charles H. Glatfelter
Preface
Acknowledgments
A Sketch of Elsie Singmaster
Selected Pennsylvania German Short Stories by Elsie Singmaster
Big Thursday
The Vacillation of Benjamin Gaumer
The County Seat
The Old Régime
The Eternal Feminine
The Squire
The Belsnickel
The Suffrage in Millerstown
Zion Church
A Sound in the Night
The Courier of the Czar
The Amishman
Frau Nolte
Wildfire
Settled Out of Court
Thanksgiving Is n't Christmas
Bibliography of Elsie Singmaster's Works
Index
A Sketch of Elsie Singmaster
While studying writing at Cornell University as the nineteenth century came to a close, Elsie Singmaster submitted a story about the Pennsylvania Germans that elicited an animated response from her professor, Clark Northrup. "Who are these queer, unreal people?" he exclaimed. "They're NOT queer! And they're very real," she protested. "They are my people living in the traditional ways of their ancestors!"
He shot back, "Then write more about them!"
Unaware that her fictional characters of Millerstown, Lanesville, and the surrounding Pennsylvania valleys and villages would fuel a publishing career stretching nearly half a century, Singmaster at first put her stories to paper to fulfill a daily writing requirement. Like the character Jesse Hummer in her Pennsylvania German novel The Magic Mirror, she wrote "about persons and scenes with which he [Jesse] was familiar . . . persons at hand whom he could understand . . . not about people two centuries away and on the other side of the world." Always a careful observer of her environment and the personalities that surrounded her, Singmaster adapted her experience with Pennsylvania Germans into a local color literature that drew national attention.
A small, stocky woman of strong will and determination, Elsie Singmaster possessed many of the physical and emotional qualities often associated with Pennsylvania Germans. Of all the different strains in her heritage, the industry, order, and common sense attributed to the Pennsylvania Germans appealed to her most. She knew the Pennsylvania German dialect, the language of her family's village and her earliest school years. Like the stalwart characters in her stories, she was family- and community-minded. She felt a strong religious commitment to her German Lutheran faith. Esther Forbes commented on Singmaster's Pennsylvania German ancestry in an article in the Boston Evening Transcript:
Miss Elsie Singmaster came of stock mentally sturdy and self-respecting. Her father's family were all of Dutch and German extraction. . . . On her mother's side she inherits English, Irish, and French traditions and blood. . . . I asked her which of these contrasting stocks she believed herself most to resemble. Spiritually at least she thinks she belongs with the Pennsylvania Germans. . . . The facial type with the broad cheek bones and square jaw and forehead would suggest Germanic strain. . . . She is short, squarely built and looks capable of great physical or nervous endurance. The courage and honesty, the sympathy and flashes of humor she finds in her books are all present in this woman.
Singmaster's adoption of Pennsylvania German ways was not without obstacles. Elsie's mother, Caroline Hoopes Singmaster, insisted that her children speak English at home, even though they lived among the Pennsylvania Germans in the eastern Pennsylvania towns of Schuylkill Haven and Macungie during the early years of their lives. In keeping with Caroline's tradition, Elsie's parents used the Quaker pronouns "thee" and "thou" in private conversation. Elsie's father, John Alden Singmaster, was a Lutheran clergyman, and his ministries ranged beyond the environs of eastern Pennsylvania to Brooklyn, New York, and then to Gettysburg, exposing the family to environments outside the Pennsylvania German.
Elsie did well in school and dreamed of a writing career from an early age. Encouraged by her parents, she studied at West Chester Normal School in Pennsylvania, Cornell University in Ithaca, New York, and Radcliffe College in Cambridge, Massachusetts. By the time she studied writing at Cornell, American literary taste had begun to embrace ethnic and regional differences. Folk culture and ways of speech became a prominent theme in post–Civil War local color literature and eventually defined a genre and readership for Singmaster's Pennsylvania German work. This fortunate pairing of opportunity and preference fulfilled a lifelong dream for Singmaster. "In my early acquaintance with the Pennsylvania Germans," she wrote, "I was extremely fortunate. My teachers at Cornell pointed out to me the valuable ore in this almost untouched field, and the 'local color,' then greatly sought after, buoyed, I suspect, many [of my] stories into port which had not a great deal to recommend them." Always an avid reader, Singmaster recounted that at age eleven she "already dreamed of becoming an author." Now, at age twenty, this student of "brilliant scholarship," eager to write and convinced that she had gleaned all she could from the Cornell writing courses, left school and returned to her family home in Gettysburg to pursue a literary career. The year was 1900.
Elsie Singmaster's self-deprecating remark belies the influence of her contribution to American literature, and specifically to the record of Pennsylvania German life in America. In her stories and books Singmaster adapted for popular literary consumption the daily lives of an often belittled ethnic population. She tied their values to the American ideals of peace, justice, and individual opportunity. In the wake of industrialization, she asked how the young nation might benefit from the strong values of Pennsylvania German culture.
Educated in New England, Singmaster spoke the language and embraced the ideals typical of educated upper-class Americans of her time, but she also believed that her Pennsylvania German farmers and villagers embodied the highest possible standards of character, physical stamina, religious faith, and civic values, despite the views of the larger society. The high esteem in which the nation held its founding fathers and defenders of American freedom also applied to the descendants of America's Pennsylvania German settlers, in Singmaster's view.
While Pennsylvania German culture was very popular during the heyday of local color writing in the early twentieth century, Singmaster found its popularity in decline after the Great Depression. She refused to change her approach, however, with the result that modern critics found her work out of touch. For many years, her story and the value of her work have thus been all but forgotten.
This book reexamines Elsie Singmaster's legacy and brings part of her significant body of literature back into print for contemporary readers. Before presenting her stories themselves, some background is in order on three significant forces in Singmaster's life and work: her Pennsylvania German family heritage; her German Lutheran background and close ties to the Lutheran Church in America; and the social and cultural environment of the late Victorian era in the United States. A brief account of Pennsylvania German literature and the growth of national interest in the local color genre will also help provide the context for Singmaster's story. What follows, then, is a discussion of these factors and of Singmaster's work and its place in the literary marketplace.
Mailing List
Subscribe to our mailing list and be notified about new titles, journals and catalogs.