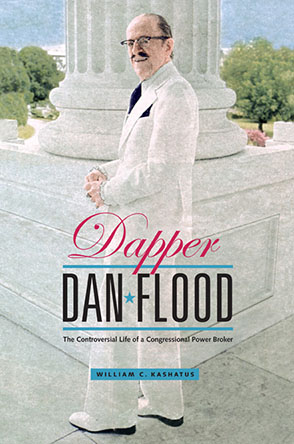 Dapper Dan Flood
The Controversial Life of a Congressional Power Broker
William C. Kashatus
Buy
Dapper Dan Flood
The Controversial Life of a Congressional Power Broker
William C. Kashatus
"Dan Flood ranks among Pennsylvania's leading twentieth-century public servants. A remarkable legislator and orator who had the unusual qualities of empathy and compassion for the struggling, Flood was deeply committed to the Eleventh Congressional District as well as to national Great Society policies, such as Medicare and Appalachian economic development. William Kashatus has done justice to Flood and his legacy. This biography is a must-read for those interested in politics, public policy, and history."
Description

Reviews

Bio

Table of Contents

Sample Chapters

Subjects
Daniel J. Flood was among the last of the old-time movers and shakers on Capitol Hill. A flamboyant vaudevillian who became a Democratic congressman from Pennsylvania, he was a sight on the House floor, sporting white linen suits, silk top hats, and dark, flowing capes. Flood presented his addresses and arguments with the overly precise and clipped accent of an old-fashioned stage actor, and he reveled in the attention he attracted for every performance.
At the same time, "Dapper Dan" understood the complexities of the old power politics and played the legislative game with sheer genius. He worked his will by employing the common practices that greased the wheels of the political process in the post–World War II era: persuasion, manipulation, arm-twisting, and grandiloquent oratory rarely matched by his congressional colleagues.
Between 1945 and 1980, Flood used his clout as a senior member of the House Appropriations Committee to wield near-veto power over the $300 billion federal budget. Flood was instrumental in funding the Cold War as well as the "Great Society" social reforms of the 1960s. This consummate pork-barrel politician was elected to the U.S. House of Representatives for sixteen terms. Eventually accused of improprieties in arranging federal contracts, Flood became the subject of sweeping investigations by the U.S. Attorney General and the House Ethics Committee.
Based on recently declassified FBI documents, court records, public papers, and contemporary newspaper accounts, as well as more than thirty interviews of Flood's widow, congressional colleagues, and Capitol Hill staff, Dapper Dan Flood explodes the myths surrounding this controversial Pennsylvania congressman.
"Dan Flood ranks among Pennsylvania's leading twentieth-century public servants. A remarkable legislator and orator who had the unusual qualities of empathy and compassion for the struggling, Flood was deeply committed to the Eleventh Congressional District as well as to national Great Society policies, such as Medicare and Appalachian economic development. William Kashatus has done justice to Flood and his legacy. This biography is a must-read for those interested in politics, public policy, and history."
"Bill Kashatus has written the first comprehensive biography of Dan Flood, northeastern Pennsylvania's colorful and legendary congressman. This fascinating book sheds light on a vanished era in Congress—when the nation's business was done under the cover of darkness by those with seniority who knew the system and used it to their own ends."
"Bill Kashatus's account has all but made Dan Flood return to life. He chronicles the strengths and weaknesses of one of our nation's most colorful—and powerful—congressmen. It is a fascinating story that should be read by those who wish to enrich their knowledge of our political system. As one who interacted frequently with Dan Flood, I can recommend Kashatus's biography. His judgments on Flood are not always favorable, but they are always balanced and fair."
William C. Kashatus is a professional historian who earned a doctorate at the University of Pennsylvania.
Contents
List of Illustrations
Acknowledgments
Preface
1. Anthracite Origins
2. Early Career
3. Trumping the Fine Machine
4. The Fight to Save Anthracite
5. Education of a Cold Warrior
6. Pork-Barreling the Great Society
7. Reconsidering Vietnam
8. Elko's Payoff
9. One Flood Against Another
10. Panama's Public Enemy No. 1
11. Federal Investigation
12. Trial and Tribulation
Conclusion
Notes
Bibliography
Index
Preface
During the early morning hours of Friday, June 23, 1972, U.S. Rep. Daniel J. Flood sat working in his Washington, D.C., apartment when news of the devastation in his northeastern Pennsylvania district reached him. Rains of Hurricane Agnes had caused the Susquehanna River to rise more than forty feet. Water was pouring over the dikes protecting the twenty-two communities clustered around Wilkes-Barre, and two hundred thousand people in the Wyoming Valley were homeless.
During the previous evening, residents scurried to the riverbanks to reinforce the dikes with sandbags. But by 12:15 A.M. their efforts had proven fruitless and Frank Townend, director of the Luzerne County Civil Defense, ordered them to evacuate the area. Shortly thereafter, Townend issued a similar directive evacuating patients from the town's hospitals and relocating important public records to higher ground. In a matter of hours Wilkes-Barre's entire downtown business district sat under nine to fifteen feet of water, much like the boroughs of Kingston, Forty Fort, Swoyersville, West Pittston, West Nanticoke, and Plymouth. In all, 20,000 homes, 150 factories, and 2,728 commercial properties were destroyed, resulting in damages of $1.038 billion.
Back in Washington, Flood called in the IOUs he had collected over the years as a senior member of the House Appropriations Committee. He began with secretary of defense Melvin Laird, a close friend who once served with him on the Defense Appropriations Subcommittee. Laird not only turned over his personal helicopter for Flood's use, but also issued general alerts to the Army Reserve, Navy Reserve, and the National Guard: "Congressman Flood would need help. Expect his call and take care of him."
By ten o'clock Friday morning, Flood was en route to Wilkes-Barre by helicopter. He established his headquarters at a recently constructed Naval Reserve Center, one of the many pork-barrel projects he financed during his nearly three decades in Congress. Like a general arriving to save his troops from a terrible defeat, Flood, with his typical flair for the dramatic, declared: "Stand by! This is going to be one flood against another!" During the next three days, Flood personally took charge of the rescue and relief mission, working around the clock to secure supplies, funding, and emergency legislation. House minority leader Gerald Ford, another longtime friend, agreed to give Agnes victim assistance top priority on the House floor. The army was ordered to send forty helicopters to hoist marooned residents from homes, treetops, and cars. When a fire broke out in Wilkes-Barre, Flood located a coast guard fire boat in New Jersey and arranged to have an air force C-130 fly it into the town. He fought both state and federal bureaucrats to obtain medical supplies and had 1,500 National Guard troops flown in to prevent civil unrest and looting. When Flood met with resistance from a member of the military brass, all that he had to do was to remind the general that he, "Dapper Dan" Flood, was the Defense Appropriations Subcommittee. He received what he had asked for.
In fact, Flood had exceeded his legal authority. Responsibility for such a disaster relief mission rested with the local and state governments. Unless those authorities requested federal assistance, Washington could not act. What's more, Townend, a retired general charged with the local civil defense, staunchly opposed federal intervention in state affairs. When governor Milton Shapp phoned to ask if he should seek federal assistance, Townend rejected the notion, insisting that he had the situation "under control." Matters came to a head when Flood discovered that a local contingent of the Pennsylvania National Guard was heading out of the district for military exercises in Virginia. "What the hell are they going to Virginia for," he barked over the phone to Shapp. "We have a real war right here damn it! I want them to stay here!" Shapp mustered the courage to inform the congressman that such action could not occur until Civil Defense had requested a declaration of disaster. The order had to come from Pennsylvania's Civil Defense director, lieutenant governor Ernest Kline. Undeterred by Shapp's explanation, Flood placed a phone call to Kline.
"Is this Kline!?"
Flood by this point was so furious at having to navigate the state bureaucracy that he was screaming into the receiver.
"Yes, I assume this is Congressman Flood," replied the lieutenant governor, expecting the phone call.
"You're damn right it is!" The Pennsylvania legislator was on a roll. "Are you aware that appropriations for the National Guard are cleared by the House Defense Appropriations Subcommittee?"
Refusing to wait for the lieutenant governor's response, Flood continued: "Do you know that there has never been a better friend of the National Guard than Dan Flood? And I want those goddamned guardsmen to remain here!"
Kline tried to explain that the county Civil Defense director, General Townend, had "not made an emergency request for a declaration of disaster or military personnel," and that until he did the "Commonwealth's hands were tied." Flood didn't care. He spent most of Saturday morning circumventing Townend's authority by placing a series of phone calls to army generals, Lieutenant Governor Kline, and his close friend, Secretary of Defense Laird. By noon, Flood achieved his goal. The local National Guard contingent did an about face en route to Virginia and returned to the Wyoming Valley.
At four o'clock Saturday afternoon, Flood huddled with his closest congressional colleague, Joseph McDade of neighboring Lackawanna County. Their primary concern was how to provide housing for the thousands of people left homeless by the natural disaster. The conversation would lead to the greatest federal disaster response to that date, the Agnes Recovery Act. Thousands of displaced homeowners would receive 1 percent Small Business Administration disaster loans, with the first five thousand dollars completely forgiven. The measure also provided for federally backed business loans in the millions at preferred rates, emergency grants for hospitals and medical centers, federal funds for local colleges, the rebuilding of bridges, a master plan for higher dikes, and the appointment of Office of Management and Budget director Frank Carlucci, a native of the Wyoming Valley, as coordinator of the recovery effort.
On Sunday afternoon, June 25, Flood, wearing army fatigues and standing on a hill with a sea of muddy waters in the background, appeared on television and announced, "Today I have ordered the Army Corps of Engineers not to allow the Susquehanna River to rise one more inch." It never did. Nobody argued with Dan Flood. Not Agnes, not the army, nor—at times, it seemed—the Almighty Himself.1
No wonder one of his constituents insisted that "Dan Flood is the next closest thing to God."2 During his thirty-two-year congressional career Flood did more than any other single individual to rescue the dying economy of his congressional district, once home to a prosperous anthracite industry. His public career was one of unparalleled success in the accumulation of power at the national level and the use of that power to achieve practical results for his constituents at the local level. He understood the complexities of the old power politics and played the political game with sheer genius and a highly entertaining flair. Flood was a consummate "pork-barreler," a legislator who was successful in securing federal funds and projects for his own congressional district. He used his clout as a senior member of the House Appropriations Committee to channel billions of dollars into northeastern Pennsylvania. He worked his will by employing the common practices that greased the wheels of the political process in the post–World War II era: persuasion, manipulation, arm-twisting, and grandiloquent oratory rarely matched by his congressional colleagues.
"Method," however, was only part of Flood's effectiveness. Just as important was the colorful image he crafted. Known for his wardrobe of white linen suits, dark shirts, white ties, silk top hats, and dark, flowing capes, the former vaudevillian became a flamboyant sight on the floor of the House. He presented his addresses and arguments with the overly precise and clipped accent of an old-fashioned stage actor, and he reveled in the attention he attracted for each and every performance. The flamboyant image allowed him to reinforce his message at any given time by creating a subtle but profound memory for his audience, whether they were voters, congressional colleagues, or local Democratic Party leaders.
Essentially, Dan Flood's true genius was his ability to persuade others of his position. Like most successful legislators, Flood realized that winning reelection sometimes required him to exaggerate the facts, or to speak about topics that exceeded his knowledge, which was not an uncommon practice on Capitol Hill. Politicians, by definition, are not "moral" or "immoral," but "amoral." In other words, Flood never intended to mislead his audience about the truth. Instead, he simply made assertions that purported to describe "the way things were" and, in the process, exaggerated conditions to make his case more convincing.3 What made Flood so beloved in northeastern Pennsylvania was that he defined the world—the "way things were"—through the eyes of his constituents. They were mostly blue-collar laborers and their families. Hard-working and intensely patriotic, they expected their congressman to act and deliver on their needs.
Predictably, the voters returned Flood to Congress for thirty-two years because of his remarkable persistence and an almost impeccable record of constituent service. While many legislators failed to see a project through to its completion, Flood never seemed to back down. The more difficult the challenge, the more relentless he became. An incurable workaholic, it seemed that Flood never missed a House roll call or a weekend in his district. He made sure to stay in touch personally with his constituents, holding Saturday morning "confessionals" at his Wilkes-Barre office and attending weddings, funerals, groundbreakings, and dinners for the balance of the weekend. No request was too big or too small for the pork-barrel congressman, who delivered time and again for his constituents.
Ironically, for all his flair, influence, and ego, Dan Flood was an enigma. Though he was a native of northeastern Pennsylvania's economically depressed anthracite region, he was hardly a product of it. Flood never worked a single day in the coal mines. Instead he enjoyed the luxuries of a comfortable middle-class lifestyle: parts of a childhood spent in St. Augustine, Florida; college at Syracuse University; law school at Harvard and later Dickinson; and a successful early career as an off-Broadway actor. When he abandoned his aspirations for the silver screen, he turned his attention to the law, local politics, and eventually the much larger stage of Capitol Hill.4 Few, if any, of his constituents could boast of such a privileged background. Most of them were poorly educated mine workers and World War II veterans. To win their loyalty, Flood carefully crafted an image of physical prowess, military bearing, and devoted friendship to all. To that end, he lied about attending a military academy during his youth, exaggerated his scholastic and collegiate achievements, and pretended friendship to others when he was not a very warm or amiable person by nature. In fact, Flood had a nasty temper and could be imperious as well as extremely demanding on his staff. Nor was he shy about reminding others of the influence he wielded on Capitol Hill. Sometimes he would introduce himself by extending his right hand and saying, in a patronizing tone, "Flood . . . Defense." One member of the House press corps was so put off by the approach that he called him a "jackass" to his face.5
But Flood's own image making is only part of the challenge in understanding such an extremely complex personality. Previous accounts of his congressional career tend to be misleading in several respects.6 First, the journalists suggest that his political career was one of unconditional success. In fact, Flood's reelection to Congress during the 1940s and early 1950s was not a forgone conclusion (as it was later on). He was an independent-minded Democratic candidate in a strongly Republican district controlled by a powerful—and corrupt—political machine. Flood's three electoral defeats in 1942, 1946, and 1952 can be attributed to low Democratic voter registration in Luzerne County and the negative campaigning, bribery, and voter fraud carried out by the corrupt Republican machine. But he managed to ingratiate himself with House Speaker Sam Rayburn as a first-term congressman in 1945. Rayburn not only assigned Flood to the House Appropriations Committee—a rare appointment for a freshman—but also mentored him. As a result, the young congressman established a powerful network on Capitol Hill that would allow him to successfully sponsor many important measures for his district, eventually earning the unconditional loyalty of his constituents.
Second, previous accounts focus on Flood's success at the art of pork-barrel politics, which often came at the expense of the national welfare. Flood, according to the argument, used his near veto power over the three-hundred-billion-dollar federal budget as a senior member of the Appropriations subcommittees for Defense, Labor, and Health, Education, and Welfare to channel billions of dollars into his own congressional district. To be sure, Flood was in the right place at the time, and he knew it. His shrewd manipulation of the legislative process was particularly useful in an era when the federal government was strongly committed to economic growth and development. Allying himself with such influential colleagues as Senators Lyndon B. Johnson, Robert F. Kennedy, and Paul Douglas and representatives John Dent, Gerald Ford, Thomas "Tip" O'Neill, Jim Wright, and Joseph McDade, Flood cosponsored many bills that rescued the Rust Belt economy of his district, which struggled to survive on a declining anthracite coal industry. Those measures created thousands of jobs by bringing a large, state-of-the-art hospital, an airport, new businesses and industries, and a modern interstate highway to Luzerne County, and rehabilitated its dilapidated neighborhoods with new residential and commercial buildings. But most of these projects were integrated into larger bills that benefited similar regions across the country and were at the core of the Johnson administration's Great Society programs of the 1960s. In fact, as the chair of the HEW Appropriations Subcommittee, Flood played an important role in engineering the Great Society programs through the House of Representatives.
Third, previous accounts portray Dan Flood as a jingoist whose unconditional support of the cold war resulted in the United States' protracted involvements in Vietnam and Panama. According to the argument, Flood's stance was firmly rooted in an unshakeable patriotism that ignored human or financial costs. He firmly believed that the United States had a responsibility to protect democracy wherever it was threatened and that the nation's foreign policy must be exercised from a base of strength, never capitulating to less powerful third-world nations.
Flood certainly did take a tough stand on communism. In the 1940s he was named to a special congressional committee charged with investigating the Katyn Forest massacre, the mass murder of eleven thousand Polish Army officers by the Russians during World War II. During the 1950s his activities grew even more prolific. Flood pushed for a resolution to require the Truman administration to explore ways to aid resistance movements behind the iron curtain, most notably in Hungary. He championed an amendment to the National Science Foundation Act to make an FBI security screening a prerequisite for the foundation's employment of a foreign national "in any capacity whatsoever." He constantly opposed the Eisenhower administration's efforts to control military spending in the interests of a balanced budget. But Flood was not ignorant of the fiscal concerns these involvements were creating.
While he publicly supported American involvement in the Vietnam conflict in the 1960s and 1970s, Flood scrutinized Defense Appropriations budgets and severely grilled Pentagon officials when they defended their budget requests in hearings. Flood was clearly concerned about having to compromise the quantity and quality of the Great Society legislation that was so important to him and to his district. Even his vehement opposition to a Panama Canal Zone independent of U.S. control cannot be divorced from the commercial benefits it created for this country.
Finally, Flood's resignation from Congress on bribery charges in 1980 has been grossly exaggerated in national press accounts, which portrayed him as a corrupt politician who traded his influence for money.7 Accused of improprieties in arranging federal contracts, Flood became the subject of sweeping investigations by the U.S. attorney general and the House Ethics Committee and was charged, in September 1978, with taking sixty-five thousand dollars in bribes. In fact, Flood's administrative assistant Stephen Elko, who abused the trust of the congressman for his own financial gain, committed those crimes. If anything, Flood, who was in failing health, was guilty of giving too much responsibility to an untrustworthy aide and then failing to carefully monitor his activities. The court case ended in a mistrial when one juror claimed that he felt sorry for the aged congressman and couldn't bring himself to convict a seventy-four-year-old man.
Stripped of his congressional power, ravaged by illness, and facing a second bribery trial, Flood resigned from Congress on January 31, 1980. He subsequently pleaded guilty to federal charges that he accepted money from individuals seeking government contracts and was sentenced to one year of probation. But Flood insisted that he considered himself innocent, entering the guilty plea only to spare himself the ordeal of another trial. Flood's great misfortune was to be caught in the chasm between the old Machiavellian politics that once dominated Congress and the era of public cynicism that immediately followed Watergate. If Flood profited financially from influence peddling, there is certainly no evidence of it in his financial records. When he died, on May 28, 1994, he was living on a fifty-five-thousand-dollar pension from Congress and in the same modest residence he had called home since 1949.
The rise and fall of congressman Daniel J. Flood represents a political culture that no longer exists. It is a story of power, accomplishment, and, ultimately, failure and humiliation. He arrived on Capitol Hill at the beginning of the House's forty-year Democratic era, the longest period of single-party control in the nation's history. It was also a time when the House enjoyed a spirit of camaraderie and when congressmen did their job with little public attention. The most meaningful legislation was sponsored by a few indomitable old-timers whose seniority allowed them to control the most important committees and subcommittees. Flood listened and learned. What he learned was that successful legislative leadership relied on the time-honored practices of deal making and horse-trading, both in Washington and back home in the district. In fact, he learned the lessons of the old politics so well that he became their most successful practitioner in Congress by the 1970s.
Flood's colorful personality, remarkable legislative success, and enigmatic background have made him a subject of endless fascination for me since the age of twelve, when I first met him. At that time I was spending my summers with a great-uncle, John "Dada" Kashatus, a tavern owner and former Democratic Party boss in Newport Township, Luzerne County, Pennsylvania. Flood first met my uncle as special counsel for the Pennsylvania Liquor Control Board and the two men quickly became friends. Dada was an active supporter of Flood during his many congressional campaigns, turning out the vote for him in Newport Township. In return, Flood often acted on my uncle's advice, whether for a construction project or a congressional appointment. On the few occasions when his counsel was ignored, Dada would dial the congressman's Washington office and shower him with a hailstorm of profanities. By the mid-1970s both men were in their seventies, their glory days behind them. Still, Flood indulged Dada, probably out of sentiment or the loyalty that comes with a cherished friendship. One summer afternoon, the congressman strolled into Dada's tavern and introduced himself to me. "The name's Dan Flood," he said, extending his right hand. "What's yours?" Awestruck, I didn't know what to say. I certainly knew who he was, but I never anticipated the charismatic figure that stood before me. He was dressed in a white Edwardian suit, black shirt, and white tie. His handlebar mustache was impressively waxed to its mouse-tailed points. Somehow I managed to shake his hand, one so huge that it completely wrapped around mine.
"Hi," I blurted out. "I'm Billy Kashatus."
"Oh! The doctor's boy!" he exclaimed, referring to my father, who was one of Flood's physicians. He was pleasantly surprised to meet me and his demeanor softened.
"Your father is a great man," he added. "Please tell him that I asked for him."
Dada was much less impressed. Apparently he was angry with Flood over some issue and he motioned for the congressman to step into the kitchen to discuss the matter.
"Well, Dada beckons," he said, with the clipped accent of a vaudevillian actor. "Very nice to meet you, Billy, my boy." And off he went. I would not see him again until eight years later, when he awarded me an internship to serve on his House office staff.
When I entered graduate school for history in the mid-1980s, I was determined to write my doctoral dissertation on Flood, but my adviser refused to support me. He insisted that his political career was too recent and that an objective study could only be done in the distant future after sufficient time had passed. Disappointed, I moved on to another topic.
Once again, after Flood's death in 1994, I attempted to write his biography. I was living in Philadelphia at the time and made numerous trips to Wilkes-Barre in the hope of researching the necessary primary source materials and doing oral interviews. Although Judith Tierney, the director of the Daniel J. Flood Collection at King's College Library, was very encouraging and gave me unlimited access to the special collection, the FBI had already seized dozens of files that had been used to prosecute the congressman, and those files remained classified. Therefore it was difficult to gain a full understanding of the forces that led to his 1979 trial on bribery charges and his subsequent resignation from Congress. In addition, few of Flood's contemporaries agreed to be interviewed for the project. They were concerned about the legal implications of their remarks since Flood's congressional career was tainted by scandal. As a result, I abandoned the project.
Not until 2004, when I accepted a position to teach history at Luzerne County Community College, did I resurrect the idea of writing Flood's biography. Although many of his contemporaries were dead, I still had access to others who were now willing to discuss their relationship with the pork-barreling congressman. I was also privy to thousands of public documents that detailed Flood's activities, including the FBI records that I paid to have declassified. The research for his book is based on more than thirty interviews of Dan Flood's family members, friends, and congressional colleagues; public papers, photographs, audiotapes, and film stored at King's College Library in Wilkes-Barre; approximately seven thousand court and FBI documents relating to Flood's 1979 trial; and another two thousand newspaper articles that were carefully preserved and sealed away in scrapbooks by his widow until her death in 2005. These scrapbooks are now in the collections of the Luzerne County Historical Society in Wilkes-Barre, Pennsylvania.
During the last decade, I learned to balance the admiration I have for Dan Flood with the necessary detachment that a historian must maintain to do a critical examination of his subject. As my research unfolded, I became quite aware of Flood's shortcomings: a tendency to lie about or exaggerate his educational and political background; his influence-peddling and intimidation of congressional colleagues; a stubbornness that bordered on the mean-spirited, especially with local Democratic Party leaders and Pentagon officials; questionable connections to organized crime; an ongoing battle with alcoholism in his later years; and a huge ego that motivated all his activities, for better or for worse.
At the same time, I was saddened by the fact that most of my students had never heard of Flood, and I became determined to educate the millennial generation on his many contributions to northeastern Pennsylvania and to the nation. While they may not have agreed with Flood's hawkish views or old-style politics, my students came to understand the significant role he played in the cold war, the Great Society programs, and the transformation of a declining anthracite coal industry to a more prosperous service economy. With the publication of Dapper Dan Flood, others can now appreciate Flood's enduring legacy too.