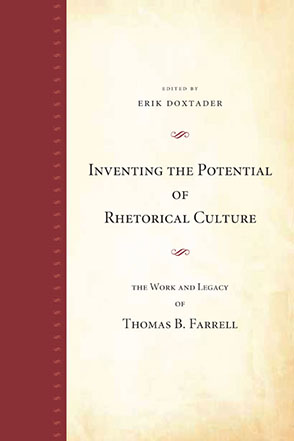 Inventing the Potential of Rhetorical Culture
The Work and Legacy of Thomas B. Farrell
Edited by Erik Doxtader
BUY
Inventing the Potential of Rhetorical Culture
The Work and Legacy of Thomas B. Farrell
Edited by Erik Doxtader
A Philosophy and Rhetoric Special Issue.
Description

Bio

Subjects
A Philosophy and Rhetoric Special Issue.
Over the course of a distinguished and celebrated career, Thomas Farrell held that rhetoric is a rich source of creative reason and a vital element of contemporary public life. In his award-winning 1995 book, Norms of Rhetorical Culture, Farrell took this position a step further, arguing that "Rhetoric is the primary—indeed the only—humane manner for an argumentative culture to sustain public institutions that reflect on themselves, that learn, so to speak, from their own history." In the midst of violence and social fragmentation, according to Farrell, the renewal of rhetoric's difficult art offers an opportunity to invigorate critique, cultivate the grounds for mutual understanding, and foster the practical wisdom that sustains democracy's politics.
Inventing the Potential of Rhetorical Culture sheds new light on Thomas Farrell's provocative defense of rhetoric and makes an innovative case for the contemporary importance of rhetorical theory and practice. Featuring two previously unpublished works by Thomas Farrell himself, including one that plots a path beyond Norms of Rhetorical Culture, the volume's original contributions offer timely reflections on the aesthetic, vernacular, and deliberative functions of rhetoric and draw significant connections among classical, modern, and postmodern accounts of public discourse. At a moment when many fields of study have found cause to reconsider the question of rhetoric's potential, this collection will engage those seeking a fuller understanding of rhetoric's role in politics, ethics, and public culture. With an introduction by Erik Doxtader, the volume includes essays by James Arnt Aune, Maurice Charland, G. Thomas Goodnight, Gerard A. Hauser, Carol Poster, and Philippe-Joseph Salazar.
Erik Doxtader is Professor of Rhetoric in the Department of English Language and Literature at the University of South Carolina.