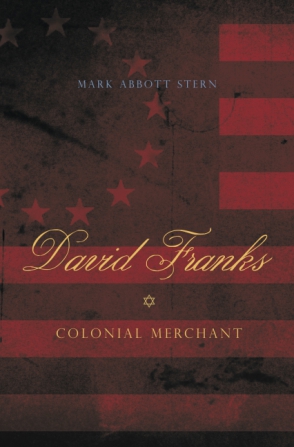 David Franks
Colonial Merchant
Mark Abbott Stern
BUY
David Franks
Colonial Merchant
Mark Abbott Stern
"Mark Abbott Stern's well-written and extremely well-researched biography of Philadelphia merchant David Franks (1720–1793) ranks among the best works on early American Jews. It is also the finest study I know that clarifies the complicated story of army contracting during the French and Indian War and the bureaucratic intricacies of caring for prisoners of war during the American Revolution."
Description

Reviews

Bio

Table of Contents

Sample Chapters

Subjects
David Franks, a colonial businessman in Philadelphia, was one of the most important figures in American Jewish history in the eighteenth century. This extensively researched biography illuminates not only Franks's personal dealings, but also his business life. Franks was involved with Indian trade, ship design and building, manufacturing, international trade, land speculation, westward exploration, and military provisioning. This volume follows Franks from his beginnings in a prominent Jewish family to his trials for treason and his exile in the postrevolutionary period, offering a unique portrait of a forgotten American.
"Mark Abbott Stern's well-written and extremely well-researched biography of Philadelphia merchant David Franks (1720–1793) ranks among the best works on early American Jews. It is also the finest study I know that clarifies the complicated story of army contracting during the French and Indian War and the bureaucratic intricacies of caring for prisoners of war during the American Revolution."
"In this gracefully written book, Mark Abbott Stern tells the story of a Jewish man, his Christian family, and his adopted city of Philadelphia during the era that led to American independence. David Franks: Colonial Merchant is the sweeping and illuminating chronicle of a businessman's engagement with history, the grand intersection of personal temperament with war, westward expansion, and social assimilation. Demonstrating remarkable archival scholarship, Stern writes with skill, sympathy, and mastery about a man in his times."
Mark Abbott Stern is a retired engineer and amateur historian. He has devoted the past eleven years to studying the life of David Franks.
Contents
Foreword by William Pencak
Preface and Acknowledgments
Introduction
1. David Franks, Arrested for Treason
2. Family, Friends, and Associates
3. Indian Affairs, Family Growth, and Supplying the Army
4. Commercial Adventures
5. Plumsted and Franks, Agents for the Contractors
6. General Jeffrey Amherst and Colonel Henry Bouquet
7. Major General Thomas Gage
8. Franks, Inglis and Barkly, Agents for the Contractors
9. Levy and Franks and Land Speculation Companies
10. A Time of Transition
11. Working Both Sides of the Street
12. War and Financial Turmoil in Philadelphia
13. The Revenge of the Radicals
14. A Time of Trials
15. Exiles
16. The Final Chapter
Appendix A Letters to the Editor
Appendix B Questions of Death and Burial
Appendix C "Dear Mrs. Cad": A Revolutionary War Letter of Rebecca Franks
Notes
Bibliography
Index