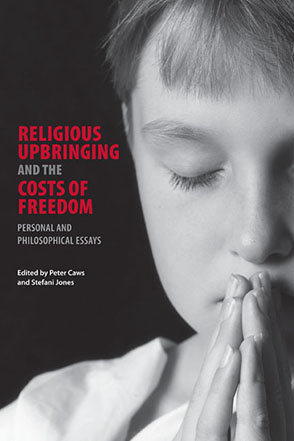 Religious Upbringing and the Costs of Freedom
Personal and Philosophical Essays
Edited by Peter Caws and Stefani Jones
BUY
Religious Upbringing and the Costs of Freedom
Personal and Philosophical Essays
Edited by Peter Caws and Stefani Jones
"Religious Upbringing and the Costs of Freedom is a creative compilation of essays that challenges the boundaries of philosophy by, in effect, initiating a serious dialogue with religion from the standpoint of a mostly secularist community through the medium of philosophical autobiography. These essays also challenge the meaning of religious indoctrination and examine the complex relation of religious life to cultural development."
Description

Reviews

Bio

Table of Contents

Sample Chapters

Subjects
The essays in
Religious Upbringing and the Costs of Freedom
are the personal stories of philosophers who were brought up religiously and have broken free, in one way or another, from restraint and oppression. As trained philosophers, they are well equipped to reflect on and analyze their experiences. In this book, they offer not only stories of stress and liberation but ruminations on the moral issues that arise when parents and other caregivers, in seeking to do good by their children, sometimes end up doing real harm to their personal development and sense of autonomy as individuals.
In addition to the editors, the contributors are Raymond D. Bradley, Damien Alexander DuPont, Diane Enns, Paul H. Hirst, Amalia Jiva, Irfan Khawaja, Christine Overall, Tasia R. Persson, and Glen Pettigrove.
"Religious Upbringing and the Costs of Freedom is a creative compilation of essays that challenges the boundaries of philosophy by, in effect, initiating a serious dialogue with religion from the standpoint of a mostly secularist community through the medium of philosophical autobiography. These essays also challenge the meaning of religious indoctrination and examine the complex relation of religious life to cultural development."
"[The essays in Religious Upbringing and the Costs of Freedom] explore the ethics of responsible parenting and the demarcation of education from indoctrination, [and] are often insightful and worthy of careful study."
"The stories [in Religious Upbringing and the Costs of Freedom] are full of interesting examples and vivid details. Every story is one of quality and depth."
Peter Caws is University Professor of Philosophy and Professor of Human Sciences at George Washington University.
Stefani Jones earned her master's degree in philosophy and doctorate in human sciences at George Washington University. She is now employed in the IT industry.
Contents
Acknowledgments
Introduction: The Indoctrination Project
Peter Caws and Stefani Jones
Part 1: Childhood Vulnerability and Internalized Belief
1. Indirect Indoctrination, Internalized Religion, and Parental Responsibility
Christine Overall
2. Religious Indoctrination and the Wish for the Irrevocable: Reflections on a Muslim Upbringing
Irfan Khawaja
3. From Fundamentalist to Freethinker (It All Began with Santa)
Raymond D. Bradley
4. Growing Up to Question Catholicism: Emotional Suffering, the Euthyphro, and the Life of the Mind
Damien Alexander Dupont
Part 2: Reconfiguring the Morality of Indoctrination
5. Biting into the Hermeneutical Apple: Biblical Literalism and the Lure of Uncertainty
Amalia Jiva
6. Autonomy and Indoctrination in Evangelical Christianity
Tasia Persson
7. Indoctrination, Autonomy, and Authenticity
Glen Pettigrove
Part 3: Embodiment, Family, and Conflict
8. From Revelation and Faith to Reason and Agnosticism
Paul H. Hirst
9. For the Love of Paradox: Mennonite Morality and Philosophy
Diane Enns
10. Finding My Voice
Stefani Jones
11. Tragedies of Belief
Peter Caws
About the Contributors
Index