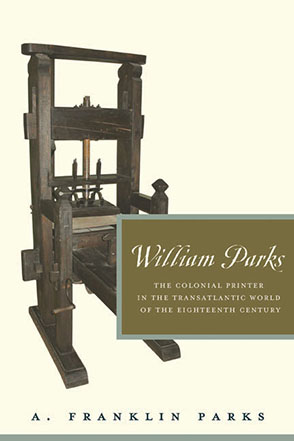 William Parks
The Colonial Printer in the Transatlantic World of the Eighteenth Century
A. Franklin Parks
BUY
William Parks
The Colonial Printer in the Transatlantic World of the Eighteenth Century
A. Franklin Parks
"This very welcome biography gathers up a surprising amount of scholarly notes on and book references to the important early American printer and newspaper publisher William Parks, and then adds new documentary evidence to the pile. To tell the story (and that it is a good narrative is one of the book's strengths) Professor A. Franklin Parks has truly had to produce a transatlantic study."
Description

Reviews

Bio

Table of Contents

Sample Chapters

Subjects
William Parks: The Colonial Printer in the Transatlantic World of the Eighteenth Century
is a cultural biography that traces the important early American printer and newspaper publisher's path from the rural provinces of England to London and then to colonial Maryland and Virginia. While incorporating much new biographical information, the book widens the lens to take in the print culture on both sides of the Atlantic—as well as the societal pressures on printing and publishing in England and colonial America in the early to mid-eighteenth century, with the printer as a focal point.
After a struggling start in England, William Parks became a critical figure for both Annapolis and Williamsburg. He provided the southern United States with its first newspapers as well as civic leadership, book printing and selling, paper, and even postal services. Despite Jefferson's later dismissal of his Williamsburg newspaper as simply a governmental organ, Parks often pushed the limits of what was expected of a public printer, occasionally getting into trouble and confronting the kind of control and censorship that would eventually make evident the need for press freedoms in the new republic. It has often been asserted that, had Parks not died unexpectedly and relatively young, his reputation would have rivaled that of Franklin as a printer, entrepreneur, and man of affairs.
"This very welcome biography gathers up a surprising amount of scholarly notes on and book references to the important early American printer and newspaper publisher William Parks, and then adds new documentary evidence to the pile. To tell the story (and that it is a good narrative is one of the book's strengths) Professor A. Franklin Parks has truly had to produce a transatlantic study."
"Overall, this rich narrative is not only a nice addition to Lawrence Wroth's works on Parks and colonial printing but also to the history of the book. While students of colonial America and the Atlantic world will benefit from this book, the author demonstrates new avenues to explore in studies on period reading and literature."
"This study is a valuable guide to the contexts in which religious, social and political print discourse took place in the southern colonies during the first decades of the eighteenth century."
A. Franklin Parks was Professor of English at Frostburg State University.
Contents
List of Figures
Preface
Acknowledgments
1 Endings and Beginnings
2 The Worcestershire Apprentice
3 Striking Out on His Own
4 All the Encouraging Prospects of Success
5 Printing and Publishing in "The Age of Clamour"
6 "Printer to the Right Honourable the Lord Proprietor, and the Province" of Maryland
7 Economics, Enlightenment, and the Maryland Gazette
8 Transforming the Discourse
9 Serving Two Masters
10 The Williamsburg Print Shop
11 Controversy and the Virginia Gazette
12 William Parks, Gent.
Epilogue
Appendix: Parks's Family Background
Notes
Index
Preface
How does one write a biography of a historical figure who has left behind no personal documents, no expressions of his internal life? Despite the fact that he became one of the most important printer-publishers of his age, William Parks appears, from the publications and documents that have survived, to have chosen to exist in relative anonymity behind the leather apron—to provide means principally for disseminating other people's thoughts and experiences. To understand him, therefore, scholars and critics have generally had to subject him to certain historical and professional stereotypes. He is, in most depictions, a printer, a colonial American, a Southerner, a governmental functionary, a merchant, and an entrepreneur. Given the difficulties of seeing beyond the apron, it is no wonder that scholars have also deemed him elusive, mysterious, even a "ghost." This raises the question of whether it is possible to go beyond the stereotypes to uncover some of the complexity of the historical figure given that there is no autobiography, no diary, no really personal letters, not even a daybook.
The biography of a colonial American public printer-publisher, one might argue, becomes a "cultural biography," the story of his craft, his age, and the various events that inspire and shape his decisions and his output. In the process of creating such a work, one can infer a great deal about the person by analyzing how he is engaged in this world and how he addresses his audience's needs. Given Parks's apparent, though not self-congratulatory, involvement in choosing, soliciting, developing, and even providing material for his publications and his involvements with the societies of colonial Annapolis and Williamsburg, where he practiced his trade for almost twenty-five years, one is perhaps justified in connecting the editorial choices that were made with the man himself. As the first official printer and as an active printer-publisher in these burgeoning communities, Parks made choices that no doubt influenced greatly what his customers read and thought. In fact, the printing and publishing process, by itself, without editorial intrusion, would have greatly affected the text that eventually ended up in his readers' hands. Therefore, to separate Parks from his output and to assign him to the role of "mechanic" or governmental functionary, particularly at this point in printing history, is to misunderstand his role and underestimate the value of his contributions.
I must admit that, even after these many years of pursuing the elusive William Parks, many mysteries remain. But, on occasion, the character of this sometimes undervalued figure from our nation's past has materialized out of the mist of documents and publications that are, for us his beneficiaries, the sum total of his existence. Granted, through this mist I have on occasion been guided by my own light (which has often been aided by the illuminations of others). As Stephen Greenblatt says in the introduction to Will in the World, his important study of the preeminent and even more enigmatic bard, "to understand how Shakespeare used his imagination to transform his life into his art, it is important to use our imagination." To understand how an unassuming Will Parks transformed his life and times into his craft, we as scholars and writers must do likewise.
Mailing List
Subscribe to our mailing list and be notified about new titles, journals and catalogs.