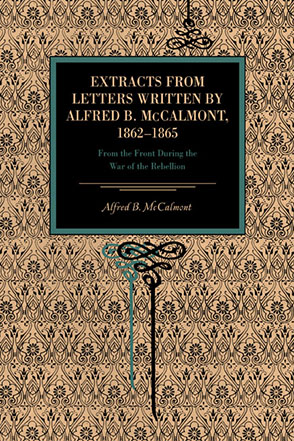 Extracts from Letters Written by Alfred B. McCalmont, 1862–1865
From the Front During the War of the Rebellion
Alfred B. McCalmont
GET
Extracts from Letters Written by Alfred B. McCalmont, 1862–1865
From the Front During the War of the Rebellion
Alfred B. McCalmont
Published in 1908 by the author's son for private circulation, this volume contains a selection of more than ninety letters written to family members by Alfred B. McCalmont between September 1862 and June 1865. These letters from the war front take the reader from the organization of McCalmont's Petroleum Guards (Company I) in the 142nd Pennsylvania Volunteers through his service as lieutenant colonel and then colonel, detailing battles and offering insights into the life of a commanding officer. (McCalmont would be promoted to brigadier general in the final hours of the war.)
Unlocked

Description

Bio

Subjects
An Open Access edition of Extracts from Letters Written by Alfred B. McCalmont, 1862–1865 is available through PSU Press Unlocked. To access this free electronic edition click here. Print editions are also available.
Published in 1908 by the author's son for private circulation, this volume contains a selection of more than ninety letters written to family members by Alfred B. McCalmont between September 1862 and June 1865. These letters from the war front take the reader from the organization of McCalmont's Petroleum Guards (Company I) in the 142nd Pennsylvania Volunteers through his service as lieutenant colonel and then colonel, detailing battles and offering insights into the life of a commanding officer. (McCalmont would be promoted to brigadier general in the final hours of the war.)
Early letters describe downtime, preparations, engagement, and the aftermath of battle, including discussions of Fredericksburg, Chancellorsville, and Gettysburg. Letters from the war's later years recount McCalmont's promotion to colonel of the newly created 208th Pennsylvania Volunteers and contain details and personal observations about the regiment's involvement in the siege operations at Petersburg and Richmond, the Appomattox Campaign, and the pursuit of Lee.
Alfred B. McCalmont (1825–1874) was a native of Venango County in northwestern Pennsylvania. A lawyer by profession, he served for the duration of the Civil War as an officer in multiple regiments of the Army of the Potomac.