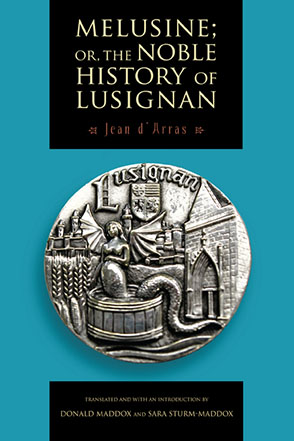 Melusine; or, The Noble History of Lusignan
Jean d'Arras, and Translated and with an introduction by Donald Maddox and Sara Sturm-Maddox
BUY
Melusine; or, The Noble History of Lusignan
Jean d'Arras, and Translated and with an introduction by Donald Maddox and Sara Sturm-Maddox
"Part history, part fantasy, part romance, the story of Melusine—brought to life in this readable and lively translation—opens a window onto late medieval European chivalric culture, its refinements, its brutality, and its anxieties. Ranging from Ireland to Armenia, the story of the fairy Melusine and her family provides a wealth of descriptive detail about courtly life and the cultural importance of family and property. Supported by an excellent introduction and relevant, informative notes, this translation brings to light a book and an imagination that will appeal to students, general readers, and scholars."
Description

Reviews

Bio

Table of Contents

Sample Chapters

Subjects
Jean d'Arras's splendid prose romance of
Melusine,
written for Jean de Berry, the brother of King Charles V of France, is one of the most significant and complex literary works of the later Middle Ages. The author, promising to tell us "how the noble and powerful fortress of Lusignan in Poitou was founded by a fairy," writes a ceaselessly astonishing account of the origins of the powerful feudal dynasty of the Lusignans in southwestern France, which flourished in western Europe and the Near East during the age of the Crusades. The spellbinding story of the destinies of the fairy Melusine, her mortal husband, and her extraordinary sons blends history, myth, genealogy, folklore, and popular traditions with epic, romance, and Crusade narrative.
Preceded by a substantial introduction, this translation, the first in English to be amply annotated, captures the remarkable range of stylistic registers that characterizes this extravagant and captivating work.
"Part history, part fantasy, part romance, the story of Melusine—brought to life in this readable and lively translation—opens a window onto late medieval European chivalric culture, its refinements, its brutality, and its anxieties. Ranging from Ireland to Armenia, the story of the fairy Melusine and her family provides a wealth of descriptive detail about courtly life and the cultural importance of family and property. Supported by an excellent introduction and relevant, informative notes, this translation brings to light a book and an imagination that will appeal to students, general readers, and scholars."
"The fourteenth century comes alive in this superb new translation of the classic French masterpiece Melusine; or, The Noble History of Lusignan. The work is packed with romance and adventure, by turns poignant and hilarious, and the author's lively and inviting prose style is guaranteed to delight fans of historical fiction as well as students of all ages. This is by far the most lucid, authentic, and enjoyable English-language version of this enchanting fairy tale available today, and I expect it to be universally recognized as the definitive translation for many years to come."
"The Mélusine of Jean d'Arras is a work of particular importance for its fusion of historiography and fiction, a work whose appeal was quickly acknowledged by the copying of numerous late medieval manuscripts, further recognized in the early days of printed books, and reconfirmed ever since by translation into many languages (Middle English, German, Spanish, modern French, etc.). The new translation is an excellent addition to this veritable library of Mélusines: a long-overdue version in modern English that is, moreover, grounded in solid scholarship. The translators' introduction and extensive annotation of the text make it clear that their work has been prepared with an exemplary understanding of the narrative's social and historical context."
"This delightful translation of Jean d'Arras's 1393 Melusine by two experts on the subject is sure to become the standard English version of this fascinating but not well-known work."
"This excellent English translation, with its critical material, is extremely valuable from the literary and historical perspectives, and certainly gave me the pleasure and enjoyment the translators wish for readers of their work."
Donald Maddox is Professor Emeritus of French Studies and adjunct faculty member in Comparative Literature at the University of Massachusetts, Amherst.
Sara Sturm-Maddox is Professor Emerita of French and Italian Studies at the University of Massachusetts, Amherst.
Contents
Preface and Acknowledgments
Introduction
Melusine; or, The Noble History of Lusignan
Prologue
Crossed Destinies: Melusine and Raymondin
Founding Lusignan
Raymondin in Brittany
Founding a Dynasty in Poitou
Urian and Guyon Defend Cyprus
Urian and Guyon: The Armenian Campaign
Antoine and Renaud in Luxembourg
Geoffrey Big-Tooth in Ireland
Crisis in the Near East
Betrayal, Fratricide, and Loss
Geoffrey in Northumberland
Raymond: Pilgrimage and Penance
Six Sons of Lusignan Defend Alsace
Raymond's Noble Funeral
Epilogue I: The Knight of the Tower
Epilogue II: The Castle of the Sparrow Hawk
The Legacy of Lusignan and the Duke of Berry
Notes
Selected Bibliography
Index