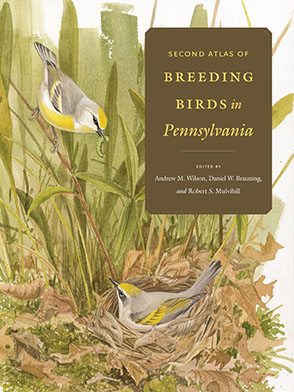 Second Atlas of Breeding Birds in Pennsylvania
Edited by Andrew M. Wilson, Daniel W. Brauning, and Robert S. Mulvihill
BUY
Second Atlas of Breeding Birds in Pennsylvania
Edited by Andrew M. Wilson, Daniel W. Brauning, and Robert S. Mulvihill
"All around us, the world is changing. Avian communities are in flux, new bird-monitoring technologies are emerging, and our very understanding of nature is evolving. Enter the Second Atlas of Breeding Birds in Pennsylvania. Employing state-of-the-art methods and technologies, this important book brilliantly and compellingly depicts the astonishing pace of change in the Keystone State's dynamic breeding bird fauna."
Description

Reviews

Bio

Table of Contents

Sample Chapters

Subjects
Twenty years after the first
Atlas of Breeding Birds in Pennsylvania
was published, the S
econd Atlas of Breeding Birds in Pennsylvania
brings our knowledge of the state's bird populations up to date, documenting current distribution and changes in status for nearly two hundred bird species. More than two thousand dedicated birdwatchers completed surveys of birds across the state from 2004 to 2009. The data amassed reveal the distribution of each species and show changes in distribution since the publication of the first
Atlas
. Additionally, a highly trained survey crew carried out bird counts at more than 34,000 locations statewide. These counts tabulated not just species but individual birds as well, in a manner that—for the very first time—enabled precise estimates of the actual statewide populations for more than half of the 190 breeding species detected. In all, more than 1.5 million sightings were compiled for the second
Atlas
, providing an unprecedented snapshot of the bird life of Pennsylvania—and perhaps of any comparably sized region in the world.
The introductory chapters to the second Atlas describe and discuss recent changes in climate and bird habitats within Pennsylvania. The data gathered and summarized for this volume were used by the more than forty contributing authors to write comprehensive and authoritative accounts of each species. These accounts are illustrated by stunning photographs, usually taken somewhere within the state. Up to three maps per species show in fine detail their current distribution based on the second Atlas, changes in distribution since the first Atlas, and, for more than one hundred species, their abundance in Pennsylvania.
"All around us, the world is changing. Avian communities are in flux, new bird-monitoring technologies are emerging, and our very understanding of nature is evolving. Enter the Second Atlas of Breeding Birds in Pennsylvania. Employing state-of-the-art methods and technologies, this important book brilliantly and compellingly depicts the astonishing pace of change in the Keystone State's dynamic breeding bird fauna."
"A must-have for those with an interest in the birds of Pennsylvania."
"[A] definitive reference and rich source of information for anybody interested in the nesting birds of Pennsylvania."
"An innovative feature of this work is an assessment of population size, not just distribution, of many of the species. . . . The second Atlas promises to be a vital tool for bird conservationists in Pennsylvania for many years to come."
"Many additional features, results, and insightful analysis are provided within the 616 pages of this full-color book. . . . This book brings our knowledge of the state's breeding bird populations up to date."
"The book's editors—Andrew M. Wilson, Daniel W. Brauning, and Robert S. Mulvihill—have taken full advantage of technologies and analytical methods that have emerged since publication of the first Atlas, making this second a sharply attractive, revealing, and masterfully prepared book. . . . It is hard to imagine that any birder would not want a copy of the Second Atlas, whether in Pennsylvania or anywhere in the region, a region that stretches as far north as Quebec and as far west as Ontario. . . . An exceptional summary of a large amount of data, presented in a sharp and impressive tome, this work sets a new standard for atlases to come. It may take up a lot of space on your bookshelf, but as an informative and inspiring reference, the Second Atlas of Breeding Birds in Pennsylvania is a worthy tenant."
"This [breeding bird atlas] may be the best ever, clearly and exhaustively analyzing the results of 106,952 hours of fieldwork by 1,896 observers covering 890,000 miles in 4,937 blocks from 2004 to 2009 in a standardized, replicable manner resulting in 656,723 records."
"The Second Atlas provides a great template for future atlas projects. Using available technologies, building partnerships for needed skill sets, and eloquently combining the knowledge, skills, and tools into a comprehensive coverage of Pennsylvania bird distributional data, nesting phenology, relative abundances by habitat types and detailed densities for singing males statewide must be most gratifying to the editors and the 2,000 or more participants.
"The Second Atlas is a valuable tool for Pennsylvania bird study for professional ornithologists, seasoned birders, and conservation-minded nature enthusiasts. Anyone planning to design a bird atlas project for their state should study this masterful and successful example. Any birder visiting Pennsylvania should be sure to have a copy of this book at home or in the car. This is a nice addition to any bird library because of the breadth of natural history information included."
Andrew M. Wilson is Visiting Assistant Professor of Environmental Studies at Gettysburg College.
Daniel W. Brauning is an ornithologist with the Pennsylvania Game Commission.
Robert S. Mulvihill is Ornithologist at the National Aviary.
Contents
Foreword
Acknowledgments
Regional Coordinators
Atlas Volunteers
Chapter 1: Introduction
Robert S. Mulvihill
Chapter 2: The Geography of Pennsylvania
Andrew M. Wilson and Bernd J. Haupt
Chapter 3: Habitats and Habitat Change
Andrew M. Wilson, Margaret Brittingham and Joe Bishop
Chapter 4: Atlas Methods
Daniel W. Brauning, Mike Lanzone, and Andrew M. Wilson
Chapter 5: Analytical Methods
Andrew M. Wilson
Chapter 6: Coverage and Results
Andrew M. Wilson and Daniel W. Brauning
Chapter 7: Contributions to Conservation
Douglas A. Gross, Sarah Sargent, and Catherine D. Haffner
Chapter 8: Interpreting Species Accounts
Chapter 9: Species Accounts
Appendix A. Former Nesting Species
Appendix B. Common and Scientific Names of Plants and Animals
Appendix C. Summary of Atlas Results by Physiographic Province and Section
Appendix D. Habitat Associations
Appendix E. Analytical Methods - Statistical Details
Appendix F. Summary of Breeding Season Data
Literature Cited
Index