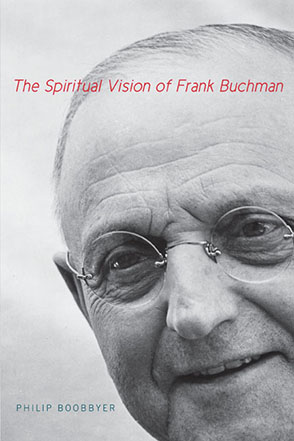 The Spiritual Vision of Frank Buchman
Philip Boobbyer
BUY
The Spiritual Vision of Frank Buchman
Philip Boobbyer
"Philip Boobbyer's thorough scholarship uncovers the roots of Buchman's spiritual vision and demonstrates the wide-reaching significance of his campaigns for moral renewal. It will become the definitive study of this enigmatic figure."
Description

Reviews

Bio

Table of Contents

Sample Chapters

Subjects
The Spiritual Vision of Frank Buchman is an in-depth look at the life, spirituality, and ideology of one of the most original figures in twentieth-century religion. Frank Buchman (1878–1961), the Pennsylvania-born initiator of the movement known as the Oxford Group and Moral Re-Armament, was a Lutheran pastor who first had influence as a college evangelist and missionary with the YMCA. His thinking then evolved during the 1930s, the Second World War, and the early Cold War as he tried to develop a world philosophy that could offer an answer to war and materialism. His impact was particularly felt in the areas of conflict resolution between nations and interfaith dialogue, and Alcoholics Anonymous also owed much to his methods. Philip Boobbyer's book is the first scholarly overview of Buchman's ideas and is an important addition to the growing corpus of academic literature on his worldwide outreach. Boobbyer shows how his work reflected broader processes in twentieth-century religion and politics and can be seen as a spiritual response to an emerging global society.
"Philip Boobbyer's thorough scholarship uncovers the roots of Buchman's spiritual vision and demonstrates the wide-reaching significance of his campaigns for moral renewal. It will become the definitive study of this enigmatic figure."
"This work engages with all the important literature and makes judicious assessment of the contributions of others. But what is here is original, both in terms of the remarkable range of primary sources utilized and the focus of the work, a focus not to be found in any other book."
"Frank Buchman is an important historical figure with remarkable influence on a range of different nations, movements, organizations, and eminent people. There has long been a strong need for a good academic study of him, and The Spiritual Vision of Frank Buchman successfully and admirably fills this lamentable gap. Buchman has always attracted passionate critics and disciples, and the more even tone of this volume is especially welcome."
"Frank Buchman was the American founder of the international movement that was variously called the First Century Christian Fellowship, the Oxford Group, and Moral Re-Armament. This body had a protean character, evolving from a religious revival movement into something like a nongovernmental organization dedicated to world peace and reconciliation. The ideas of the founder have proved elusive, but Philip Boobbyer, who has enjoyed full access to the available sources, has now pieced together a compelling portrayal of what moved the man."
"This inspiring account of Buchman's journey should be required reading for anyone interested in bringing peace to an interdependent, war-torn world."
"Philip Boobbyer . . . has provided a definitive and well-written portrait, which will be of enduring value, of Buchman and his vision."
"This is the first effort to write a critical, spiritual biography of Frank Buchman (1878–1961), the founder of the Oxford Group and the Moral Re-armament movement, with emphasis on his ideas rather than on the details of his life. . . . This biography is well worth reading."
Philip Boobbyer is Senior Lecturer and Deputy Head in the School of History, University of Kent.
Contents
Preface and Acknowledgments
Illustrations
Abbreviations
Introduction
Chapter 1: Origins
Chapter 2: Guidance
Chapter 3: Personal Work
Chapter 4: Theological Questions
Chapter 5: Strategy and Organization
Chapter 6: Politics and Ideology
Conclusion
Archival Abbreviations
Bibliography
Index